Bitchu-Matsuyama Castle is one of 12 existing temples and is designated as an important cultural property of the country. It is also famous as the only mountain castle where its original tower still exists.
It towers above the northernmost part of the city area, and is known by city residents by the nickname "Oshiroyama." The mountain has four peaks from north to south: "Omatsuyama," "Tenjin no Maru," "Komatsuyama," and "Maeyama." When viewed from the south, the mountain looks like an old cow kneeling down on the grass, earning it the name Mount Gagyu, which means lying cow mountain. Bitchu-Matsuyama Castle is spread over the whole mountain, centered on the peak.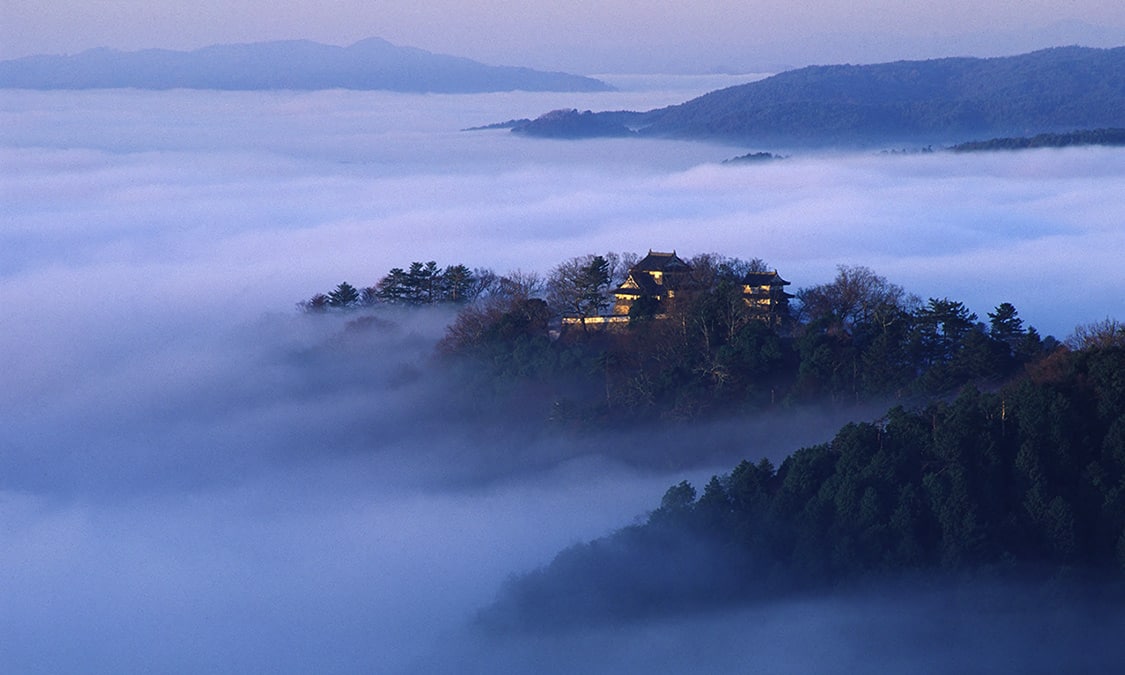 A sea of clouds that form around the mountain from fall to winter makes the castle tower appear to float above the clouds, earning it the name "Castle in the Sky."
The sea of clouds forms from late September to early April, from the break of dawn to around 8am. You can expect to see a thick morning mist from late October to early December in particular.
It is recommended to use the convenient transport from the station to Fuigo-toge, the eighth station of the mountain by bus (tozan-seiri shuttle bus) or shared taxi. From Fuigo-toge there is a 700m light hiking route that takes about 20 minutes. The path up the mountain is full of spectacular sights, such as huge rocks over 10m high and multi-layered stone walls.
If you want to enjoy a true mountain hike, you should go further than the castle tower. You can feast your eyes on medieval relics, a large pond, and historical spots like Tenjin no Maru.
Location
Name
Bitchu-Matsuyama Castle
Web Sites
(In Japanese) http://takahasikanko.or.jp/modules/spot/index.php?content_id=1
Address
1 Yamashita, Takahasi-shi, Okayama
Hours
April to September: 9:00–17:30
October to March: 9:00–16:30
Closed: 28 December to 4 January
Inquiries
TEL:0866-21-0461 (Takahashi City Tourist Association)
Price
Adult: 300 yen
Elementary/Junior high school student: 150 yen
Group discount available: 10% off for groups of 30 or more, 20% off for groups of 100 or more.

All who meet the following criteria may enter for free.
Elementary/Junior high students residing in or attending school in the city on Saturdays, Sundays, public holidays, and closed days.
Residents of the city aged 65 years or over.
People with a disability certificate along with one companion.