Experience the history and culture of the Ryukyu Kingdom
The Ryukyu Kingdom existed here in Okinawa until about 140 years ago. Centered on Shurijo Castle, it fostered a unique history and culture while being influenced by exchanges with China, Japan and other areas of Asia for 450 years. The gently curved castle walls are reminiscent of the age of the kingdom. In October 2019, eight structures including the main temple of Shurijo Castle were destroyed by fire and are currently under reconstruction. Visitors can experience the history and culture of the Ryukyu Kingdom by walking the Shurijo Castle Reconstruction Model Course, which tours the castle park and the surrounding areas.
Sonohyan-Utaki Ishimon gate
The stone gate built in 1519 was partly destroyed during the Pacific War, but was restored in 1957. It was registered as a World Heritage site in 2000 as one of the Gusuku Sites and Related Properties of the Kingdom of Ryukyu. Although called "mon (gate)," it is not a gate for people to enter and exit; it was a place for praying for the safety of the king's journey when the king went out from his castle during the Ryukyu Kingdom era. The gate is made only of stones, and is also a valuable reference for the characteristics of stone-made architectures in Ryukyu.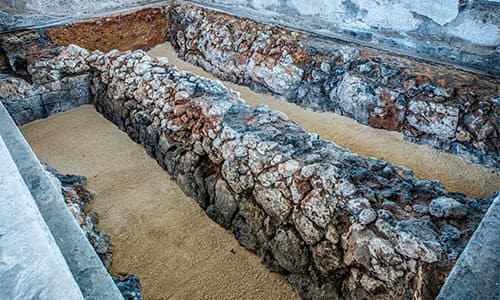 Ruins of the stone foundation of Shurijo Castle's main temple
Excavations of the ruins have confirmed seven units of the stonework stylobates, which is the foundation of the main temple, suggesting that the temple was rebuilt many times during the Ryukyu Kingdom era. Now with the structure removed, you can actually see details previously known only by specialized research, such as the fact that the temple has been repeatedly expanded to the west every time it was rebuilt; that there was a fire in the past; and that there was a time when the stairs were straight. Three stylobates are now open to the public to preserve the remains, providing a valuable chance to see stylobates from different periods at once. This remains of the main temple stylobates are also registered as part of the World Heritage site.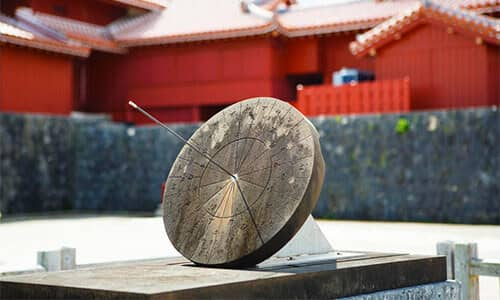 Nichieidai served as a sundial that measured time during the Ryukyu Kingdom era together with the water clock installed at the nearby Rokokumon gate. Time was told by the shadow of the bar reflected on the time board divided by the 12 Chinese zodiac signs. The time measured here was informed inside and outside the castle using flags, drums and bells. Since the position of the sun changes depending on the season, Nichieidai was adjusted to show the exact time by changing the angle of the time board.
Location
Name
Shurijo Castle Park
Website
http://oki-park.jp/shurijo/en/
Address
1-2 Shurikinjo-cho, Naha-shi, Okinawa
Access
Approximately 15 minutes' walk from Shuri Station on the Yui Rail monorail
Business Hours
Park opening hours for free area: 8:30 to 18:00
Park opening hours for fee-applicable area: 9:00 to 17:30
Closed
First Wednesday and the following day of July
Inquiries
TEL: 098-886-2020 (Shurijo Castle Park Management Center)
Admission
Adults: 400 yen; High school students: 300 yen; Junior high school and elementary school students: 160 yen; Children under age 6: free
Group fees available (20 or more people); Special discount available for monorail open ticket holders