A must-see scenic spot on Miyako Island
Yonaha Maehama Beach is one of the best known beaches on Miyako Island and is said to be the most beautiful white sand beach of the East. The fine powder snow-like sandy beach stretches for seven kilometers as the beauty of the gradational blue ocean extending to the horizon takes your breath away. The beach has a view of Kurima Island on the front side, and also offers various marine activities.
Located on the opposite shore of Yonaha Maehama Beach, Kurima Island is an outlying island easily accessible by car by crossing the 1,690-meter-long Kurima Bridge. While on the bridge, you should step out of the car and take a stroll to take in the view of the breathtakingly rich colors of the ocean. With approximately 10 kilometers in circumference, Kurima Island can be explored around in half a day, with many stylish cafes perfect for breaks.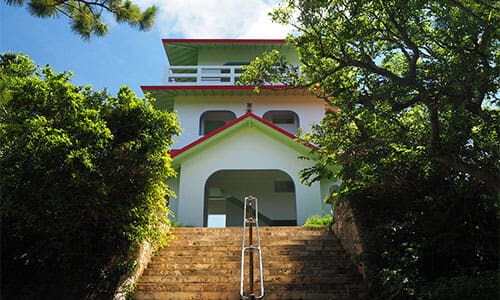 The Ryugu Castle Observatory stands on a hill on Kurima Island. The three-story observatory is designed after Ryugu Castle, a legendary undersea palace that appears in Japanese folktales. From the top floor, you can enjoy a panoramic view with Yonaha Maehama Beach to the front, Irabu Island on the left and Kurima Bridge on the right. With so many photogenic spots, anyone can be a great photographer here. Be mesmerized by the beautiful gradation of pristine white sands, emerald green waters and coral reefs.