The blue ocean now even closer with the bridge connecting Irabu and Miyako islands
Located just west of Miyako Island, Irabu Island is a quaint, far-off isle with a population of around 5,000. Previously accessible only by ferry, the Irabu Bridge was constructed in 2015 to connect the two islands, thus becoming a hugely popular tourist destination for marveling at the wonders of nature unique to the remote island.
©OCVB

©OCVB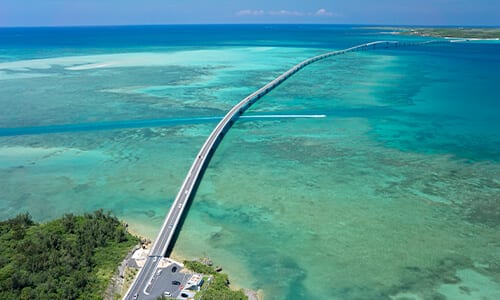 ©OCVB
Opened in January 2015, the Irabu Bridge connecting Miyako and Irabu islands is the longest toll-free bridge in the country at 3,540 meters, cutting across the beautiful ocean for an exhilarating drive. The breathtaking view of the ocean from the bridge has often been lauded as one of the best in the Far East. If the timing is right, you may even be able to spot sea turtles swimming leisurely in the waters.
On the western side of Irabu Island is Toguchi-no-hama Beach, an 800-meter-long white sand beach. In addition to the clear blue waters, the beach is also famous for its pristine, fine powdery sand. From here you can gaze upon the islands of Miyako, Kurima and Shimoji, and enjoy the convenience of shops, parking spaces, showers and restrooms.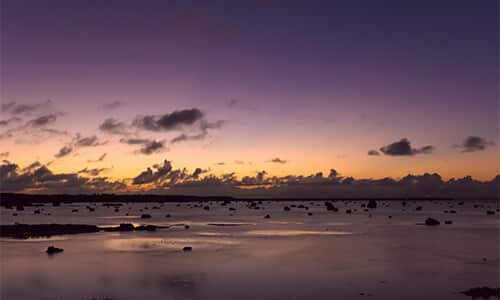 A natural beach located in the northwestern part of Irabu Island, Sawada-no-hama Beach was among three beaches in Okinawa selected as one of the top 100 beaches in Japan in a ranking published in 1996. Numerous large rocks scattered throughout the sands, said to have been brought over by the Great Tsunami of Meiwa in 1771, make the destination truly unique. The shallow beach is also great for small children to safely play and have fun. If time permits, stay for the amazing sunset and be mesmerized as the day's clear blue waters gradually turn to gold in the evening sun.
Location
| | |
| --- | --- |
| Name | Irabu Bridge |
| Website | (In Japanese) https://miyako-guide.net/spots/spots-840/ |
| Address | Irabu, Miyakojima-shi, Okinawa |
| Access | Approximately 30 minutes' drive from Miyako Airport |
| Inquiries | TEL: 0980-73-1881 (Miyakojima Tourism Assocation) |