Okinawa's traditional Yachimun pottery evokes an earthy, warm feeling
Yachimun is the traditional earthenware of Okinawa, characterized by its thick texture and unique, rustic painting. Over 70 pottery workshops can be found in Yomitan Village in the central part of Okinawa main island. Located in the mountains of the village is Yachimun-no-Sato, where 19 workshops are gathered. Take your time in perusing each workshop to find your favorite piece of pottery.
Origin of Yachimun-no-Sato
Yachimun pottery initially blossomed during the Ryukyu Kingdom era in the Tsuboya area of the capital city of Naha. However, in the 1970s, the growing number of houses made it difficult to maintain the climbing kilns, which emit a lot of smoke. Potters looked for alternate lands to continue their craft, and when Jiro Kinjo, known as Okinawa's first Living National Treasure, relocated to Yomitan Village, many potters followed to create Yachimun-no-Sato of today.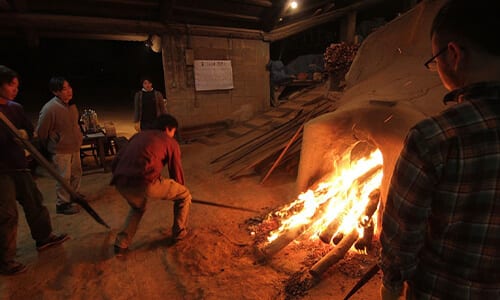 Traditional climbing kiln symbolizes the pottery village
The climbing kiln, or "noborigama," gets the name from its structure. The kiln is built on sloped terrain, and when firewood is lit in the stoke hole at the bottom, the flame gradually ascends so that heat spreads throughout the entire chamber. Artisans draw on their experience to manually adjust the temperature, watching the wind and humidity and adding firewood by hand. The resulting works of pottery are like no other. Many workshops in Yomitan make use of the climbing kiln, and the most impressive of them all is the north kiln, consisting of 13 chambers, making it one of the largest in Okinawa, in which fire is continuously stoked for four days straight. Take the produced Yachimun in your hands and feel the warmth of the craftsmanship.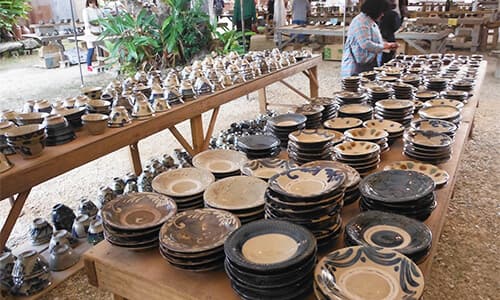 Find your favorite piece of earthenware at the Yomitanzanyaki Pottery Festival
Yomitan Village hosts three major Yachimun events throughout the year, and one of them is the Yomitanzanyaki Pottery Festival held in Yachimun-no-Sato on the third Friday, Saturday and Sunday of every December. The popular event brings together the works of various workshops in the area from veteran to young artisans. Since the products can be purchased for discounted prices, numerous Yachimun aficionados visit the village to find their favorite piece of pottery, while enjoying the opportunity to chat in person with artisans who are usually hard at work in their workshops.
Location
Name
Yachimun-no-Sato
Website
https://filmoffice.ocvb.or.jp/en/location/chubu/yomitani/116/
Address
2653ー1 Zakimi, Yomitan-son, Nakagami-gun, Okinawa
Access
From Naha Airport, drive north for approximately 1 hour.
From Naha Airport, take the route bus (120) for approximately 1 hour 40 minutes, get off at the Oyashi Iriguchi bus stop and then walk approximately 15 minutes.
Business Hours
Differs depending on workshop.
Closed
Differs depending on workshop.
Inquiries
TEL: 098-982-9216 (Yomitan Village Office Commerce and Tourism Department)