Feast on seasonal Sansai (mountain vegetables) in a garden with a river streaming through.
Its thatched roof, beam ceiling, and irori fireplace create an open and warm atmosphere in this historic house where you can enjoy various seasonal cuisine featuring local produce. In addition to the carefully crafted dishes, you are also treated to nature's blessings like clean water and air, the chirping of birds, and the bubbling of the stream for a truly relaxing experience.
Try the light and fluffy yamame trout with sansho pepper miso, and chewy homemade konnyaku, a Japanese health food made from konjac potatoes. Popular desserts include mochi rice cake with stone-ground roasted soybeans and zenzai sweet red bean soup with mochi made with fragrant yomogi leaves and tochi chestnuts.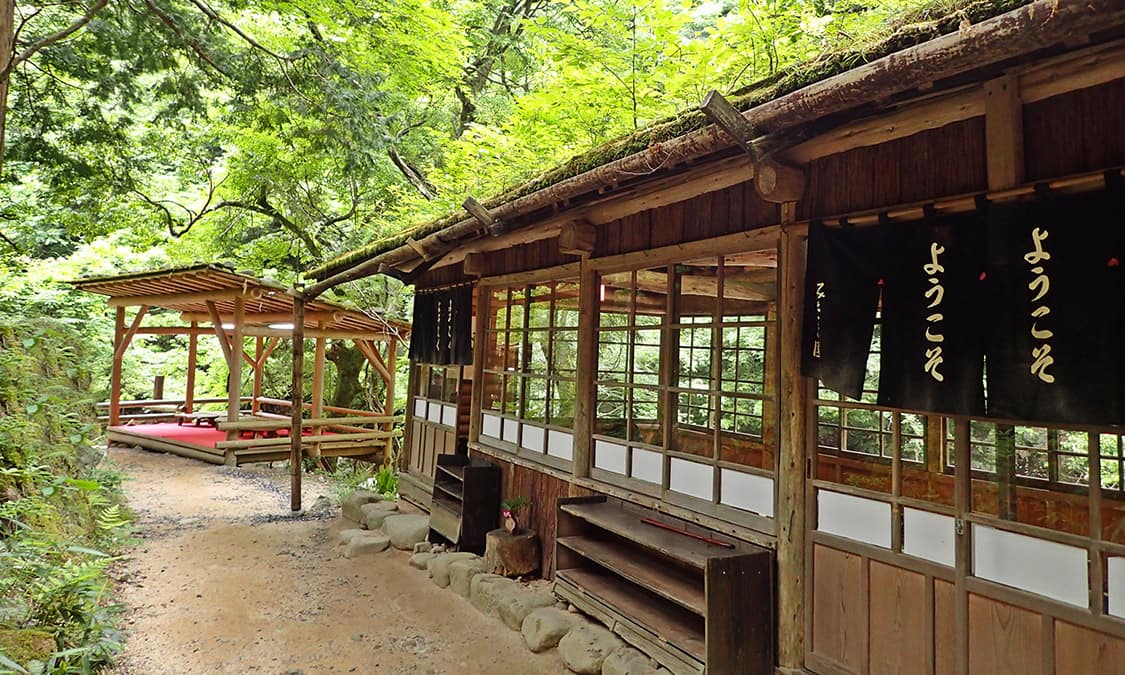 Mitakien's restaurant is housed in six different buildings each with unique characteristics, including Kusaya, the main house, Kazura with table seating, as well as seats in the kawadoko riverbed and red-carpeted seats. There is also a cafe, Quince. Visitors can freely stroll around the premises while listening to the sound of the river, and savor the seasons with all five senses such as spring with mountain cherry blossoms, summer along the riverside, and foliage in the autumn.
Location
| | |
| --- | --- |
| Name | Sansai Cuisine, Mitakien |
| Web Sites | http://ashidumitakien.jp/en/ |
| Address | 707 Ashizu, Chizu-cho, Yazu-gun, Tottori |
| Access | Approximately 1 hour by car from Tottori Airport |
| Business Hours | 10:00 to 17:00 (April to November) |
| Closed | December to March (closed during the winter) |
| Inquiries | TEL: 0858-75-3665 |