Play all day at Tokiwa Park, Yamaguchi at its zoo, museum, and botanical garden
Tokiwa Park, in the city of Ube in Yamaguchi Prefecture. With a large variety of facilities inside the park, including the Tokiwa Zoo and the Tokiwa Museum, there is much to see and enjoy. Tokiwa Museum, the venue for the UBE Biennale (Exhibition of Contemporary Japanese Sculpture), exhibits works of art, while at the botanical garden next door, you can see rare plants from around the world.
Tokiwa Park is a comprehensive park complex, adorned by greenery, flowers, and sculptures. It has been built around Lake Tokiwa, which was registered on the list of "World Heritage Irrigation Structures" in 2016. The park's vast, 189-ha expanse is adorned with the natural beauty of the four seasons and has been recognized as one of "Japan's Top 100 City Parks" and one of "Japan's best 100 places for cherry blossoms". Inside the park, you can enjoy the 3,500 cherry trees, as well as a wide variety of flowers, including 80,000 irises, peonies, hydrangeas, and azaleas. "The Full of Flowers Campaign Commemorative Garden", which was built on the theme of "citizens creating together," provides a serene atmosphere, with roses, herbs, and other plants growing there.
Tokiwa Zoo, which held its grand opening in March 2016, is the first in Japan to incorporate natural habitat exhibits. With a focus on primates such as the white-handed gibbon, visitors can observe the animals in as close to a natural state as possible. It almost feels like you have wandered into the habitat of wild animals. The zoo also has a hands-on learning facility called "Monster", where visitors can learn about the animals and the environment.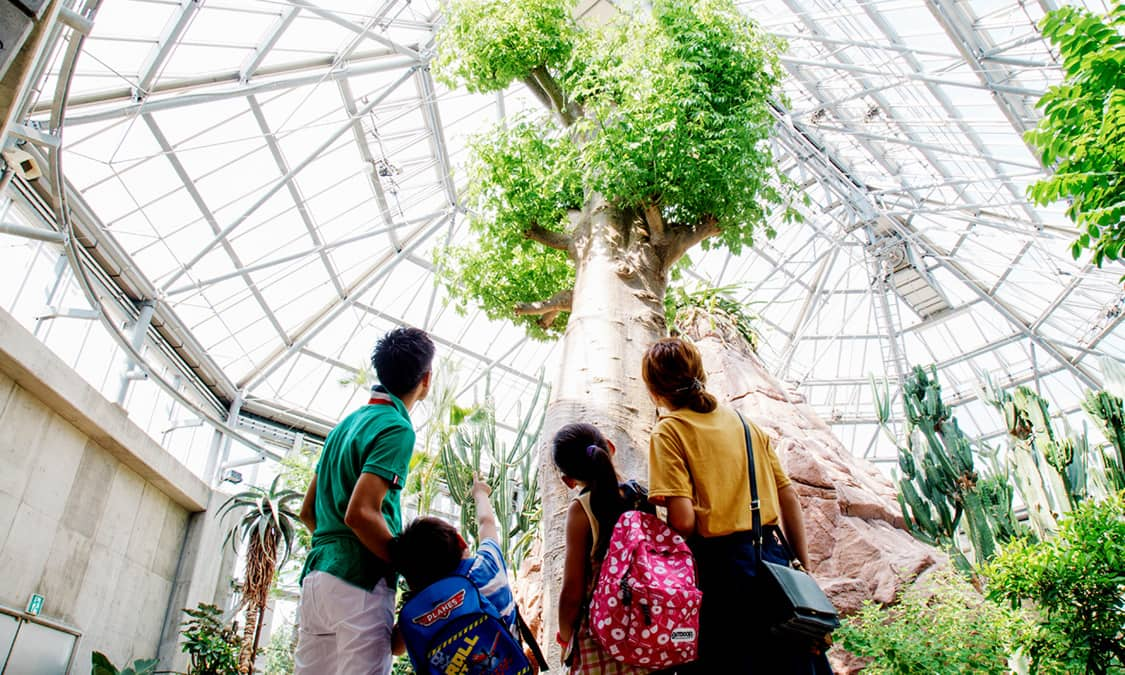 Tokiwa Museum World Travel Greenhouse
Developed along the theme of "travel the world and be inspired by plants," the Tokiwa Museum World Travel Greenhouse has planted symbolic trees that represent eight different zones, with an awareness of the vegetation in their respective regions of origin. Visitors can encounter rare plants, flowers, and fruits as if they were traveling around the world.
The original cactus that was produced at Tokiwa Park and blooms with beautiful flowers, is a rare and valuable cactus that cannot be seen anywhere else. There are also exhibits of orchids, cattleya, and carnivorous plants.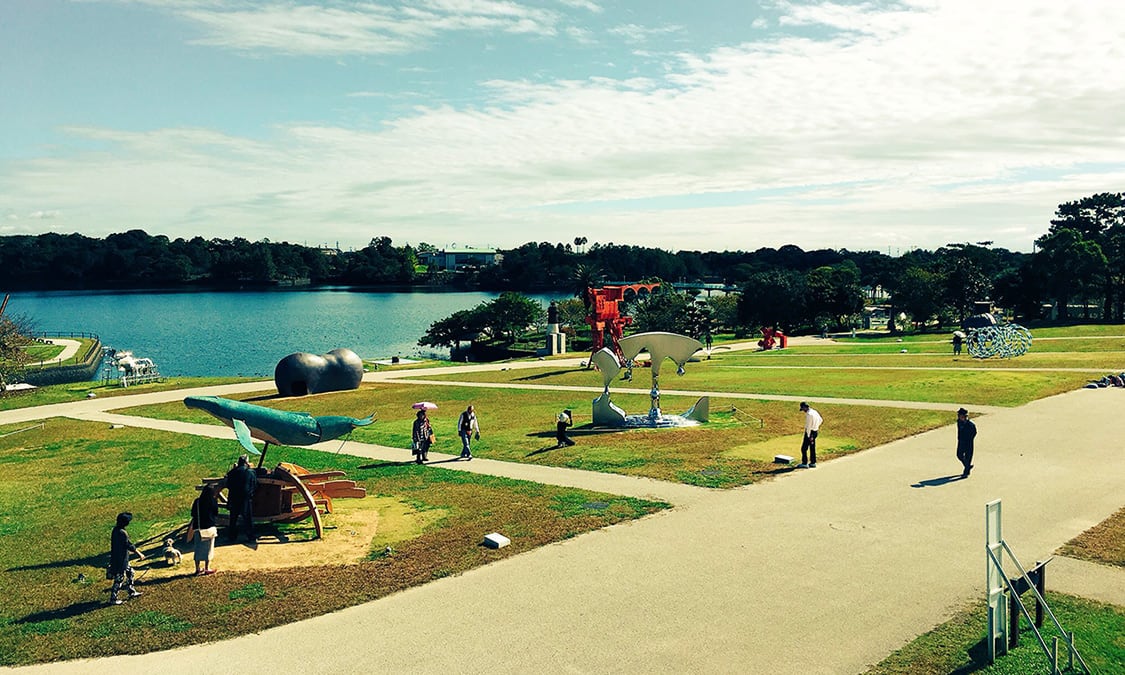 UBE Biennale Sculpture Hill
Once every two years, UBE Biennale Sculpture Hill becomes the home of the "UBE Biennale" (Contemporary Japanese Sculpture Exhibition)', the world's oldest international open-air sculpture competition. About 100 sculptures, including those that won prizes throughout the half century that the competition has been running, are on permanent display here. Visitors can enjoy the beautiful sight of abundant nature and art blending in harmony.
Location
| | |
| --- | --- |
| Name | Tokiwa Park |
| Web Sites | (In Japanese) https://www.tokiwapark.jp/ |
| Address | 3-4-1 Norisada, Ube-shi, Yamaguchi |
| Access | 5 minutes' drive from Yamaguchi-Ube Airport |
| Business Hours | Varies by facility. Please contact directly. |
| Inquiries | TEL:0836-54-0551 (Tokiwa Park) |
| Admission | Varies by facility. Please contact directly. |