This is a ryokan inn with a hot spring bath. It is located near Kobe Port in Shin-Minato Town, Chuo Ward in Kobe City, Hyogo Prefecture. With buffet-style dining at the restaurant and various types of baths, Kobe Minato Onsen Ren is an inn sure to satisfy everyone, from children to adults.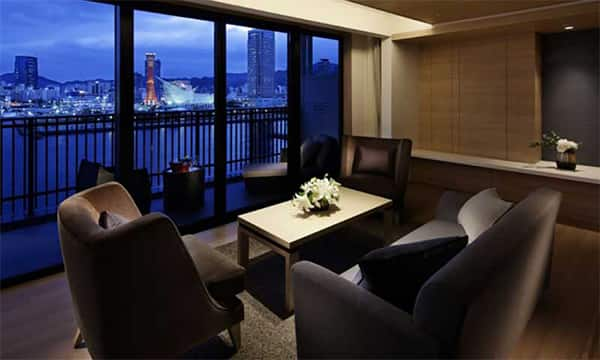 One of the rooms is over 50m squared wide and has a 270 degree view of the ocean. On the terrace, you can feel the sea breezing with a steam whistles as your background music. Moreover, right in front of your eyes the view stretches with beautiful azure blue sky and many more things that you will enjoy. Release all your stress and relax in this marvellous room.
Kobe Minato Onsen is a blessing from the sea. The source of the water comes from 1150m below ground. Not only will the water warm you from your very core, it will also give you beautiful skin. We have different types of bathtubs for you to enjoy soaking in, for example a jar shaped tub and of course an outdoor bath. Please enjoy the finest bath you will ever take.
Our buffet style cuisine will make you feel like it is a show. The chef will demonstrate the dazzling dishes in front of you with the ingredients that are from the local in Hyogo Prefecture. Both your eyes and your stomach will be delighted as you enjoy your meal, leaving you with absolute satisfaction.
Location
| | |
| --- | --- |
| Name | Kobe Minato Onsen REN |
| Address | 1-1 Shin-Minato-cho, Chuo-ku, Kobe-shi, Hyogo-ken |
| Web Sites | (In Japanese) https://ren-onsen.jp/ |
| Number of rooms | 90 |