Kumano Kodo Pilgrimage Route
The Kumano Kodo Pilgrimage Route is registered as a World Heritage site and offers walks along a variety of trails such as the Ise-ji and Nakahechi routes. You can also dress up in period costumes from the Heian era at the Daimonzaka-chaya, a rest area in the town of Nachikatsuura in the Higashimuro district of Wakayama Prefecture. Enjoy walking from Mount Nachi, one of the three mountains of Kumano, to the Kumano Nachi Taisha Grand Shrine and the Nachisan Seigantoji Temple dressed like aristocrats from the Heian period.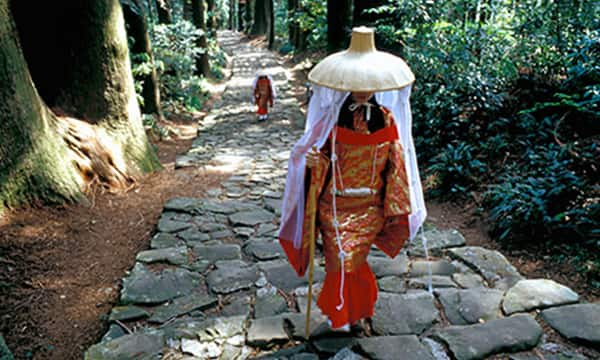 You will get a real taste of the Kumano Kodo atmosphere simply by walking along Daimonzaka.
The photograph shows tsubo clothing worn by upper-class women in the Heian-period on trips and outings. At that time, it was the custom for women of a social standing not to show their faces needlessly, so a thin cloth was placed over the head, which also kept insects away.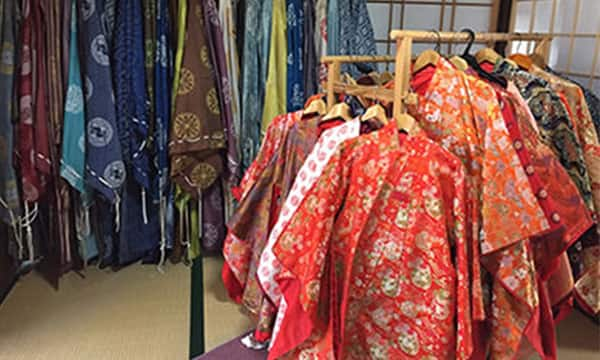 Various Costumes Available at Daimonzaka-chaya
Heian Period costumes can be rented at the Daimonzaka rest area, Daimonzaka-chaya. There are costumes for women, men and children, and the staff will provide appropriate assistance to help you dress. Your normal clothes and bags can be stored here, so you will be dressed head to toe in Heian costume.
Visit the sacred "Nachi Mountain" while wearing elegant Heian clothing
By selecting the "Experience Course (2 hours)" at the Daimonzaka-chaya, you can walk in the Heian clothing not only in the Daimonzaka area but also to Nachi Mountain, which is one of the Kumano Sanzan. Kumano Nachi Taisha is 30 minutes on foot along the ancient road at the top of a long flight of stone stairs. The Nachi Waterfall, which has been deified, is the highest waterfall with an uninterrupted drop in Japan. Kumano Nachi Taisha and Nachisan Seigantoji next to the grand shrine are part of the World Heritage site, and the whole area has long been visited by vast numbers of royalty, religious practitioners and common people as the one of the foremost sacred areas of Kumano. Visiting this location in the Heian costume heightens the sensation.
Location
| | |
| --- | --- |
| Name | Daimonzaka-chaya |
| Address | 392 Nachisan, Nachikatsuura-cho, Higashimuro-gun, Wakayama |
| Business Hours | 9:00 to 16:00 (accepted up to 15:00) |
| Inquiries | TEL: 0735-55-0244 |
| Admission | Model course (1 hour): 2,000 yen; Experience course (2 hours): 3,000 yen |