Every visitor to Hokkaido should try the delicious local seafood.
Nijo Market is located near the center of Sapporo and is known for fresh seafood, including its famous seafood rice bowls.
Nijo Market is said to have developed in the early Meiji Period, when fishermen from Ishikari Bay started selling fresh fish there. There used to be a row of fish markets running from Nishi 1-chome to Higashi 2-chome along the bank opposite the Sosei River. Eventually, noodle shops, bars, and greengrocers opened, laying the foundations for today's Nijo Market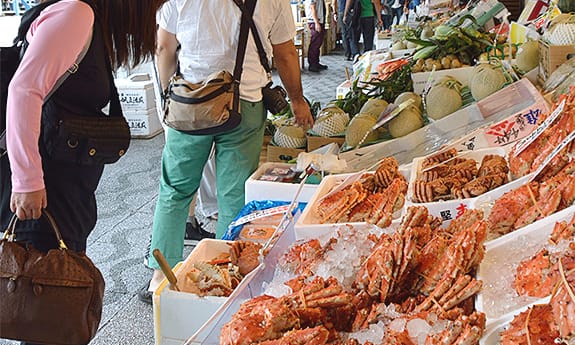 Over a century later, the market continues to serve local residents' culinary needs. Owing in part to its central location, the market is also popular among tourists, who come in search of Hokkaido souvenirs such as crabs and scallops. There are also mixed-use buildings such as "Noren Yokocho," which feature many unique eating and drinking establishments and have made Nijo Market a popular spot, alongside Maruyama and Tanukikoji, for gourmands.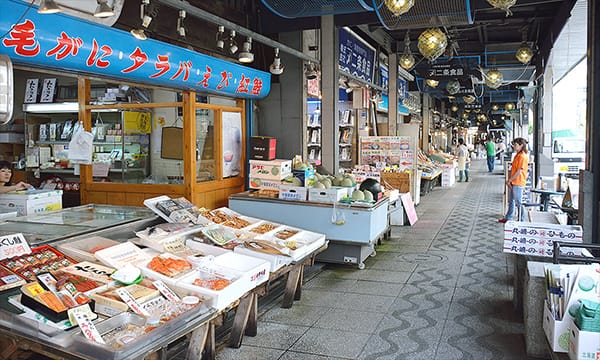 Sapporo's "Nijo Market" and the "Sapporo Central Wholesale Market Curb Market" are popular markets where one can enjoy sashimi-topped rice and sushi that make full use of the fresh seafood just arriving from various parts of Hokkaido in the morning. Crabs lining up in front of the stores are the most popular seafood souvenir among visitors. We invite you to come and experience the unique taste of the market.
Location
Name
Nijo Market
Address
Minami 3-jo from Higashi 1-chome, Chuo-ku, Sapporo-shi, Hokkaido
Hours
Shops: 7:00 - 18:00(Restaurants: 6:00 - 21:00)*1
*1 Shop and restaurant hours may vary
Web Sites
http://nijomarket.com/
Telephone
TEL: 011-222-5308