Make your own original Nokke-don at Furukawa Market
"Nokke-don (seafood donburi)" is a rice bowl with your favorite seafood ingredients as a topping. Furukawa Market, where you can "add a little of each of many varieties", or "add a both seafood and meat", on your own original Nokke-don.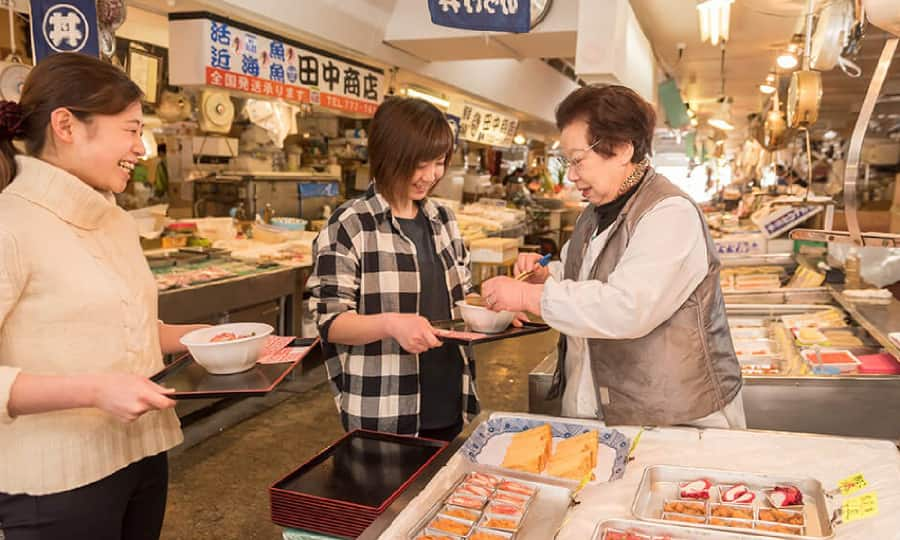 Purchase tickets and use your tickets to purchase a bowl of rice and then wander around and check out what the fishmonger have to sell. Aomori boasts a wide variety of ingredients, such as scallops, tunas, retro side dishes, and even meat. Charcoal-grilled local fish and deep-fried minced squid are also popular. While enjoying the local unique atmosphere with its tsugaru dialect, your mouth will be spoiled by delicacy of Aomori in a bowl of seafood donburi.
Location
Name
Furukawa Market
Web Sites
https://nokkedon.jp/nokkedon/
Address
1-11-16 Furukawa, Aomori-shi, Aomori
Access
Approximately 5 minutes' walk from the front exit of JR Aomori Station
Approximately 35 minutes' ride by bus from Aomori Airport on Aomori Airport Line and get to Aomori Station
Business Hours
7:00 to 16:00
(Varies by store)
Inquiries
TEL:017-777-1367
Scheduled holidays
Every Tuesday