Towada-Hachimantai National Park

Towada-Hachimantai National Park overflowing with a variety of natural beauty Including Lake Towada, Oirase River valley, Mount Hachimantai and Mount Akita-Komagatake
Towada-Hachimantai National Park extends over the mountain range of Akita, Aomori and Iwate prefectures. The vast park overflows with nature consisting of the Towada and Hakkoda areas that include Mount Hakkoda, Lake Towada and the Oirase River valley, as well as the Hachimantai area, which includes Mount Hachimantai, Mount Akita-Komagatake and Mount Iwate. Feel the blessings of nature during each of the four seasons, such as the majestic mountains, beautiful lake scenery, hot springs and skiing.
Mount Hakkoda is said to be named for having "eight (meaning a large number) peaks with many fields (moors and ponds) on top." It is actually a collective name for the 18 peaks of the North and South Hakkoda Mountain Range. The scenery created by the richly diverse nature is unique to Mount Hakkoda. You can always enjoy a superb view no matter what time of the year, from the "snowy corridor" in the spring to the fresh greenery in summer, colorful foliage in autumn and soft rimes in winter. There are also mountain trails where you can enjoy trekking.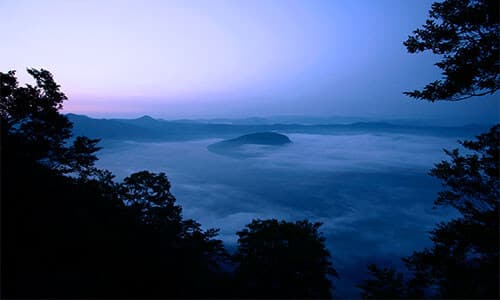 Lake Towada is a dual-crater lake formed by volcanic activities that started about 200,000 years ago. As a result of a huge eruption that occurred 40,000 to 13,000 years ago, the central part of the volcano caved in, and is said to have created the original form of the present Lake Towada. With the subsequent eruption, water accumulated in the deep hollow and a lake was formed. The depth of the water is as deep as 326.8 meters, telling of the extremity of the eruption energy. It is a mystical lake created by nature throughout a long period of time.