In October 4, 2017, the national park that encompassed Lake Akan was renamed as the Akan-Mashu National Park. Lake Akan is surrounded by three majestic peaks: Mt. Meakan (pronounced "may-ah-con"), Mt. Oakan ("oh-ah-con"), and Mt. Akan Fuji. There is also the smaller, gem-like Lake Onneto located to the southwest. Depending on the weather conditions and vantage point, the surface of Lake Onneto can take on a myriad of colors and many lovingly refer to it as the Goshikinuma (literally, "5 color lake"). Lake Akan has been known as an area of scenic beauty since the late-Tokugawa shogunate due to the travel journals written by explorer Takeshiro Matsuura in 1858 and 1861 (Tozai Ezo Yamakawa Chiri Torishirabe Nisshi and Kusuri Nisshi, respectively).
Enjoy Lake Akan throughout the Year
Lake Akan is famous for its marimo, which are balls of algae, but visitors can also enjoy various events there throughout the year. During the Summer Light of Hope event, participants write their wishes on marimo lanterns and then float them out onto the lake to create a mystical nighttime spectacle. In the winter, visitors to the Akan Ice Festival can watch fireworks in the sky above the frozen lake respectively.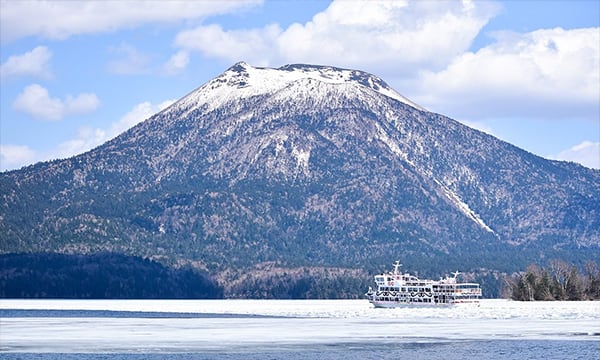 Marimo, Formed by Lake Akan's Unique Environment
Visitors can take a cruise on one of the Akan Sightseeing Cruise Company's ships and see the lake from various locations. They can also disembark along the way to see the marimo. Research has found that these ball-shaped marimo only exist in Lake Akan and Lake Myvatn in Iceland, and only the ones in Lake Akan grow to such large sizes. This is due to the fact that a number of factors which enable this growth are all present in the lake. The shorelines of Lake Akan and its islands, in particular the long, shallow beaches in the inlets of Kinetanpe and Churui bays on the north shore, were the result of complex volcanic eruptions and help produce the unique water currents that are needed. Other key factors include the clean water which flows into the lake from the forests and rivers, as well as the presence of hot springs.