Owakudani, a volcanic crater formed during the eruptions in Hakone in Kanagawa Prefecture
Owakudani is a volcanic crater formed during the last eruption of Mount Hakone approximately 3,000 years ago. White smoke is rising up even now, and you can feel the volcanic activity right before your eyes.
Owakudani's specialty, Kurotamago
Kurotamago, or black egg, is Owakudani's specialty, in which eating one is said to add seven years to your life. By boiling the eggs slowly in a hot spring pond at approximately 80 degrees Celsius for an hour, the iron content (hot spring substance) adheres to the porous eggshells, which results in a chemical reaction with hydrogen sulfide that gives the black color to the shells. Then, the black eggs are placed in a pot and steamed at a temperature of approximately 100 degrees Celsius for another 15 minutes. Kurotamago eggs are sold only in Owakudani.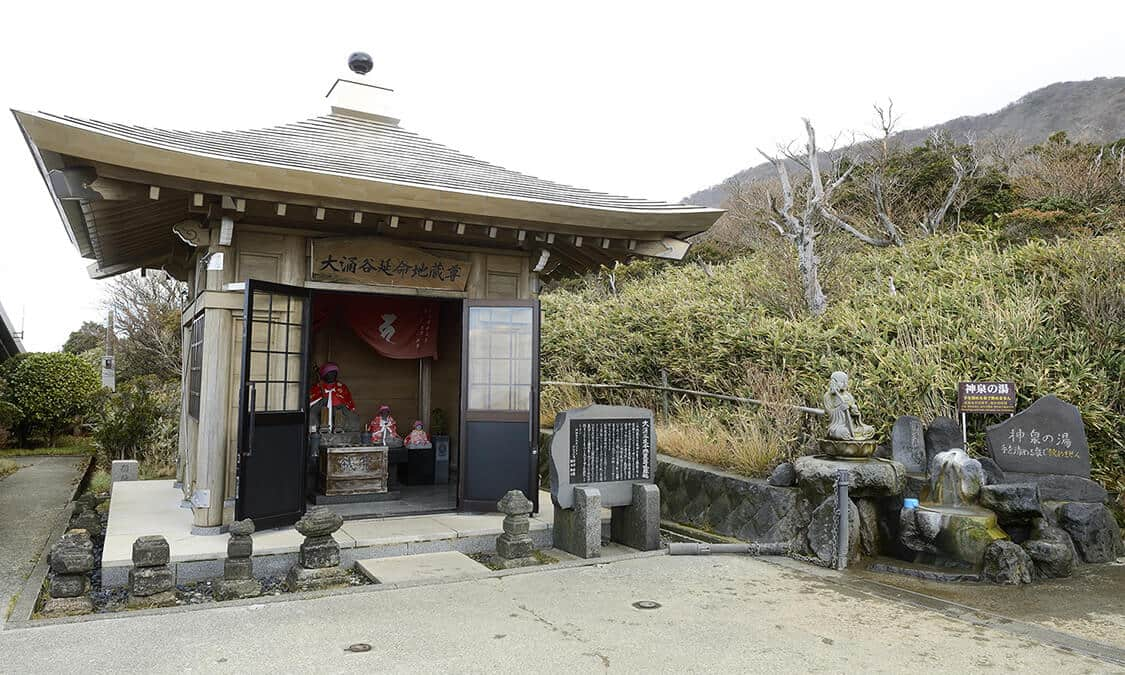 Enmei Jizoson is said to have its origin when Kobo Daishi visited the Owakudani valley during his journey across the world about 1,200 years ago. He carved the jizo bosatsu (statue) in a prayer offered for the people suffering upon seeing the hellish scenery of the valley. The reason why Owakudani Kurotamago are called "black eggs of life extension" is associated with this Enmei Jizoson.
The tall ceiling offers a sense of openness, allowing you to enjoy shopping in a relaxing atmosphere. There is also space where you can eat Owakudani's famous Kurotamago black eggs within the shop. In addition to souvenirs such as original sweets and popular local mascot goods, cosmetics that promote beautiful skin made with Owakudani hot spring water and egg extracts such as the "Kurotamago skin mask" are also popular.
Location
Name
Owakudani Kurotama Shop
Web Sites
http://www.owakudani.com/index_e
Address
Sengokubara, Hakone-machi, Ashigarashimo-gun, Kanagawa
Access
Approximately 1 hour by Hakone Tozan Railway from Hakone Yumoto Station
Approximately 50 minutes' bus ride from Odawara Station
Business Hours
9:00 to 16:00
Closed
None
Inquiries
TEL: 0460-84-9605
Admission
Free entrance for the park