A World Heritage site embodying a noble's imagery of heaven
Founded in 1052, Byodoin Temple presents the spectacular scenic setting of Phoenix Hall built on an island in a pond harmonizing with the natural beauty of the four seasons. Phoenix Hall is also well known as the image engraved on Japan's 10-yen coin. Other must-see sites include the Hosho-kan Museum exhibiting a collection of many national treasures and Tea Room Toka where you can enjoy authentic Uji tea.
Stroll through Byodoin Omotesando Street
A 10-minute walk from JR Uji Station, the historic street is located just across the Uji Bridge from Uji Station on the Keihan Railway and connects to the front gate of Byodoin Temple. Amid the delicious aroma of tea, numerous long-established Uji tea shops line the street, as well as shops for various specialties associated with Uji tea such as Japanese confectioneries, famous tea dumplings, tea soba noodles and tea udon noodles.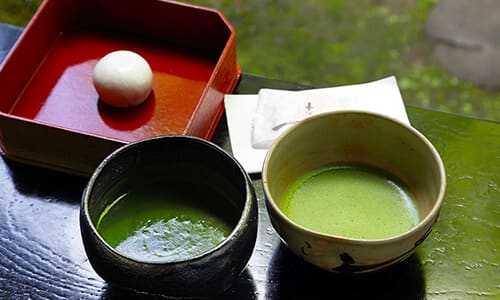 One of Japan's most renowned tea production areas, quality Uji tea has been cultivated and produced in its own unique way, making use of the rich natural environment and tradition and techniques passed down from ancient times. At the Uji municipal teahouse Taihoan on the banks of the Uji River, you can enjoy authentic Uji tea, such as matcha with a rich aroma and full-bodied flavor and sencha with a fresh scent and elegant bitterness, along with seasonal Japanese sweets. You can also enjoy a tea ceremony experience taught by a teacher dressed in a beautiful kimono.
Experience zazen meditation at Kosho-ji Temple
Kosho-ji Temple was the first Soto Zen temple in Japan founded in the early 13th century by Dogen Zenji, a monk who returned from China. Even today, trainee monks come from all across Japan to this Zen Buddhist seminary and continue training every day. The temple also opens its doors to the public and provides various opportunities to experience zazen meditation. This truly special experience lets you sit with a serene mind and make the time to face yourself. The zazen experience is held at the actual dormitory of trainee monks, and careful guidance in etiquette is provided for beginners of zazen meditation.
Location
Name
Byodoin Temple
Website
https://www.byodoin.or.jp/en/
Address
116 Uji Renge, Uji-shi, Kyoto
Access
Approximately 10 minutes' walk from JR Uji Station
Approximately 10 minutes' walk from Uji Station on the Keihan Electric Railway
Business Hours
8:30 to 17:30 (Final admission: 17:15)
Closed
None
Inquiries
TEL: 0774-21-2861
Admission
Adults: 600 yen; Junior high school and high school students: 400 yen; Elementary school students: 300 yen