The Beautiful Vermillion Main Shrine(Honden) Towering off the Ground and the Magical Okunoin
The most popular tourist attraction in Kashima City, Saga, is Yutoku Inari Shrine, also known as a spiritual site. You can also enjoy the specialty sake in the Hizen Hamashuku area as well as healing your mind and body at Torii Gates in the Sea and Takezaki Hot Springs in Tara Town.
Yutoku Inari Shrine, which was built in 1687, is one of the three major shrines dedicated to Inari. Worshipped as the ancestral god of food, clothing and shelter, and as the guardian god of rich harvests, good business, family prosperity and other endeavors, the shrine is visited by 2.8 million people every year.
Omikuji (a fortune slip) is available in five languages (Japanese, English, Chinese, Korean, and Thai) to accommodate a growing number of visitors from various countries.
The Honden, or main shrine, towers off the ground from a high platform. Looking down provides quite a thrill! If you go up to the Honden, you'll be able to enjoy expanses of picturesque scenery below you. You have to climb up stairs to reach the Honden, but at a fee, there is also an elevator up (300 yen per person). People who use the elevator can receive an omikuji (fortune slip) containing a natural stone that brings good fortune. If you walk up the path lined continuously with torii gates that start from beside the Honden all the way up to the mountain peak, you will reach the Okunoin. The path up to the Okunoin is very rocky and has many steep slopes, but you'll be treated to a magical atmosphere and a view of magnificent scenery that encompasses everything from Kashima city right down to the Ariake Sea.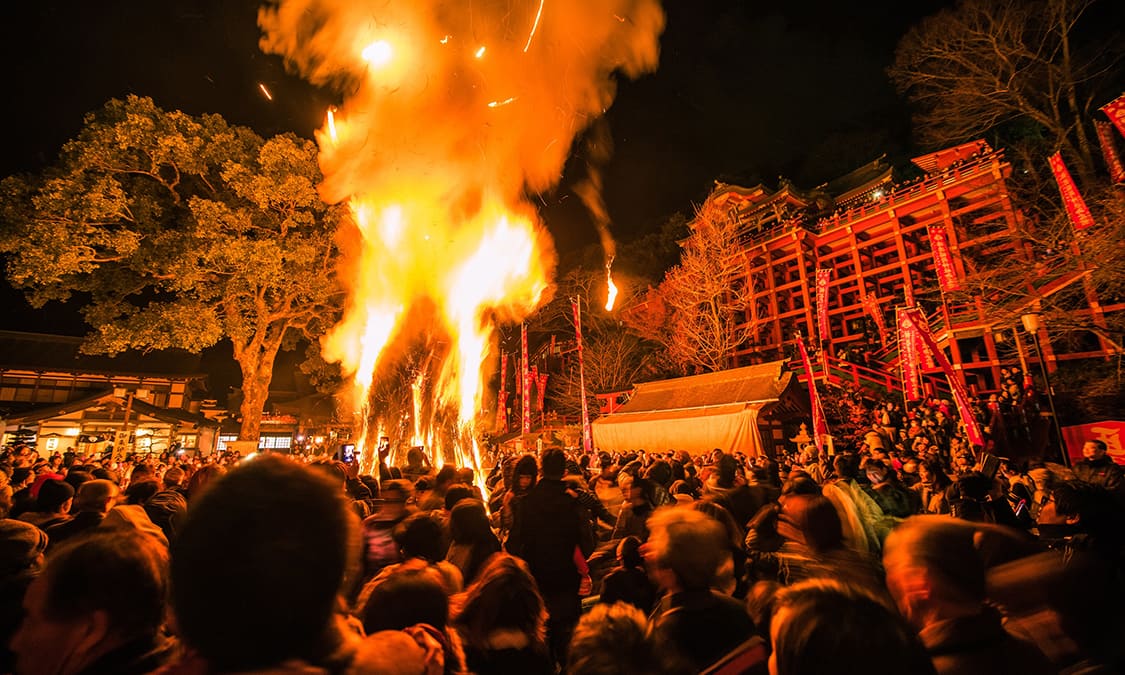 Shinto rituals are held in Yutoku Inari Shrine, on April 8 is the spring festival, Tamakae, and on December 8 is the fall festival, Ohitaki. Also, in the Japanese garden next to the shrine, you can see a variety of flowers throughout the four seasons, such as plum blossoms, cherry blossoms, wisterias, and hydrangeas. The 50,000 dazzling blooming azaleas in April provide for a particular treat. As well as this, the Yutoku Museum exhibits treasures of Yutoku Inari Shrine, armor, swords, and works of art. In the shopping district in front of the gate to Yutoku Inari Shrine, you can rent a kimono and stroll around while wearing it and taking photographs.
Location
Name
Yutoku Inari Shrine
Web Sites
https://www.yutokusan.jp/en/
Address
1855 Furueda, Kashima-shi, Saga
Business Hours
Visiting hours 9:00-17:00
No days off
Inquiries
TEL: 0954-62-2151
Price
Free admission to the shrine (Entrance to the Japanese garden and museum requires a fee)