Enjoy this National Treasure in its beautiful original condition along with its adorable mascot, Hiko-nyan!
For over 400 years, Hikone Castle has been one of the few castles in Japan to survive wars and disasters and maintain its original condition. This historic building looks even more beautiful in spring when it is surrounded by the approximately 1,200 cherry trees in full bloom, and its adorable mascot, Hiko-nyan, is also very popular.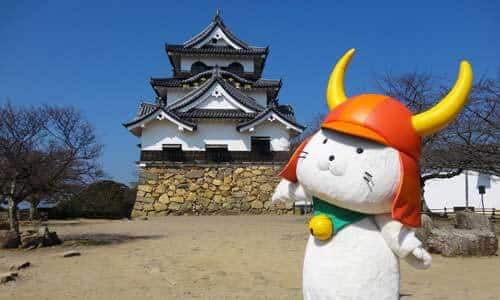 Unchanged since its establishment
Hikone Castle was established in 1622 after an approximately 20-year construction. The maintenance of its beautiful original state has attracted many opportunities for use of the site, including as a location for television and movie productions. Dynamic panoramic views of magnificent Lake Biwa can be seen from the main tower, with the Genkyu-en garden also providing gorgeous seasonal views. The castle's cute mascot, Hiko-nyan, is also a big hit with children and adults alike, and the Hiko-nyan Show held almost every day in the front square and at the Hikone Castle Museum is especially popular.