Shrines and Temples in Nikko

Shrines and temples in Nikko: World heritage sites, the pride of Japan
There are three representative holy places (two shrines and a temple) in Nikko: Nikko Toshogu Shrine, Nikko Futarasan Shrine, and Rinno-ji Temple. There is the architecture of great historical value, such as national treasures and important cultural properties at Nikko Toshogu Shrine, which enshrines Shogun Ieyasu Tokugawa, and Rinno-ji Temple, which features the grave of the third Shogun Iemitsu Tokugawa. Visitors must see the gorgeous sculptures including Nemuri-neko (sleeping cat) and the three wise monkeys.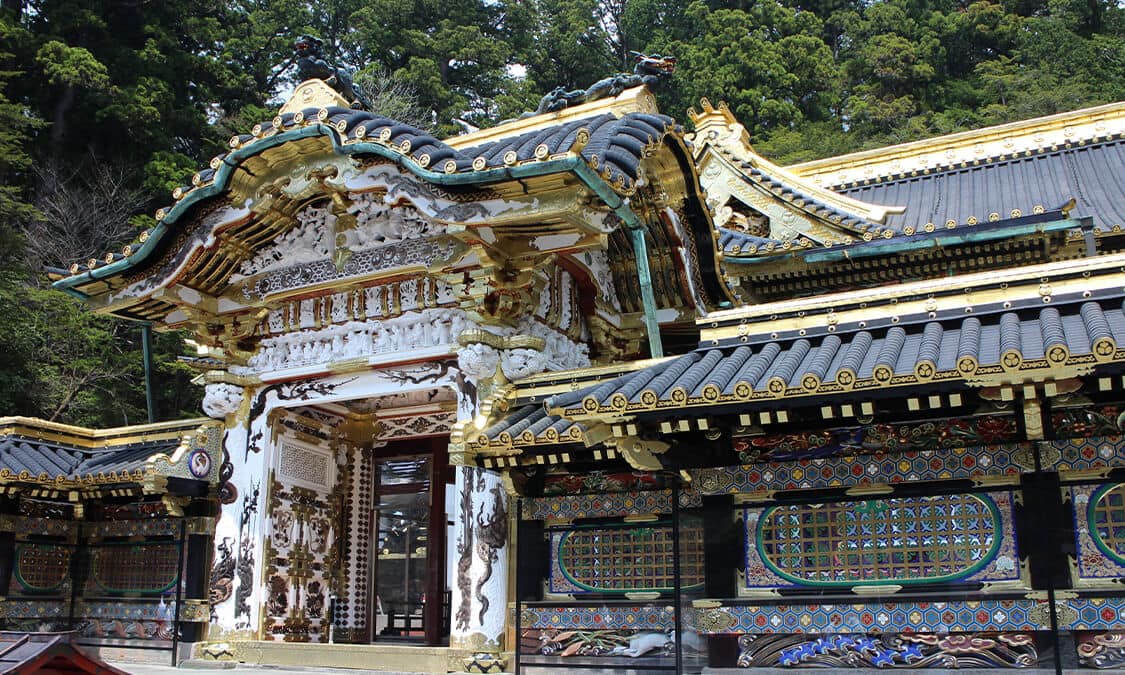 Nikko Toshogu Shrine worships Ieyasu Tokugawa. Most of the shrine buildings were constructed in 1636 under the order of the third Shogun Iemitsu. There are 55 buildings comprising eight national treasure buildings and 34 important cultural property buildings in the precinct of the shrine. The magnificent beauty of the buildings is overwhelming. Coming from various places in Japan, the artisans decorated the buildings using lacquer or brilliant colors. The pillars are embellished with many different sculptures.
Saint Shodo opened the shrine at Nikko over 1,200 years ago. Futarasan Shrine is the old shrine where the worship of the Nikko Mountains began. The shrine worships Mount Futara (or Mount Nantai) as the sacred body of the god. The local people have respected and worshipped at the shrine for ages. The popularity of Futarasan Shrine is also renowned for its matchmaking power. Shinkyo Bridge is a beautiful bridge made of red-painted wood, adorning the entrance of the shrines and temples in the mountains of Nikko. It is a kind of gateway to the world heritage shrines and temples in Nikko.
Rinno-ji Temple is a general term for 15 buildings including halls and towers. It began with the establishment of Shihonryu-ji Temple by Saint Shodo, the originator of the worship of the Nikko mountains, over 1,200 years ago. Sanbutsudo, the hall worshipping the true Buddhist saints, is the largest wooden architecture in the Nikko mountains, enshrining three Buddhist statues: Senju Kannon (Mount Nantai), Amidanyorai (Mount Nyoho) and Bato Kannon (Mount Taro).
Location
Name
Nikko Toshogu Shrine
Website
https://www.visitnikko.jp/en/destinations/central-nikko/
Address
2301 Sannai, Nikko-shi, Tochigi
Access
From JR Nikko Station or Tobu Nikko Station, take the Tobu bus bound for Chuzenji Onsen or Yumoto Onsen for approximately 7 minutes and get off at Shinkyo bus stop
Business Hours
April to October: 9:00 to 17:00
November to March: 9:00 to 16:00
(Final admission is 30 minutes before the gate closed throughout the year.)
Inquiries
TEL: 0288-54-0560
Admission
Adults and senior high school students: 1,300 yen; Junior high school and elementary school students: 450 yen