One of Japan's largest high-altitude marshes at the center of Nikko National Park in Okunikko
Senjogahara, meaning "battlefield," was named after a mythical tale that the gods of Mount Nantai and Mount Akagi fought over control of Lake Chuzenji in this area. What used to be a lake has become a 400-hectare marsh at 1,400 meters above sea level, and visitors can enjoy trekking the nature trail circling the marsh in around 2.5 hours while observing diverse species of alpine plants.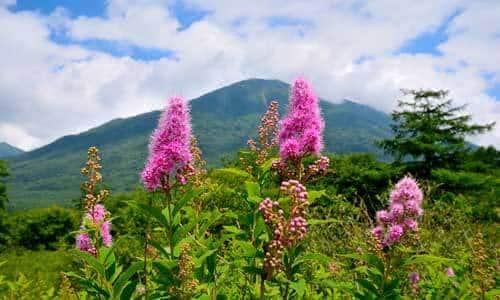 A paradise of 350 species of diverse plants and wild birds
The marshes of Okunikko are a registered site of the Ramsar Convention on Wetlands of International Importance with a diverse range of plants and animals inhabiting the rich natural environment consisting of forests, lakes, swamps, rivers, and marshes. Many lookout points are placed around the hiking trail so that visitors can closely study the amazing wildlife and experience the constantly changing natural surroundings. The trail can be enjoyed all year round and is especially beautiful when the alpine plants such as the hare's-tail cotton grass and bridewort bloom around mid-June to early August, and during the grass foliage season from late September to early October as various plant species create a beautiful mosaic of fall colors.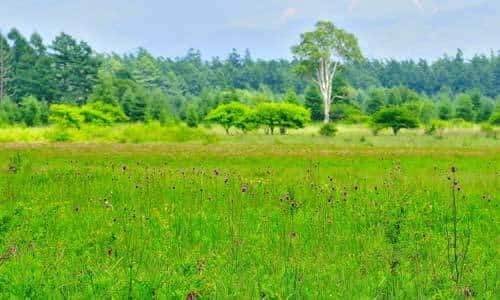 A range of hiking trails for all visitors
Senjogahara offers a wide range of hiking trails for all visitors from novice to experienced hikers. The most popular is the three-hour trail which starts at Yumoto Onsen and passes through Yutaki Falls, Izumiyado-ike Pond, Aoki-bashi Bridge, Senjogahara Lookout Point, Akanuma branch route and Shakunage-bashi Bridge and ends at Ryuzu Falls. The trail is great for beginner hikers with few ups and downs while offering plenty of views of various natural environments. Another recommendation is the 2.5-hour circular trail around Senjogahara and Odashirogahara that starts from Akanuma. Odashirogahara's Japanese white birch trees, known as the "Lady of Odashirogahara," are definitely worth seeing if you have some extra time to venture further.
Location
Name
Senjogahara Marshland
Website
http://nikko-travel.jp/english/course/course22.html
Address
Chugushi, Nikko-shi, Tochigi
Access
Access to Senjogahara Lookout Point
From JR Nikko Station or Tobu Nikko Station, take the Tobu Bus Yumoto Onsen line for approximately 50 minutes, get off at Sanbonmatsu bus stop, then walk approximately 1 minute
Inquiries
TEL: 0288-22-1525 (Nikko City Tourism Association)