Gokayama Gassho-style Village

Gokayama gassho-style village was registered on the UNESCO World Heritage list in 1995. 23 gassho-style buildings currently remain in Ainokura gassho-style village, and 9 remain in Suganuma gassho-style village. Most of them are around one to two centuries old, and the oldest of them are said to have been built 400 years ago. The area's mountain village culture is steeped in the tradition of gassho-style houses and its history is passed down to the present day.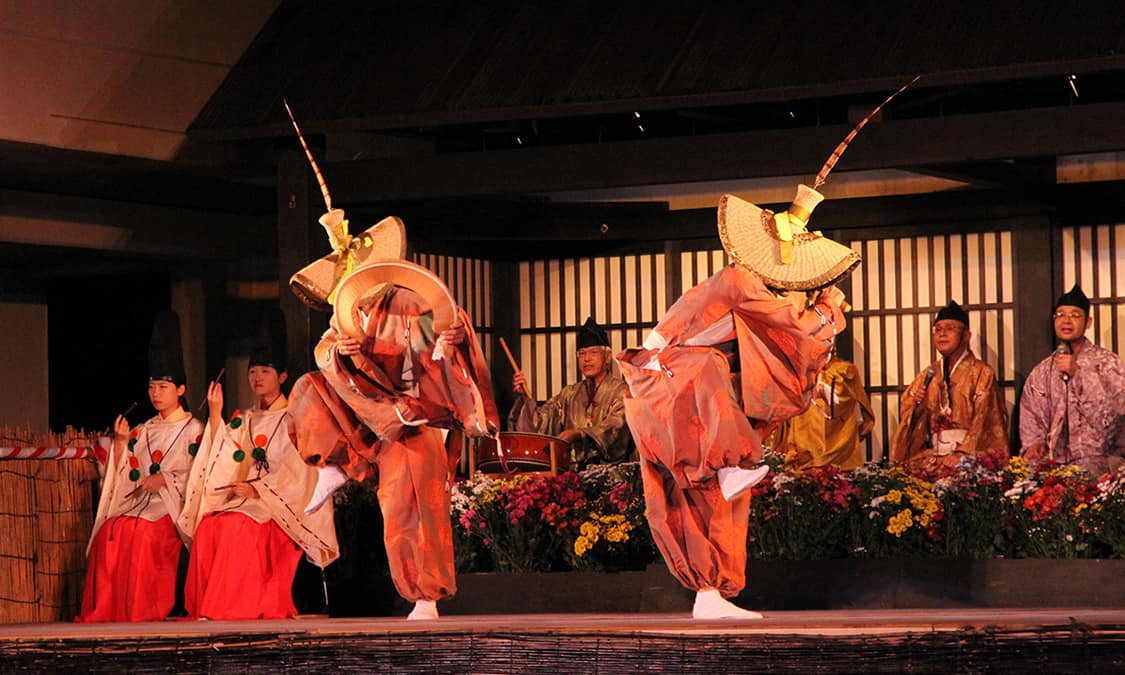 "Kokiriko" is an ancient folk song passed down mostly in the mountain villages of Etchu Gokayama and Kaminashi. Dances are dedicated at the stage in the festival rite held in spring and fall every year in Hakusan-gu Shrine, Kaminashi. These simple folk song and dances are performed to pray and celebrate abundant harvests, and there are a few different types of dances. One type is the "Sasara Dance", where men are adorned in hitatare and kukuri-bakama robes, wear ayai hats, and play a percussion instrument known as the sasara in a well-executed, dynamic manner. Another type is the "Shide Dance", gracefully performed by women who put on a wigs and hold kokiriko instruments with shide paper streamers attached. The Kokiriko Festival is held every year on September 25 and 26 on the grounds of Kaminashi Hakusan-gu Shrine.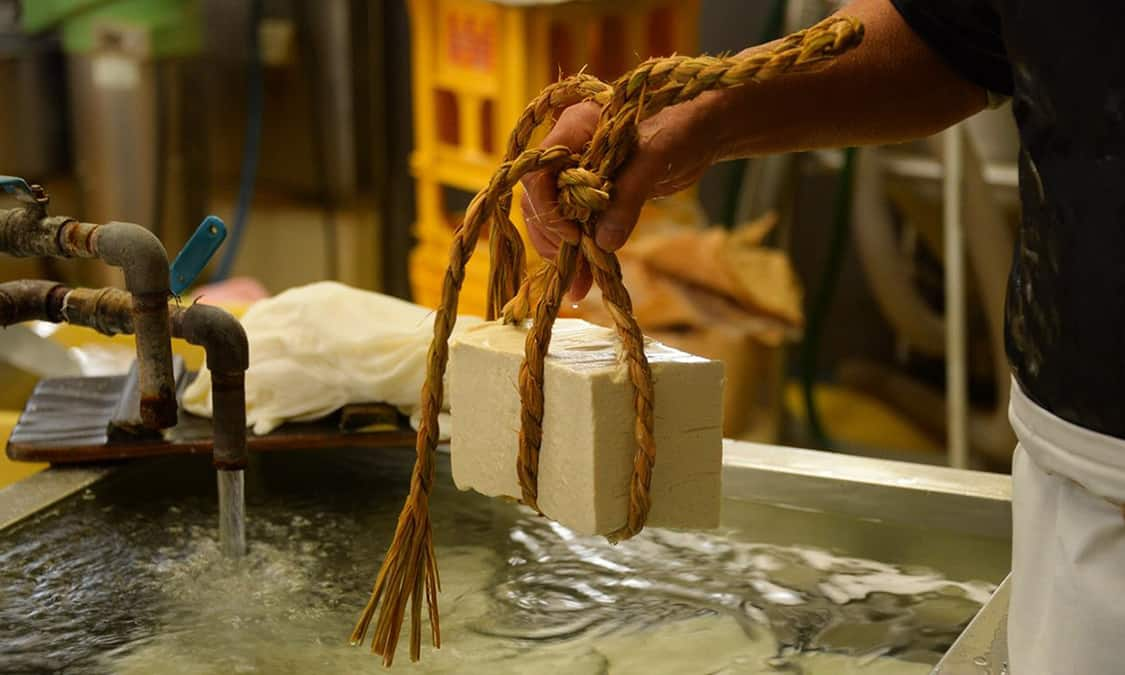 Gokayama used to be considered a secluded, unexplored area. Cultural heritage such as folk songs and a unique culinary culture have been passed down and still thrive in the present day. One aspect of this culture is "Gokayama Tofu", which is made using an original method passed down for generation on generation. It contains little water and has a distinctive firmness, and will not break down even if it is bound with a rope. This dense, firm tofu allows you to experience tofu's true flavor and form. There is also a wide variety of local delicacies to enjoy: "Tochimochi", rice cakes containing horse chestnuts; a preserved food called red turnip pickles that helps tide people through the winter; and char fish nigiri sushi, which is rare throughout Japan.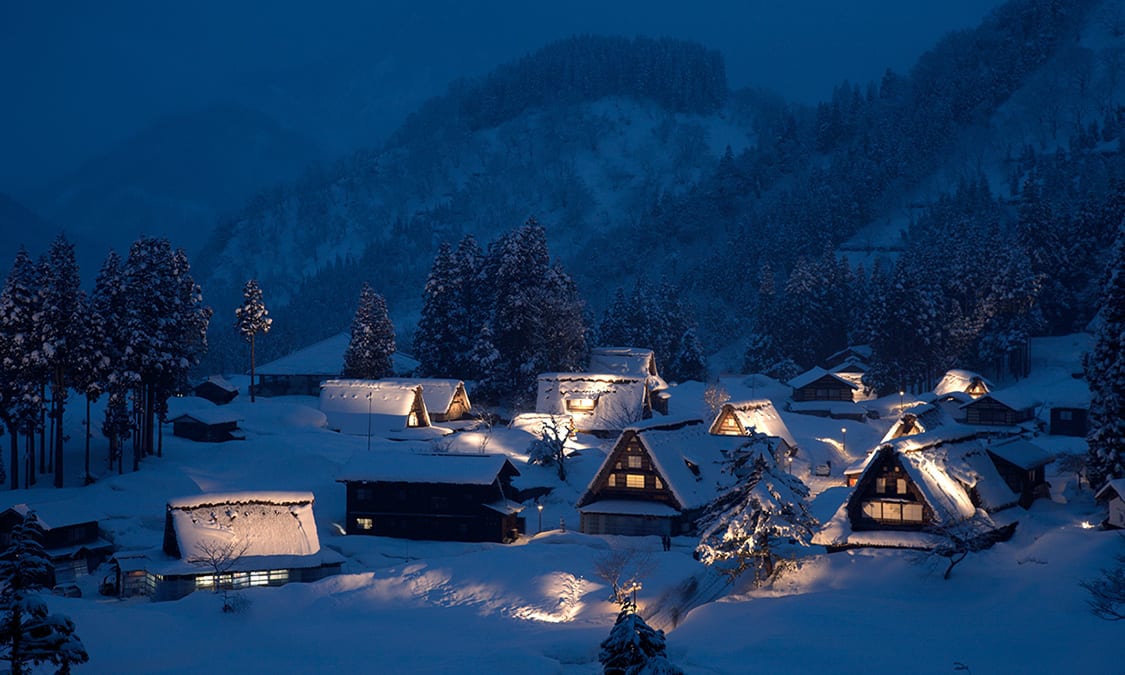 At this gassho-style village surrounded by abundant nature, you can enjoy a huge, 360° panorama of the changing seasonal scenery in the mountains—winter scenes covered in a thick layer of snow, the fresh greenery that sprouts into life after the long winter ends, and the vivid autumn foliage that symbolizes the start of fall, which is slightly earlier than in the foothills. You can get your fill of the extraordinary here—you'll be enchanted by both the daytime scenes and the fantastical nighttime illuminations that are held each season. So, what are you waiting for? Come and set your eyes on rural Japanese scenery shining through the shadows of dusk.
Location
| | |
| --- | --- |
| Name | Gokayama Gassho-style Village |
| Web Sites | http://gokayama-info.jp/en/ |
| Address | 754 Kaminashi, Nanto-shi, Toyama |
| Access | Approximately 1 hour to Ainokura by World Heritage Bus from JR Shin-Takaoka Station |
| Inquiries | TEL:0763-66-2468 (Gokayama Tourist Information Center) |