Higashi Chaya District in Kanazawa
The Higashi Chaya District has existed for many years in the Higashiyama area of Kanazawa City in Ishikawa Prefecture. It is a neighborhood where you can stroll among traditional buildings and feel what it was like during the Edo period. You can enjoy the chaya (entertainment) tradition of Kanazawa by shopping for traditional crafts, such as Wajima lacquerware and Kaga-Yuzen silk, and trying the soft-serve ice cream topped with gold leaf.
Photo by: Kanazawa City

Photo by: Kanazawa City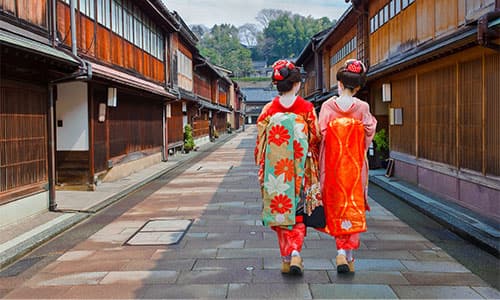 Stroll in Higashi Chaya District, one of the districts designated as important Preservation Districts for Groups of Traditional Buildings. During the Edo Period, it prospered as a district with many chaya, or teahouses, which offered exclusive entertainment by geisha. The tranquil ambience created by historical wooden buildings with latticework and traditional street lamps will take you back in time. You can still visit some of the teahouses where Japanese high-society was once entertained, so you can fully indulge yourself in reminiscence of the old days.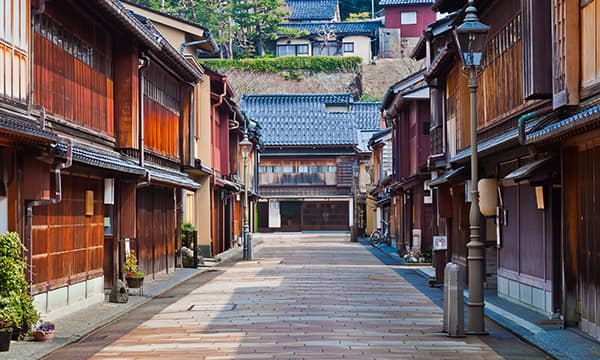 Kanazawa is renowned for numerous specialities, including kimono and lacquerware, but the foremost being gold leaf adorned products. With gold leaf technology that began in the 16th century, Kanazawa produces over 90% of gold leaf in Japan. These beautiful traditional handicrafts do not need to be expensive; you can find many items at affordable prices, including sake cups and chopsticks.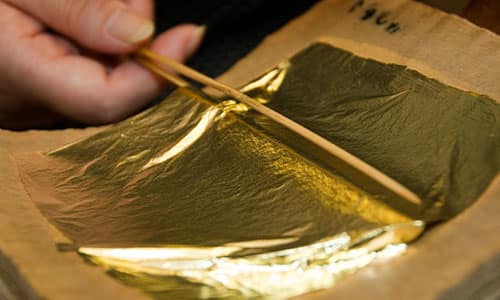 Photo by: Kanazawa City
Hakuichi is one of the biggest gold leaf manufacturers and retailers in Kanazawa and has a shop in Higashi Chaya District that makes for a great place to start souvenir shopping. The establishment even has a cafe serving dessert using real edible gold leaf to make your experience even more memorable. Both the shop and cafe are conveniently located in the district's centre (1-15-4 Higashiyama, Kanazawa) and are open every day from 9:00 to 18:00.
Location
Detail Information of Hakuichi higashiyama

| | |
| --- | --- |
| Name | Hakuichi higashiyama |
| Website | https://enkanazawa.hakuichi.co.jp/ |
| Address | 1-15-4 Higashiyama, Kanazawa-shi, Ishikawa |
| Inquiries | TEL: 076-253-0891 |