Nara Park is more than just a deer! So many places to see inside the park and nearby, such as Mt. Wakakusa.
Nara Park, one of Nara's most famous destinations, is famous for being able to interact with deer that roam in the park. There are various spots in the vicinity, such as the Ukimido Pavilion and Mt. Wakakusa. Also many World Heritage sites, such as Todaiji Temple, Kasuga-Taisha Shrine, Kofukuji Temple, and Cultural Facilities, such as Shosoin Treasure House and Nara National Museum that can be visited.
Nara Park, where you can get up close and personal with deer, covers an expanse of 511 hectares. With its harmony of vast, green, and natural beauty, it has been described as an unparalleled historic park. The temple buildings highlighted against the trees, the lawns lush with green grass, the sight of herds of deer playing. These sights of "Daibutsu, green and deer," which represent Nara Park, are also the face of the ancient capital of Nara.
The deer that live in Nara Park are wild animals that have been designated as natural treasure of Japan. Approximately 1,300 deer live in the park. These deer are not domesticated, but visitors can feed them with special deer crackers. The newborn deer are shown off to visitors in June every year.
Early in the morning, visitors can watch the Deer Call, when a horn is blown to round up the deer. (Reservation is required)
Ukimido, a hexagonal gazebo that seems to float above Sagi-ike Pond in Nara Park. With the beautiful reflection of the gazebo on the pond's surface, this is a popular place to relax at the waterfront. The surroundings topography is scenic spot of quiet nature. Besides Ukimido, there are Marumadotei Pavilion, a that designated as Important Cultural Property and Kataoka Bairin, a plum tree grove.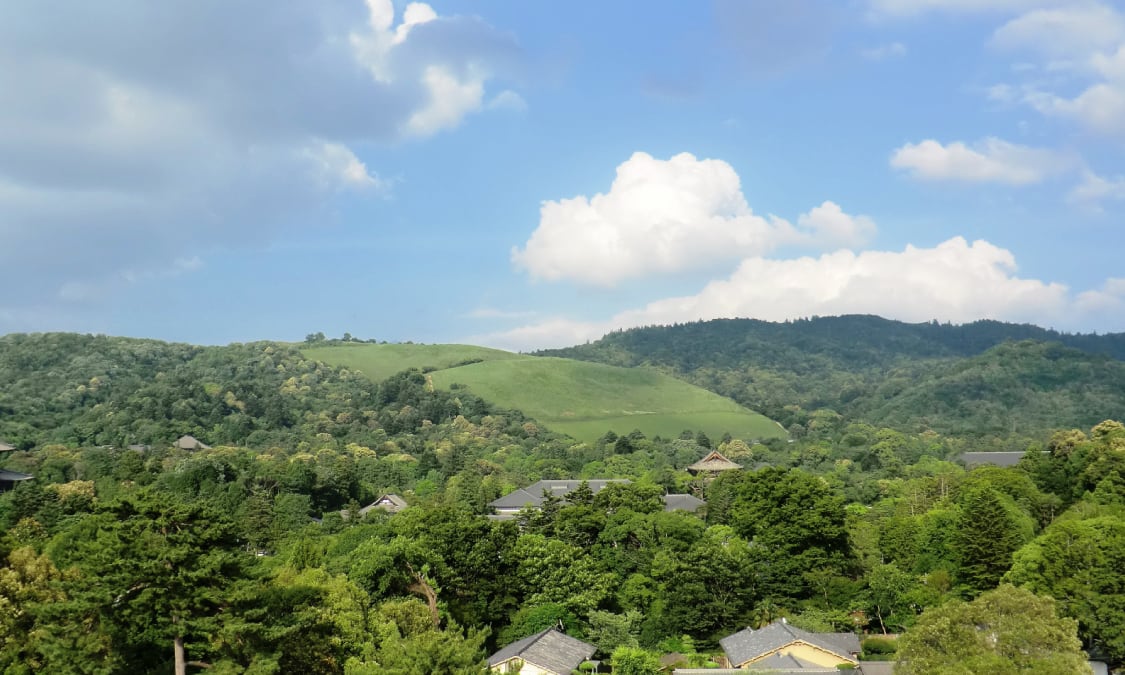 With its form that resembles three hats bundled together, Mt. Wakakusa also known as "Mikasayama" (Three-hat Mountain). This beautiful mountain, which is covered entirely by grass, is famous for the "Wakakusa-Yamayaki", a fire festival to burn off the grasslands, which is held on the 4th Saturday of January every year. The view from the summit of 342 meters above sea level, is spectacular. The night-time view is particularly beautiful and has been selected as one of the three new best nightscapes of Japan.
Location
| | |
| --- | --- |
| Name | Nara Park |
| Web Sites | http://nara-park.com/en/ |
| Address | Zoshi-cho, Nara-shi, Nara |
| Inquiries | TEL:0742-27-8028 (Nara Park Office, Urban Renewal Promotion Bureau, Prefectural Land Management Department, Nara Prefecture) |
| Admission | Free admission |