Kiryu Shinmachi Important Preservation Districts for Groups of Traditional Buildings
"Tastes of JAPAN by ANA" is a regional vitalization project that collaborates with the different prefectures in Japan to present the Land of the Rising Sun in all of its diverse glory.
Feel the quiet flow of time in the quaint townscape
Kiryu is one of the leading producers of silk textiles in Japan with a history of 1,300 years. The townscape itself is a modern cultural heritage, with remains of numerous buildings reflecting the rich history of the town's textile industry. The Honcho Itchome and Nichome areas as well as part of Tenjin-cho, where various warehouses, townhouses, and saw-toothed roof factories are preserved, were designated as Japan's Important Preservation Districts for Groups of Traditional Buildings in 2012.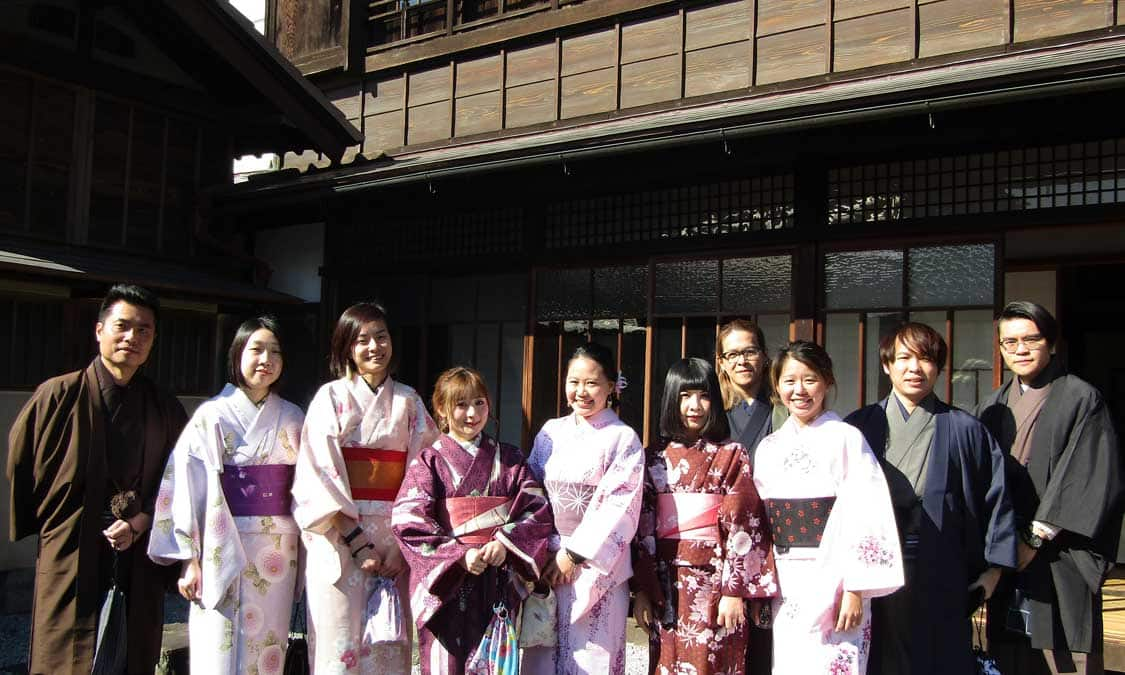 Kimono dress-up experience
Dress up in beautiful kimonos in Kiryu, a town that flourished from its textile industry. Every part of the quaint townscape is a perfect photo spot that matches the kimono. No need to bring anything with you since you can rent everything including a kimono, "obi" sash and other accessories, so you can easily immerse yourself in the Japanese atmosphere.
Kiryu is also famous for its two local dishes, "Himokawa" noodles and "sauce katsudon (pork cutlet rice bowl)". Himokawa is a type of udon noodle that is wide and thin in shape with a pleasantly smooth texture. While the width differs between shops, some are over 10 centimeters wide. The katsudon dish served in Kiryu omits the usual bed of shredded cabbage found in other regions and lays the crisp fried pork cutlet soaked in the tasty sauce right on top of a bowl of steamed rice. Be sure to try them both!
Kiryu Yagibushi Festival (Kiryu Gion Festival)
Held annually on the first Friday, Saturday, and Sunday of August, the festival is a summer tradition of Kiryu with many participants singing and dancing passionately to the regional folk song "Yagibushi." During the Gion Festival, a portable shrine dynamically parades around town. Throughout the festival period, several large "yagura" towers are built around the city, where people dance around in layers of circles to the "Yagibushi" folk song, engulfing the atmosphere in heat and excitement.
Location
Name
Kiryu Shinmachi Important Preservation Districts for Groups of Traditional Buildings
Website
http://www.city.kiryu.lg.jp.e.wt.hp.transer.com/kankou/spot/denken/index.html
Address
1-7-7 Honcho, Kiryu-shi, Gunma (Denken Machinaka Koryukan Cultural Exchange Facility)
Access
Approximately 10 minutes' bus ride from Shin-Kiryu Station on the Tobu Kiryu Line
Approximately 20 minutes' drive from the Ota-Kiryu IC on the Kita-Kanto Expressway
Inquiries
TEL: 0276-46-1111 (Kiryu City Board of Education Administration Department, Cultural Properties Protection Section)