Take a luxury vacation to Okinawa,
home to the most famous resorts in Japan.

Experience the beautiful sea, traditional local cuisine, and a unique Okinawan culture.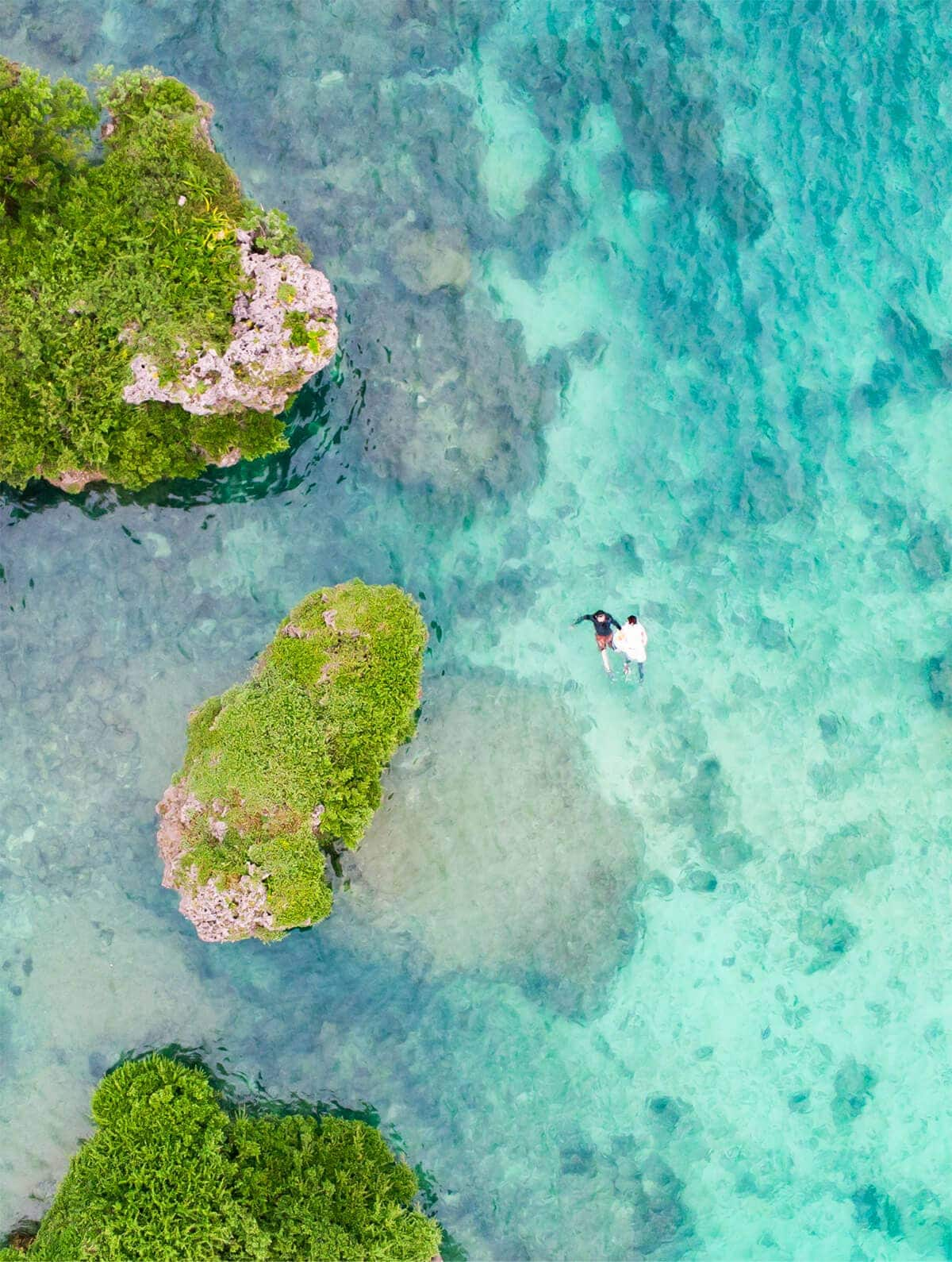 Okinawa's main and other islands have their own unique scenery and cultures. We offer three luxurious and attractive plans to Miyako Island, which is surrounded by the beautiful ocean like no other called Miyako Blue; Ishigaki Island, where you can become one with untouched nature; and the Okinawa Main Island for an encounter with Ryukyu history as well as new trends.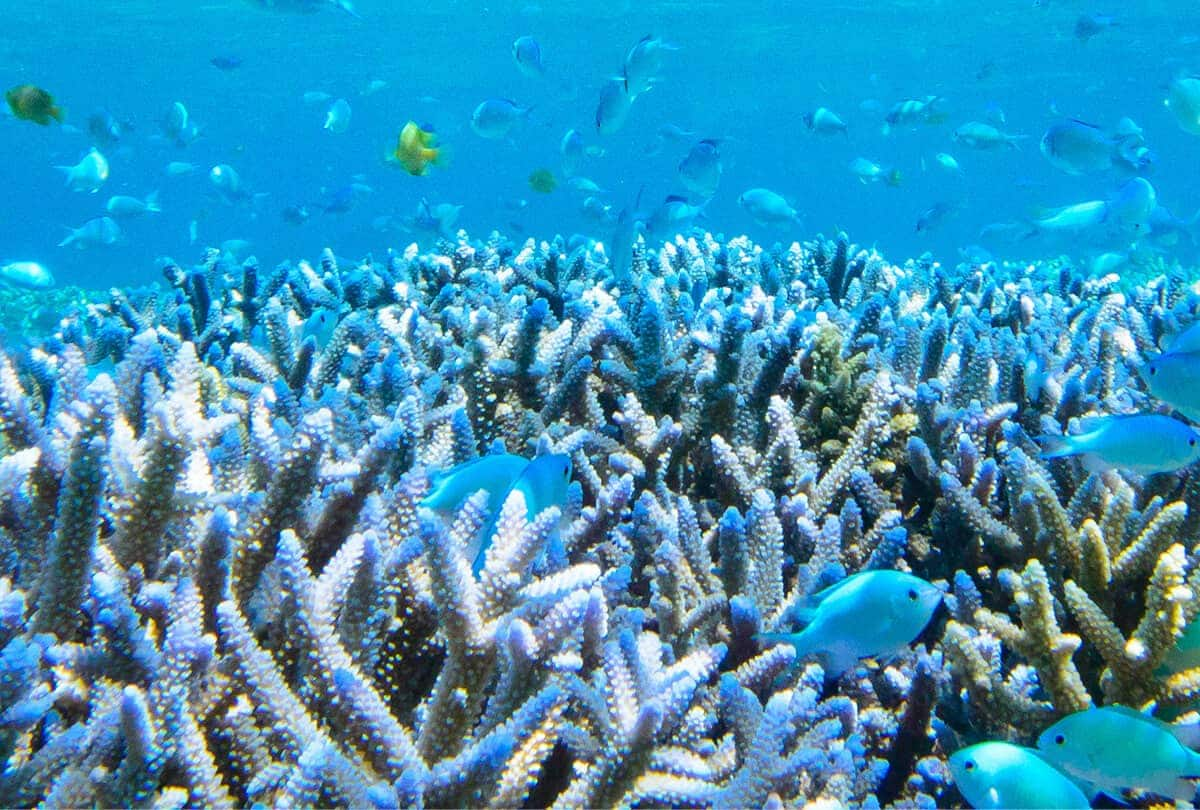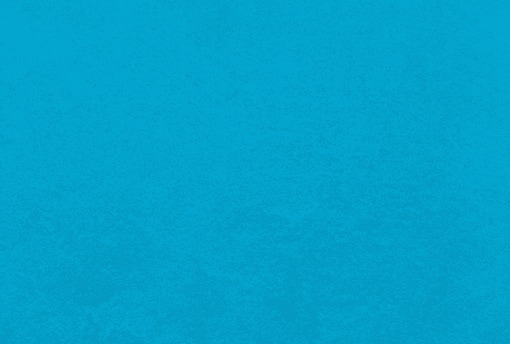 Flying is the most convenient mode of transportation to Okinawa.
Spend your travel time in comfort by flying premium class.
Approx. 2 hours 30 minutes from Tokyo*
Approx. 2 hours 15 minutes from Osaka
* During the winter schedule, a flight from Tokyo will touch down in approx. 3 hours.
Okinawa Prefecture has three airports: Naha Airport, Ishigaki Airport, and Miyako Airport.
It takes about 2 hours and 30 minutes to fly from Tokyo to Naha Airport, and about 3 hours to reach Ishigaki and Miyako Airports.
Recommended
Itineraries
Okinawa Main Island
Experience Ryukyuan culture, a blend of local history and current trends, and participate in the island's thrilling activities from within the heart of the great outdoors. These are 4 days of treating all five senses by partaking of carefully selected local ingredients in masterful and traditional Ryukyuan dishes.
Travel with Erica Lion
This video shows a woman traveling across Okinawa Main Island, taking in the absolute best of the island's natural scenery and cuisine.
The contents of the video can also be viewed as a text version.
The Okinawa Main Island Trip with Erica Lion
You can enjoy this video with audio.
This video shows YouTuber Erica Lion experiencing Ryukyu culture on Okinawa Main Island and enjoying gourmet food and leisure for four days.
The video starts with the scene where she flies from Haneda Airport to Naha Airport.
Following that, it shows her day on Okinawa Main Island. First, she experiences making traditional crafts such as Ryukyu glass and indigo dyeing and relaxes at HYAKUNA GARAN OKINAWA.
The second day, she sees the beautiful ocean at Mibaru Beach and experiences the tour where she walks through the mysterious forest in the Valley of Gangala. Then, she participates in the ATV tour of riding around the jungle at Doki Doki Yambarunture and stays at Hyatt Regency Seragaki Island, Okinawa.
For the third day, she experiences Seragaki Morning Yoga and does snorkeling among the activities that are offered by Hyatt Regency Seragaki Island, Okinawa and stays at The Atta Terrace Club Towers at night.
On the fourth day, she experiences various kinds of Yachimun Okinawan pottery at Yomitan Pottery Village and goes to Umikaji Terrace Senagajima where you can enjoy a Mediterranean atmosphere. At Umikaji Terrace Senagajima, you can see up close the airplanes taking off and landing. She then goes to Naha Airport and ends her four-day trip.
This video is also available on Erica Lion YouTube channel.
DAY 1
Naha Airport

Approx. 31 minutes by car

1

Okinawa World

Okinawa World Cultu Kingdom Gyokusendo, is a tourist spot that represents the southern part and main island of Okinawa. Enjoy Ryukyu glassmaking where craftsmen make various products with glass melted at high temperatures, and the mysterious deep blue indigo dyeing experience, which uses as its material a plant called Ryukyu indigo. Both experiences allow you to make your own glasses and handkerchiefs.

Approx. 11 minutes by car

2

HYAKUNA GARAN OKINAWA

From each of the spacious oceanfront rooms, birds sometimes dance overhead, and you can hear the sounds of a school of fish swimming and jumping directly underneath, so everyone will be astonished by the powerful sensation of realism.
You can experience the nature of Okinawa from inside your room.

Stay at HYAKUNA GARAN OKINAWA
DAY 2
2

HYAKUNA GARAN OKINAWA

Approx. 3 minutes on foot

3

Mibaru Beach

A typical natural beach in the southern part of the main island, characterized by its shining white sandy beach and wide shallow water that makes it easy to swim in. Many people enjoy bathing, beach parties, parasailing, and glass-bottom boats. The quiet sound of the waves lets you have a feeling of privacy.

Approx. 11 minutes by car

4

Valley of Gangala

A mysterious spot where a forest rich in nature spreads out in a valley formed by the collapse of a limestone cave. You can only enter by booking a walking tour with a guide. It is one of the power spots that Okinawa is proud of.

Approx. 12 minutes by car

5

Doki Doki Yambarunture

If you mention Okinawa, you get the strong impression of a sea full of beautiful coral, but at this facility, you can enjoy an absolutely thrilling buggy experience and a huge banyan tree that makes use of the extensive grounds and nature of the south.

Approx. 1 hour 5 minutes by car

6

Hyatt Regency Seragaki Island, Okinawa

This resort hotel features a unique location where Seragaki Island surrounded by the beautiful sea, is connected to the main island of Okinawa by a single bridge to form the resort.

Activity:

- The Okinawa experience! OKINAWA culture experience

You can experience traditional Okinawan culture under the guidance of an instructor, which includes the sanshin (a stringed instrument that has been used since long ago in Okinawa), the paaranku (a small drum), whistling, and kachashi (dancing to the performance of Okinawan folk songs).

Stay at Hyatt Regency Seragaki Island, Okinawa
DAY 3
6

Hyatt Regency Seragaki Island, Okinawa

Activity:

- Seragaki Morning Yoga

You can thoroughly enjoy yoga that opens up your mind and body while bathing in the refreshing morning sea breeze with the vast sea in front of your eyes.

- Snorkeling by boat

Enter the sea from a boat surrounded by its beauty and you can enjoy the underwater world while floating on the surface of the water.

Approx. 7 minutes by car

7

The Atta Terrace Club Towers

The Atta Terrace Club Towers is engulfed in the deep green of the southern islands. The on-site vegetable garden, unique cultural experiences, resort golf, and a beach club exclusively for guests and more, will add color to your stay. It's a hideaway resort for adults who are accustomed to traveling.

Activity:

- Garden Seminar

An activity program offered by The Atta Terrace hotel. You can experience harvesting while walking through the hotel's on-site vegetable garden and listening to explanations of island vegetables and herbs. You can also turn the harvested herbs into actual tea and drink it.

Stay at The Atta Terrace Club Towers
DAY 4
7

The Atta Terrace Club Towers

Approx. 1 hour by car

8

Yomitan Pottery Village (Yachimun no Sato )

Yachimun is a general term used to describe pottery made in Okinawa. With a wide range of patterns that include simple designs and colorful patterns full of southern feeling, it has been popular as a daily miscellaneous item for Okinawans, and as a souvenir for tourists. Yachimun is pottery that was born from the process of the Ryukyu Kingdom trading with Southeast Asian countries and has been cultivated through absorbing a wide variety of techniques. Yomitan Pottery Village (Yachimun no Sato) is a crafts village where the workshops that make such Yachimun stand side by side.

Approx. 1 hour 10 minutes by car

9

Umikaji Terrace Senagajima

It is about a 15-minute drive from Naha Airport. The unified white exterior makes it as beautiful as a European resort, and it is is a spot visited not only by tourists but also by locals. One of the attractions is that you can see the dynamic takeoff and landing of airplanes because Naha Airport is nearby.

Approx. 15 minutes by car

Naha Airport
Photos by: OCVB
Getting There
Ishigaki Island
Immerse yourself in the ultimate therapeutic session of becoming one with the region's bountiful environment, and enjoy a prime selection of Ryukyuan cuisine, including the rare Ishigaki wagyu beef. These are 4 days in luxury for satisfying your mind and body.
DAY 1
Ishigaki Airport

Approx. 25 minutes by car

1

Kabira Bay

It is the most scenic spot on Ishigaki Island and one of the popular tourist spots. There is an observatory nearby that overlooks Kabira Bay, the scenery of which can be seen in seven changing colors. Kabira Bay received three stars in the Michelin Green Guide in 2008 because of its beauty.

Approx. 10 minutes by car

2

Ishigaki-yaki Pottery Studio

Ishigaki-yaki is rare form of pottery that expresses the beautiful sea of Okinawa. You can also enjoy a pottery activity experience at ease; just bring yourself.

Approx. 12 minutes by car

3

GRANDVRIO RESORT ISHIGAKIJIMA

Stay at GRANDVRIO RESORT ISHIGAKIJIMA
DAY 2
3

GRANDVRIO RESORT ISHIGAKIJIMA

Approx. 8 minutes by car

Ishigaki Ferry Terminal

Approx. 50 minutes by ferry

Densa Terminal

Approx. 11 minutes by car

4

Hoshino Resorts Iriomote Hotel

The largest resort hotel on Iriomote Island. You can have a relaxing time while listening to the sound of the quiet waves coming in. You can thoroughly enjoy the great nature of Iriomote Island with a wide selection of activities.

Activity:

- Iriomote Island Sea Kayaking

A kayak program that even beginners can enjoy with peace of mind. Although it is an experiential course, it is a real, full-scale kayak where you can enjoy the magnificent view of the mangrove, and encounter creatures in the tidal flats at low tide.

- Subtropical Forest Trekking

This tour will head to the two waterfalls, Mariyudu and Campi Re, which are located upstream of the Urauchi River, the longest river in Okinawa Prefecture. It is a popular tour that anyone can easily participate in, where you can experience cruises of secluded areas and trekking on easy to walk mountain roads.

Stay at Hoshino Resorts Iriomote Hotel
DAY 3
4

Hoshino Resorts Iriomote Hotel

Activity:

- Ida Beach Nature Tour

A tour where you can look out at magnificent groups of coral reef and tropical fish located near the shore at the spectacular Ida Beach in Oku-Iriomote.

Approx. 50 minutes by car (from Shirahama Port to Yubu Island)

5

Subtropical Botanical Paradise (Yubu Island)

Yubu's entire island is a subtropical botanical paradise with flowers from southern parts growing in abundance along with an orchard and zoo to enjoy.
If you have an hour, you can take a leisurely stroll and enjoy a relaxing time that can only be experienced on this island.

Approx. 18 minutes by car

Ohara Port

Approx. 35 minutes by ferry

Taketomi Port

Approx. 9 minutes by car

6

HOSHINOYA Taketomi Island

The red-tiled roofs and beautiful white sand streets on this remote island are healing spots. You can stay at HOSHINOYA Taketomi Island, which has been decorated with traditional Okinawan architectural designs, and relax under the starry sky while listening to the sound of the Sanshin (Japanese stringed instrument).

Stay at HOSHINOYA Taketomi Island
DAY 4
6

HOSHINOYA Taketomi Island

Approx. 10 minutes by car

Taketomi Port

Approx. 15 minutes by ferry

Port of Ishigaki

Approx. 10 minutes by car

7

Ishigaki Stalactite Cave

Ishigaki Island's largest limestone cave created by nature over a period of 200,000 years. As well as the natural beauty of the limestone cave, there are many things to see in this vast underground world, such as the magical radiance of the limestone cave's illumination, suikinkutsu where you can enjoy the sound of dripping water, and a stalactite of Totoro.

Approx. 23 minutes by car

Ishigaki Airport
Photos by: OCVB
Getting There
Miyako Island
Rest and relaxation await you at the island's breathtaking beach, known as Miyako Blue, where you will come face to face with the vintage wonders of Mother Nature's beauty. These are 4 days in paradise for savoring gourmet food prepared with nutritious ingredients and time-honored Ryukyuan techniques.
DAY 1
Miyako Airport

Approx. 14 minutes by car

1

Yonaha Beach

This is said to be the most beautiful beach in the East. The reason why it has been chosen as the best beach in Japan in many guidebooks and rankings is the highly transparent Miyako blue sea and the smooth white sandy beach. After being soothed by the sea of everlasting summer, you can cross the Kurima Bridge and have a relaxing time unique to being on a remote island.

Approx. 25 minutes by car

2

Villabu Resort

A suite villa hotel located on the oceanfront of Irabu Island.
The rooms, which are a mixture of Okinawan old-fashioned red-tiles and Balinese-style arrangement, also have a private pool so you can experience the best relaxation while being immersed in the extraordinary space and sound of the sea.

Dinner:

You can enjoy dishes made with local ingredients such as seafood and agricultural produce from the islands of Irabu and Miyako, while looking out at the seaside scenery.
DAY 2
2

Villabu Resort

Approx. 9 minutes by car

3

Irabu Bridge

A bridge with a total length of 3,540 meters that connects the islands of Miyako and Irabu.
It is the longest toll-free bridge in Japan, and you can enjoy an invigorating drive while looking out at the emerald blue sea.

Approx. 22 minutes by car

4

Kurima Bridge

A bridge with a total length of 1,690 meters that connects the islands of Miyako and Kurima.
You can see a panoramic view of Yonaha Beach that spreads out along Miyako island's side.

Approx. 35 minutes by car

5

Ikema Bridge

A bridge with a total length of 1,425 meters that connects the islands of Miyako and Ikema.
Surrounded by coral reefs called Yabiji and white sandy beaches, you can overlook the emerald green sea.

Approx. 34 minutes by car

6

IRAPH SUI, a Luxury Collection Hotel, Miyako Okinawa

A top-class resort hotel with the concept of "forget time and feel the island." You can spend your time in luxury with luxurious facilities such as an outdoor balcony and garden where you can feel the sea breeze and take in the island from your room, and an infinity pool designed to blend in with the sea view.

Dinner : TIN'IN

A restaurant made up of the sky (TIN) and the sea (IN) in the Miyako dialect. You can enjoy French cuisine that incorporates healthy Okinawan ingredients and Ryukyu techniques while looking out at the scenery.

Approx. 20 minutes by car

7

Shimauta Izakaya Kiyama

An izakaya (Japanese restaurant-bar) on Miyako island that holds live folk song shows every day.
As well as Okinawan folk songs, there are mainly showcases of live performances of Miyako folk songs, of which few places on Miyako island show.
It is a restaurant where you can thoroughly enjoy the Okinawan nighttime by drinking, singing and dancing through listening to Okinawan music and having Awamori (alcohol from Okinawa) with seasonal Okinawan cuisine.

Approx. 20 minutes by car

Stay at IRAPH SUI, a Luxury Collection Hotel, Miyako Okinawa
DAY 3
6

IRAPH SUI, a Luxury Collection Hotel, Miyako Okinawa

Approx. 32 minutes by car

8

Shigira Beach

There are tropical fish and coral reefs spread out over the entire area. If you're lucky, you can snorkel and swim with sea turtles at this beach that is only known to a few.

Approx. 15 minutes by car

9

Pumpkin Limestone Cave

As the entrance is usually under the sea and only accessible at low tide, this limestone cave is also known as the phantom limestone cave.
It is said to be the best power spot on Miyako Island, where you can enjoy a mysterious space created by nature.

Approx. 27 minutes by car

10

DOUG'S BURGER Miyako Island Main Shop

A popular hamburger shop from Miyako island run by an American owner who fell in love with Miyako Island.
You can enjoy authentic hamburgers using famous Tarama beef and yellowfin tuna produced on the Miyako Archipelago.

Approx. 22 minutes by car

11

The Shigira Lift Ocean Sky

Okinawa's first, spectacular aerial walk with a total length of 283 meters at the southernmost point in Japan.
It is the only pair lift in Okinawa that extends from the top of a small hill toward the sea, from which you can take in the panoramic view of Shigira Beach and resort facilities.

Approx. 15 minutes by car

12

Alternative Farm Miyako

This is a fun, delicious, learning experience guided by organic sugar cane and banana farmers.
They extract the sugar cane that they harvested themselves to make brown sugar, and also make banana ice cream and grilled bananas using island bananas.

Approx. 15 minutes by car

13

Hotel Shigira Mirage

A resort hotel with the theme of "blue paradise" giving the image of Miyako island's beautiful sky and sea.
Located at the heart of the vast Shigira Seven Miles Resort, you can enjoy both a relaxing time at the hotel and activities at the surrounding resort facilities.

Dinner : SHINKIRO

The restaurant consists of four categories: teppanyaki, steak, tempura, and shabu-shabu.
The restaurant is divided into areas from its single entrance, so you can utilize it according to your intended purpose.

Stay at Hotel Shigira Mirage
DAY 4
13

Hotel Shigira Mirage

Approx. 26 minutes by car

14

Chartered Cruise

Gracefully cruising on the water's surface which is so clear you can see the coral reefs while experiencing the shining sun and breeze. You can enjoy fishing, snorkeling, trolling, sunset cruising, an onboard BBQ and more. however you want, according to your needs.

Approx. 20 minutes by car

15

soraniwa hotel and cafe

A cafe where you can dine while enjoying the ocean view.
You can thoroughly enjoy weekly specials for lunch, coffee, and sweets while looking at the scenery.

Approx. 35 minutes by car

Miyako Airport
Photos by: OCVB
Getting There