Convenient access, just an hour from Fukuoka Airport!
"Ukiha City", a utopia of beautiful nature and exquisite fruits!
Beautiful natural landscape selected as one of Japan's top 100 scenes, and the atmospheric white-walled streetscapes of Yoshii!
The city of Ukiha is located in southeast Fukuoka Prefecture, on the border with Oita Prefecture. Despite being only about an hour's drive from the big city of Fukuoka, it is blessed with bucolic scenes of natural beauty, including the majestic Mino Mountain Range, the fruit orchards that extend along its base, and Cho-on Falls, selected as one of Japan's top 100 water source forests. A particularly spectacular sight is the "Tsuzura Rice Terraces", which were selected as one of Japan's 100 best terraced rice fields. It has something to offer in every season, such as the flooding of the paddies in early summer and the riot of red spider lilies that bloom around their edges in autumn.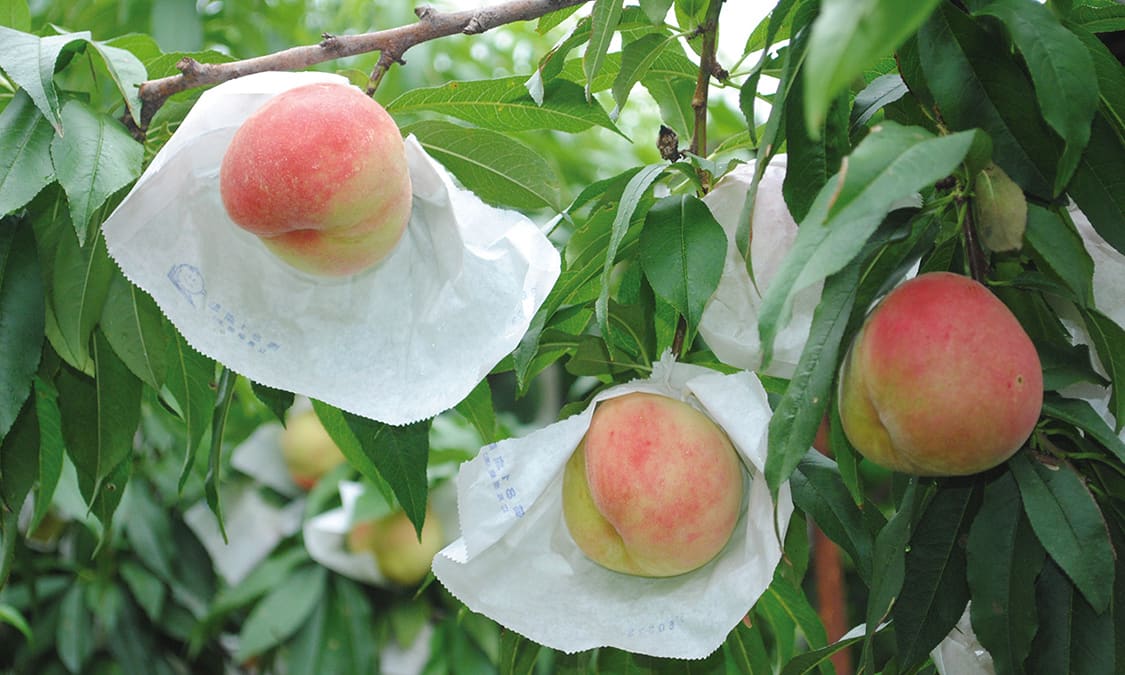 Something for every season! "Ukiha the Kingdom of Fruit," with many varieties of fruit growing all year round.
At the base of the Mino Mountain Range, which is blessed with an abundant supply of underground water and sunlight, many types of fruit are grown all year round. Enjoy a range of fruits, including grapes, persimmons, strawberries, nashi pears, peaches, and figs. Ukiha is particularly proud of the many different varieties that are grown. There are 10–20 varieties of each type of fruit grown in the area. Have fun comparing the different tastes of 49 different grape varieties available. Here in "Ukiha, the Kingdom of Fruit", a growing number of sweets and desserts shops are appearing. Another fun way to enjoy Ukiha is to go around to these different shops and savor the delights of extravagant sweets and desserts made with locally-grown fruit.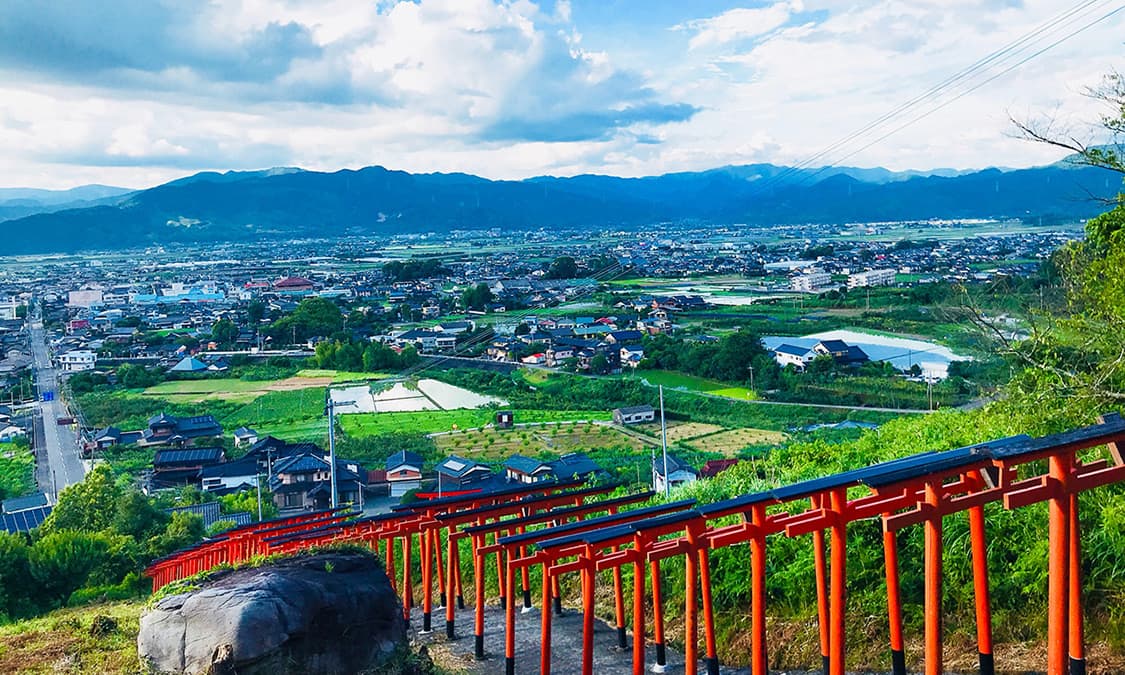 The vermillion torii gates highlighted against the blue sky is particularly impressive.
A hidden spot of spectacular scenery in Fukuoka! Ukiha Inari Shrine.
Travel along the Prefectural Route No. 151 toward Hoshino and you will come across a row of vermillion torii gates climbing the side of the mountain. "Ukiha Inari Shrine", a hidden sightseeing spot offering spectacular views known only to a few, is there to greet you. The sight of 90 torii gates stretching down the mountainside in a long line to the road is one of the most photogenic views you can imagine. The shrine lies at the end of the torii lined approach, welcoming worshippers. Divine favors bestowed at this shrine include "prosperity in business", "abundant crops", "traffic safety", "health", "long life", and "academic achievement".
Ukiha's pride and joy, Chikugogawa Onsen! Introducing farmstay inns where you can enjoy a relaxing experience of the hot springs and the beautiful traditional rural scenery.
Chikugo Onsen is a simple alkaline spring that offers benefits for the relief of rheumatoid arthritis, gout and nerve pain. It also makes your skin feel silky smooth, earning it a reputation as a "Bihada no Yu" or "beautiful skin spring."
The high quality of the hot spring waters attracts many bathers from far-flung regions to this hot spring resort. (Fukuoka Prefecture National Hot Spring Health Resort)
The hilly areas of Ukiha also offer farmstay inns where you can enjoy delicious cuisine made with the fruits of the land.
"Noka Minshuku Baba" A farmstay inn established by renovating an old vacant house, run by locals. Entire house is available for one party per night. Reasonably priced at just ¥7,000 per person, including dinner and breakfast of regional cuisine. Come and enjoy a relaxing time listening to the natural breezes and the birdsong.
"Tsuzura Sanso" Opened as a point of interaction between the city and the rural mountain village, "Tsuzura Sanso" offers accommodation for one party per night. It can also be used as a rest area and as a restaurant offering sansai cuisine (dishes made with edible wild plants). The inn overlooks the "Tsuzura Rice Terraces", one of Japan's top 100 terraced rice fields, and offers expanses of traditional Japanese views nearby.
Wouldn't you like to spend time relaxing and being soothed by Ukiha's famous hot springs and natural surroundings?
Location
Name
Ukiha City
Web Sites
http://welcome-ukiha.jp/
Address
Ukiha City Tourist Association Yoshii Town's Tourist Center 1043-2 Yoshii-cho, Ukiha, Fukuoka Prefecture
Access
Access to Ukiha City
By car
Approx. 50 min. by car from Fukuoka Airport to Ukiha City
Fukuoka Airport - (approx. 15 min.) - Dazaifu Interchange - (approx. 10 min.) - Tosu Junction - (approx. 15 min.) - Asakura Interchange or Haki Interchange *1
*1 Approx. 10 min. from either interchange to Ukiha City center
From Fukuoka Approx. 50 km on National Route No. 386
From Kurume Approx. 25 km on National Route 210
By train and bus
Take the JR Kagoshima Main Line to Kurume Station.
Change to the Kyudai Main Line and get off at Chikugo Yoshii, Ukiha, or Chikugo Oishi Stations.
Board the Nishitetsu Bus from Nishitetsu Kurume and get off at the Yoshii Eigyosho or Ukiha Hatchakusho stops.
Business Hours
9:00 – 17:00. Closed: Mondays
Inquiries
TEL:0943-76-3980