View unexplored majestic nature in each season from a trail
To visit Ogawa Falls, you need to walk through a nature trail from the parking lot.
The waterfall is majestic at 46 meters high and 60 meters wide.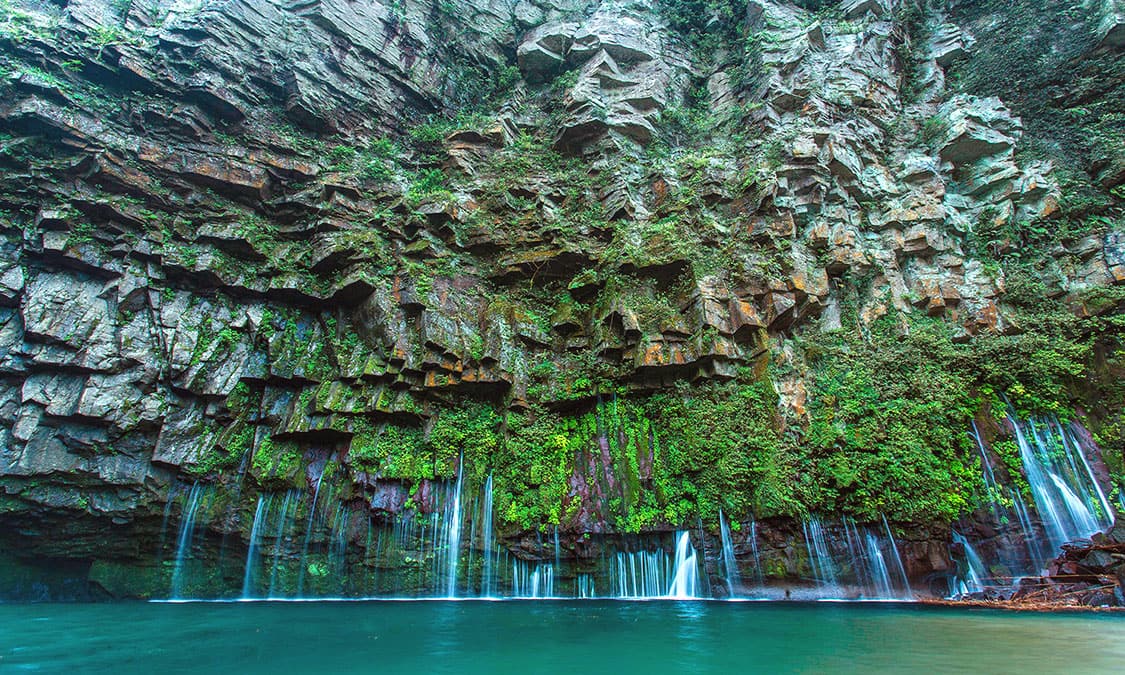 The breathtaking views of the emerald green waterfall will amaze visitors and transport them to another world.
The water wells up in the pool and runs down along the gigantic granite rock, where the rocky surface offers visitors stunningly unique views. The nature trail leading to the pool from the parking lot is a steep path extending some 1,200 meters. The trail is well-kept and walking on it is easy. Walking along the trail while listening to the sounds of the mountain stream, you will become one with nature and feel your mind relax. Along the trail, there is another viewing spot that you shouldn't miss: the view of the Takimiohashi bridge from below. The view seen from that point is truly picturesque.
The waterfall is featured in the opening sequence of the NHK historical drama television show Segodon.
Ogawa Falls is one of the most famous scenic spots in Kagoshima's Osumi Peninsula. It has appeared in the opening sequence of the 2018 historical drama television show Segodon. It attracts a great number of visitors not only from Kagoshima, but also from many other places across Japan.
Location
Name
Ogawa Falls
Web Sites
(In Japanese) http://www.kagoshima-kankou.com/guide/51100/
Address
12222 Nejimekawa Kita, Minamiosumi-cho, Kagoshima
Access
Approx. 1 hour 45 min. by car (via expressway) or 2 hours 15 min. by car (via non-toll roads) from Kagoshima Airport
Approx. 2 hours 15 min. drive from Kagoshima Chuo Station (including 15 min. ferry ride from Kagoshima Port to Sakurajima Port or 45 min. ferry ride from Kamoike Port to Tarumizu Port)
Approx. 1 hour 30 min. drive from Shibushi Port
Approx. 10 min. by car from Nejime Port (20 min. by high-speed boat from Ibusuki Port to Nejime Port; 50 min. by ferry from Yamakawa Port to Nejime Port)
Inquiries
TEL:0994-24-3115(Minamiosumi Town Hall, Tourism Division)