Idenoyama Park and Mount Kirishima
Rainwater that has fallen on the Kirishima mountain range over many years spurts forth as spring water in Idenoyama at a rate of 1t per second. In early summer, you can see the dance of genji-botaru fireflies at the spring waters of Idenoyama. The Ministry of the Environment chose Idenoyama as one of the 100 best waters of Japan, and designated the Idenoyama area as "Home to Local Creatures." This was the first place in Japan to successfully raise artificially incubated sturgeons.
From late May to early June, tens of thousands genji-botaru fireflies can be seen dancing near the clear stream as evening falls. These fantastical scenes are a symbol of early summer in Kobayashi. Idenoyama District officials have taken care to protect the area's abundant spring water and nature, and develop it into a tourist area that does not get spoiled by popularity.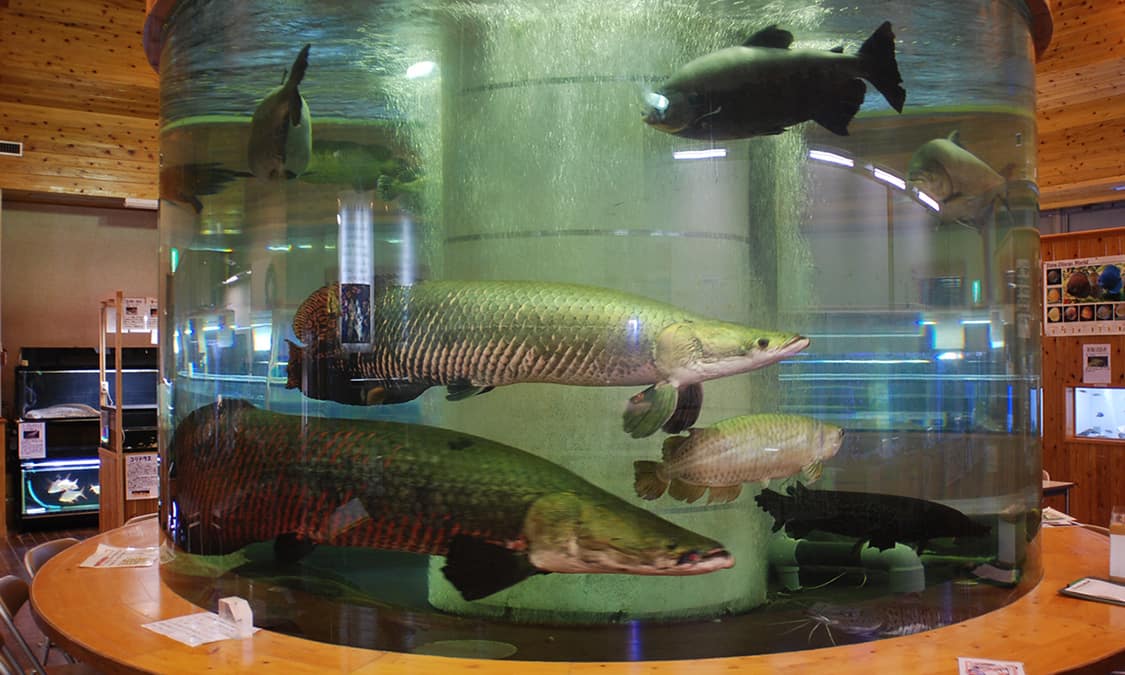 Idenoyama Freshwater Fish Aquarium
Miyazaki Prefecture Idenoyama Freshwater Fish Aquarium was built adjacent to Miyazaki Prefectural Fisheries Research Institute as a place of research and education about preserving nature, where visitors can learn about the ecology of fish from Miyazaki and rare foreign fish. There are 1,500 rare freshwater fish from 130 species from both inside and outside Japan on display here, including Japanese giant salamanders, this place designated as a National Natural Monument, and the first successfully bred sturgeons in Miyazaki. People who visit Idenoyama Park enjoy the sights on offer here.
Sturgeon eggs are known as one of the world's three greatest delicacies, "Caviar". It's not just sturgeon eggs that are delicious, though, the fish's meat is tender, and is renowned internationally as a luxury ingredient. Sturgeons feature on the menus of European restaurants with 3 Michelin stars. It's also delicious prepared as sashimi, deep-fried karaage, or steak. Sturgeon isn't just delicious, it's full of collagen, great for health and beauty, and protein. Sturgeon cuisine is healthy and particularly popular with women. The photograph shows sturgeon prepared as nigiri sushi.
Location
| | |
| --- | --- |
| Name | Idenoyama Park |
| Web Sites | (In Japanese) http://kankou-kobayashi.jp/publics/index/43/ |
| Address | Idenoyama, Minaminishikata, Kobayashi-shi, Miyazaki |
| Access | 5 minutes from Kobayashi IC on Miyazaki Expressway |
| Inquiries | TEL: 0984-23-1174 (Commerce, Industry and Tourism Promotion Division, Construction Department, Kobayashi City Hall) |