Nishi-no-Shosoin, in the Nango District, is a faithful reproduction of Nara's Shosoin treasure house, built with 400-to-500-year-old Japan hinoki cypress trees. Its construction was based on the original drawings of Shosoin, whose removal from Shosoin's premises has always been forbidden. This was made possible with the cooperation of the Imperial Household Agency, the scientific assistance of the Nara National Research Institute for Cultural Properties, and the special permission of the Construction Minister at the time.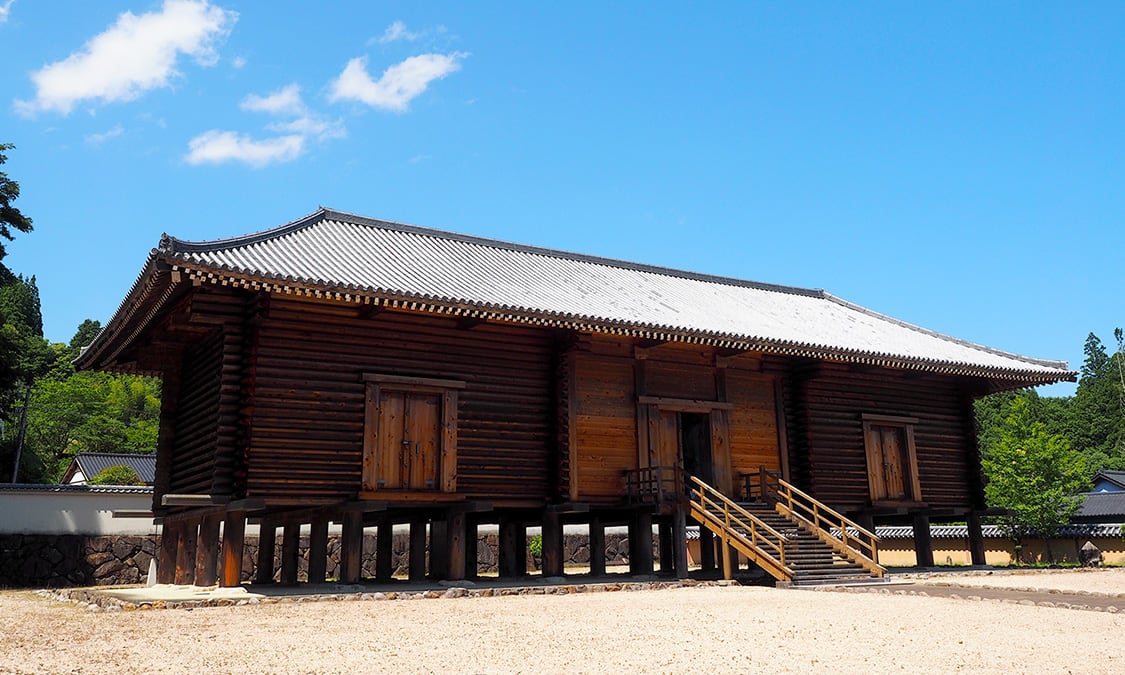 Nishi-no-Shosoin and Kudara House, filled with ancient history and the romance of ancient mysteries.
At Nishi-no-Shosoin, you can see the inside of Shosoin, which is off limits to the public in the original treasure house in Nara, looks like. Many treasures of national treasure class, which are also extremely valuable from an academic perspective, are on display, including 24 bronze mirrors that are said to have belonged to the Kudara, formerly the royal family of Korea's Baekje Kingdom.

Near Nishi-no-Shosoin is Kudara House, which conveys the culture of the Baekje Kingdom to the present day. This beautiful building of many vibrant colors, built by a Korean master builder, is a sight not to be missed. Inside the building, many replicas of national treasures and important cultural properties from the Kudara (Baekje) era are on display, presenting in detail the trail of Kudara culture throughout the whole of Japan. In spring, the Kudara-no-Sato Spring Festival is held.
Location
Detail Information of Nishi-no-Shosoin
Name
Nishi-no-Shosoin
Web Sites
(In Japanese) http://www.town.miyazaki-misato.lg.jp/2549.htm
Address
62-1 Nangomikado, Misato-cho, Higashi Usuki-gun, Miyazaki
Access
50 min. by car from Hyuga Interchange on Higashi-Kyushu Expressway
Business Hours
9:30 - 16:30 (admission by 16:00) Open all year round
Inquiries
TEL: 0982-59-0556
Admission
Adults: 510 yen / high school students: 410 yen / junior high and elementary school students: 310 yen
(Common entry ticket with Kudara House and groups of 20 or more / 100 yen discount per person)
Detail Information of Kudara House
Name
Kudara House
Web Sites
(In Japanese) http://www.town.miyazaki-misato.lg.jp/2550.htm
Address
984 Nangomikado, Misato-cho, Higashi Usuki-gun, Miyazaki
Access
50 min. by car from Hyuga Interchange on Higashi-Kyushu Expressway
Business Hours
9:30 - 16:30 (admission by 16:00) Open all year round
Inquiries
TEL: 0982-59-0556
Admission
Adults: 510 yen / high school students: 410 yen / junior high and elementary school students: 310 yen
(Common entry ticket with Nishi no Shosoin and groups of 20 or more / 100 yen discount per person)