The main attraction of Unzen-shi, Nagasaki, is Unzen Hell. Feel the power of the volcano by experiencing the steaming foot bath or by trying Onsen Eggs, Onsen Lemonade, and more.
Observe the characteristic plants growing in the harsh and hellish conditions while watching the hot spring's steam and sulfur ejecting with an airy sound. This is a place where the phenomenon of active volcanoes, the dynamic pulse of the Earth, can be felt. Unzen Hell has about 30 hell spots large and small. There is history behind the origin of each hell's name. "Kiyoshichi Jigoku (Kiyoshichi Hell)" is said to have sprung out in the 1620s when a Christian named Kiyoshichi was martyred.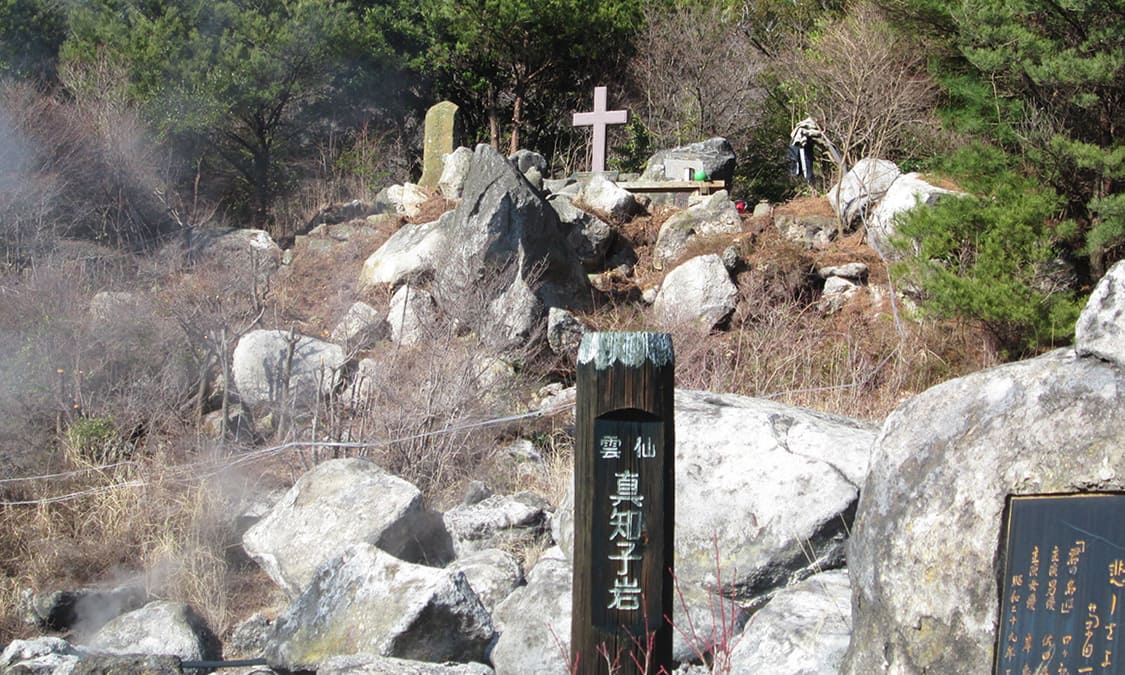 Also, this place has a history of martyrdom as Christians were tortured during the age of Christian persecution that began with Hideyoshi Toyotomi. The Christian martyrdom monument (background) has been built at one of the hells, called Oito Jigoku (Oito Hell). In 1954, Machiko Rock (foreground) became well known after being used as a location in the movie "Kimi no Na wa (Your Name)".
Unzen opened in 701 by the monk Gyoki. At that time, he wrote "Onsen (hot spring)" and pronounced it "Unzen." In 1934, when it was designated as the first National Park in Japan, it was officially changed to the present name "Unzen," and it prospered as a stylish town full of foreign summer visitors.
The lemonade that was drunk at that time has been reproduced and is now popular as an Unzen specialty.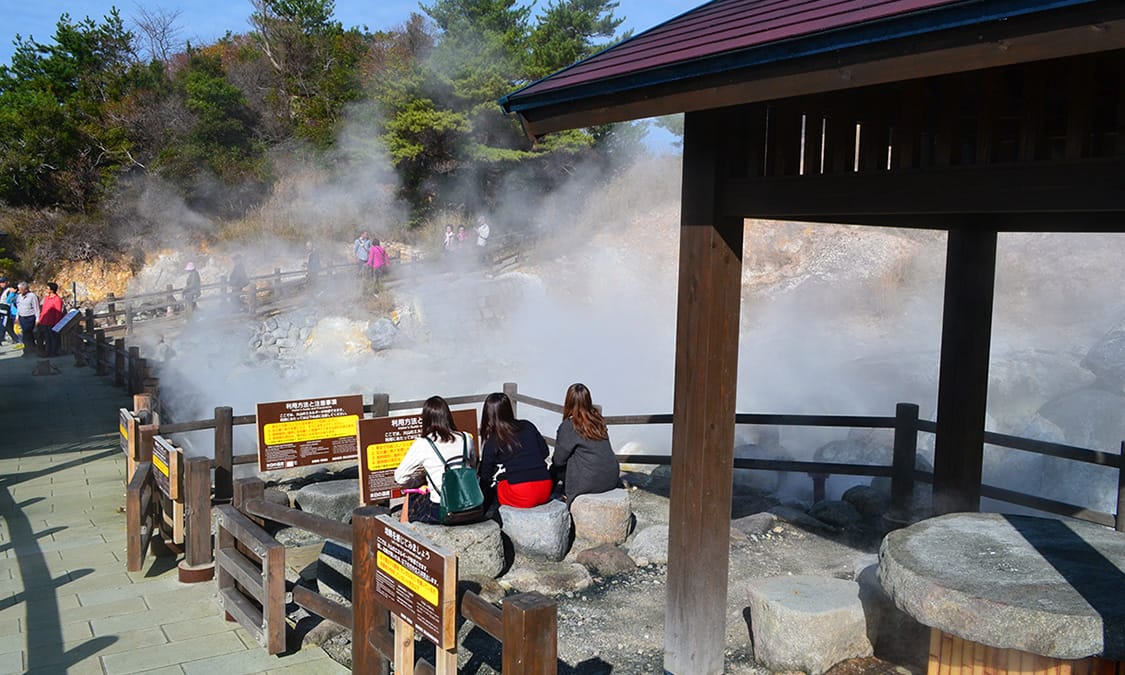 At the end of a walk in Unzen Hell, "Unzen hell foot steam" is recommend. It's a natural bedrock bathing where visitors can experience geothermal heat. (Please be aware that bare feet or leaving your feet in the same place for a long time may result in burns. May not be used when temperatures are too high.)
Next to the foot steaming experience is "Unzen Jigoku Kobo (workshop)" where visitors can take a break and enjoy Unzen Hell specialties "Onsen Eggs" (200 yen for 2) and "Onsen Lemonade" (250 yen for 1 bottle).
Location
Name
Unzen Hell
Web Sites
http://www.unzen.org/e_ver/
Address
320 Unzen, Obama-cho, Unzen-shi, Nagasaki
Access
80 minutes by bus from JR Isahaya Station
60 minutes by car from Nagasaki Expressway Isahaya IC
Business Hours
All day
Inquiries
TEL: 0957-73-3434 (Unzen Tourist Association)
Admission
Free