The waterfalls depicted in a famous painting by Sesshu, a master of ink and wash painting in the Muromachi Period
The Chinda Falls comprise two waterfalls: Odaki (male waterfall), which receives water from the main stream of the Ono River, and Medaki (female waterfall), which extends from Hiraigawa River, a tributary of the Ono River.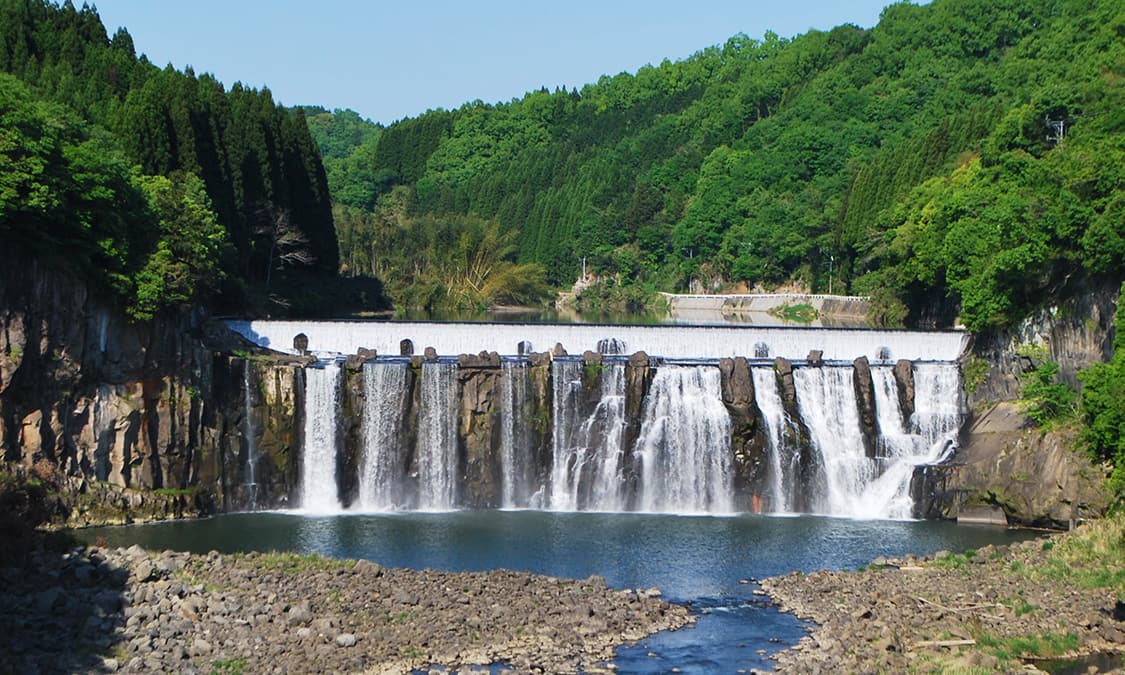 Odaki is 100 meters wide and 20 meters high, while Medaki is 10 meters wide and 18 meters high. It is said that the waterfalls were formed by the collision of the Ono River's streams and its tributary.
Chinda Falls have long been known as one of the great waterfalls. In the Muromachi Period (approximately 1336 to 1573), renowned ink and wash painter Sesshu came to see the falls and painted the landscape in his famous work, titled "Chinda Falls." In 1909, during the Meiji Period, a dam was constructed above the falls and Chinda Power Plant was subsequently built on the site. Electricity generated by the plant was used to power a street car that connected Oita and Beppu, contributing to the modernization of Japan. The remains of Chinda Power Plant are now registered as part of Japan's Heritage of Industrial Modernization.
Location
Name
Chinda Falls
Web Sites
(In Japanese) http://www.bungo-ohno.com/spot/index.php?sid=5
Address
Chinda, Ono-machi, Bungo-ono-shi, Oita
Access
By air/bus/JR: Approx. one hour by bus from Oita Airport to JR Oita Station, 45 minutes by train from JR Oita Station to JR Miemachi Station, and 15 minutes by taxi from JR Miemachi Station to Chinda Falls
By car: A 50-minute drive from Oita Mera Interchange of Oita Expressway to Ono Interchange of Naka Kyushu Expressway, and 15 minutes by car from Ono Interchange to Chinda Falls
Inquiries
TEL:097-536-6250 (Tourism oita)