Ajimu Budoushu Koubou (Winery)
Good wine starts from the vineyard
Ajimu Budoushu Koubou is where the popular Ajimu wine is made. Visitors can see how the wine is made, tour the vineyard, and enjoy tasting wines.
Ajimu is situated in a basin and is shrouded in mist in the mornings because of the extreme temperature differences between day and night. Grapes started being harvested here since the 1960s, and a variety of types of grapes are being grown by taking advantage of this unique climate.
Ajimu Budoushu Koubou is a winery that makes use of the unique climate of this land, characterized by extreme temperature differences, to create high quality grapes that result in aromatic wines.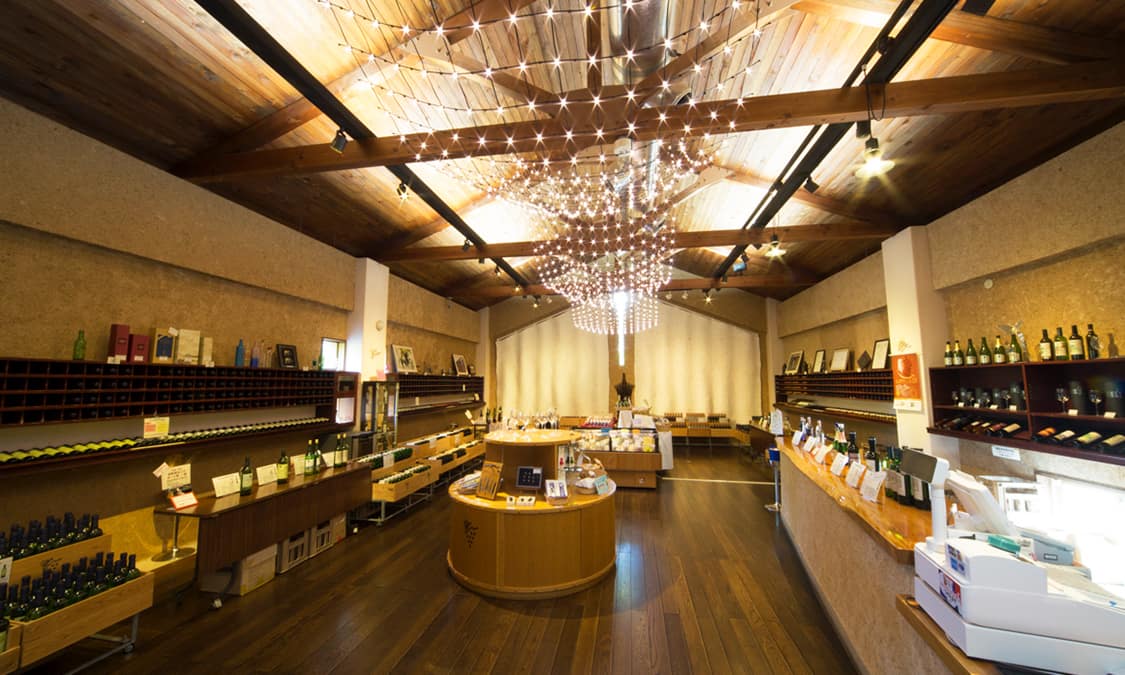 When the sunlight differs, the taste changes. Also, when the soil differs, the taste also changes. Grapes, from which the wines are produced, are wondrous natural gifts nurtured by their environment.
Ajimu Budoushu Koubou has a winery, cellar, their own farm, and a shop, which are located in various places within the site. Visitors can see not only the wine production process and the vineyard, but can also enjoy tasting and shopping for Ajimu wine. This is where you can get a feel for the land and climate that produces the flavors and aromas of their distinctive wines. The original-flavored soft-serve ice cream is also popular.
Wine produced in the lands of Ajimu has won many awards in wine competitions, in Japan. Of particular note is Ajimu Sparkling Wine, which goes through a second fermentation in the bottle. This sparkling wine is carefully made by hand over a long period of time and has won the highest award in the sparkling wine division of the Japan Wine Competition numerous times.
Location
| | |
| --- | --- |
| Name | Ajimu Budoushu Koubou |
| Web Sites | (In Japanese) http://www.ajimu-winery.co.jp/ |
| Address | 798 Shimoge, Ajimu-machi, Usa-shi, Oita |
| Business Hours | 9:00a.m. to 4:00p.m. (site can be toured until 5:00 p.m.) |
| Inquiries | TEL: 0978-34-2210 (Ajimu Budoushu Koubou, Sanwa Shurui Co., Ltd.) |
| Admission | Free |
| Scheduled holidays | every Tuesday (open if Tuesday is a holiday), and during the year-end and New Year's holidays |