Yufu City Tourist Information Center
This is Yufu City Tourist Information Center, which opened on April 1, 2018.
The building, which has a surface of almost entirely glass and features Y-shaped, three-dimensional wooden pillars is a type of structure that wasn't found in Yufuin, yet it is already mysteriously an integral presence in the scenery of Yufuin.
On the 1st floor of the building, in addition to sightseeing information, you can make arrangements for accommodation, the sightseeing Tsuji horse drawn carriage or bicycle rentals, as well as the "Yufuin Chikki" service desk for baggage storage and delivery to hotels, and there is also a coin locker.
On the 2nd floor there is an observation deck, from which you can see Mount Yufu, and a library of about 1,500 books on travel called "Travel Library" (*Books are currently not available for lending) where you can take a break on your travels.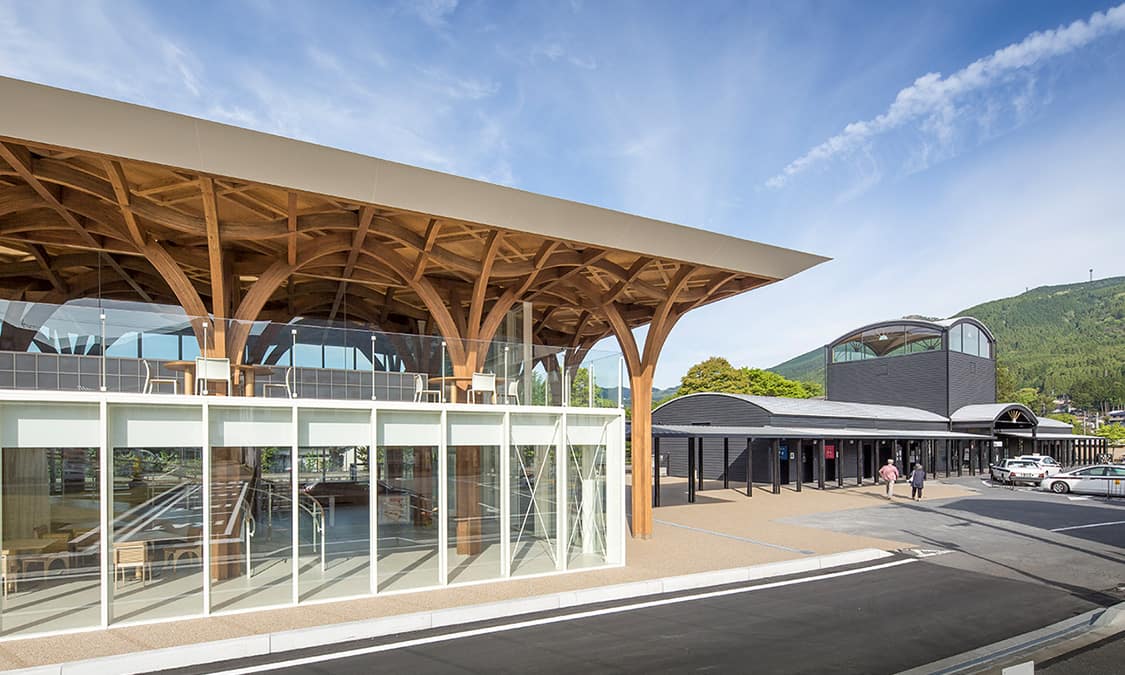 This building was designed by internationally known architect Mr. Shigeru Ban, and its architectural beauty can be enjoyed not only during the day but also at night. (It remains lit after closing until 9pm)
Also, Yufuin Station next door was designed by an internationally known architect, Mr. Arata Isozaki. Please enjoy the sight of these two buildings when going to Yufuin (Yufu-shi)
Location
| | |
| --- | --- |
| Name | Yufu City Tourist Information Center |
| Web Sites | (In Japanese) http://yufu-tic.jp/ |
| Address | 8-5 Kawakita, Yufuincho, Yufu-shi, Oita |
| Access | Right at JR Kyudai Main Line "Yufuin Station" |
| Business Hours | 9:00 to 19:00 |
| Inquiries | TEL: 0977-84-2446 |