The Kitsuki Historic Districts
The Kitsuki Domain was ruled by the Nomi-Matsudaira Clan in the Edo Period (1603-1867).
Although only a small domain with an agricultural yield of just 32,000 koku, it was granted independent status and was ruled by hereditary daimyo. It supported its economic growth with shittoi.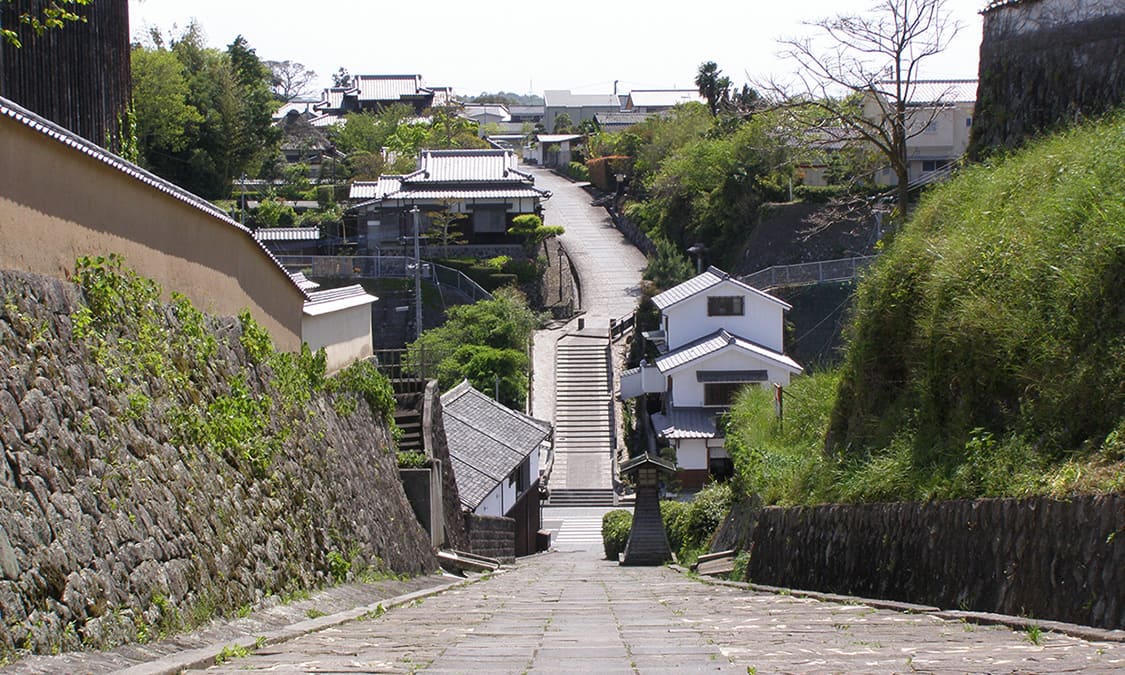 This unique castle town features samurai residences on plateaus to the north and south, centering on Kitsuki Castle, with a commercial district in the valley sandwiched between the two hills. The town has many hills, 14 of which have names. It played an important role connecting Kitsuki Castle, the samurai residential districts, and the commercial district.
Shittoi, or Cyperus monophyllus, is a grass that is grown only in the Kunisaki region of Oita Prefecture. It is used to make tatami mats.
In the Northern and Southern Districts, where the residences of the upper-echelon feudal retainers of the Kitsuki domain were located, many of these samurai residences still remain. These traditional buildings and the old layout of the districts have been well maintained, earning the town designation as an Important Preservation District for Groups of Historic Buildings in 2017.
Among the historic buildings in the preservation district, the Ohara Residence (Designated Tangible Cultural Property of Oita Prefecture) and Isoya Residence (Designated Tangible Cultural Property of Kitsuki City) are open to the public, giving visitors the opportunity to feel the atmosphere of the Edo Period for themselves.
From mid-February to mid-March, Hina Matsuri dolls are put on display in the samurai residences and merchants' houses in the castle town to celebrate the health and happiness of girls.
This is a special experience that allows visitors to enjoy Hina Matsuri dolls, which have been displayed in the samurai residences and merchants' houses since the Edo Period, in the unique atmosphere of these old houses. The dolls on display include a precious set that belonged to the Sano family, the domain physicians.
Location
Name
The Kitsuki Historic Districts
Web Sites
https://www.kit-suki.com/common/index.php?action=story&story_id=200
Address
172, Kitsuki, Kitsuki-shi, Oita
Access
By car: Approx. 5 minutes' drive from Kitsuki Interchange
From JR Kitsuki Station: Approx. 15 minutes' drive from the station
From Oita Airport: Approx. 25 minutes by car, approx. 30 min. by bus
Inquiries
TEL:0978-63-0100 (Kitsuki-shi Tourist Association)