Souvenirs from Saga's Takeo Onsen Bussankan, Yumino Dolls, dove-shaped whistles that you can paint yourself
A recommended souvenir of Saga is a Yumino Doll, which you can paint yourself at Takeo Onsen Bussankan in the city of Takeo, Saga Prefecture. Round and colorful, these dolls are a traditional craft of Takeo. Their cute appearance, which is so nostalgic to look at, has a history of more than 100 years.
Takeo Onsen Bussankan offers an extensive range of souvenirs of western Kyushu. As part of its new hands-on experience offerings, guests can now paint their own Yumino Doll. Take home a one-of-a-kind Yumino Doll for someone special at home, or keep it for yourself as a souvenir of your travels.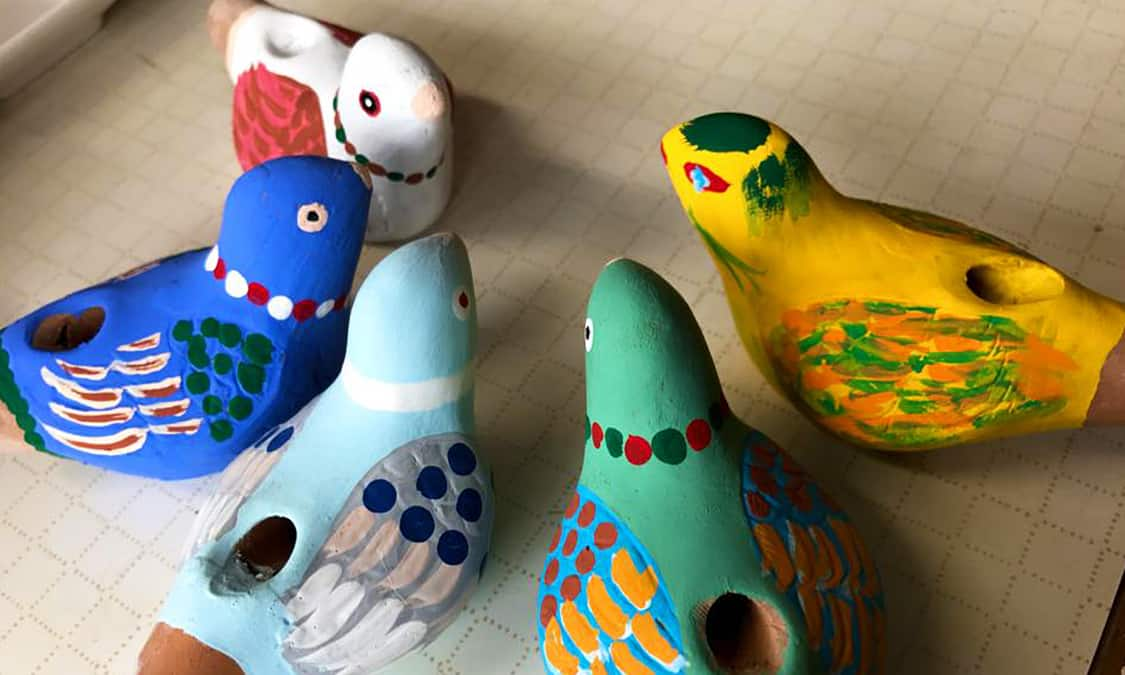 Would you like to paint your own Yumino Doll, a traditional craft of Takeo, at Takeo Onsen Bussankan?
Yumino Dolls are very cute, with their short, plump shape. They have quite a striking appearance, which exudes a sense of nostalgia. That vague sense of nostalgia combines with a sweetness that you will never want to stop looking at.
In Takeo Onsen Bussankan's new hands-on experience offering, "Paint Your Own Dove of Peace Whistle," you can paint an unglazed dove-shaped whistle to create a completely original dove whistle. You can take your creation home with you straight away and display it as is. A highly recommended experience!
Yumino Dolls have their origins in Hakata Dolls
Yumino Dolls have their roots in the clay dolls that a Hakata Doll artisan, Harada Kamejiro, created in the Yumino District in 1882 after he had traveled around Kyushu to study and learn.
They come in various shapes, such as clay figurines and dove whistles, as well as dolls for seasonal festivals. The designs are also many and varied, with several hundred molds still in existence.
Production starts with the plaster mold with the number of delicate processes are involved
Plaster molds are taken from the original shape, such as dolls and masks. After the dolls formed in these molds are bisque fired, they are painted stark white with a thick layer of chalk paint. Individual colors are then added with paints before they are fired once more.
Passing through multiple repetitions of care processes, Yumino Dolls come into being every day.
You can also paint your own Yumino Doll at Eguchi Doll Shop, a maker of Yumino Dolls. Even with the same shape, each doll created has its own individuality.
Feel like an artisan as you paint your doll, conjuring up the image of the finished product as you do so.
Location
Detail Information of Takeo Onsen Bussankan

| | |
| --- | --- |
| Name | Takeo Onsen Bussankan |
| Web Sites | (In Japanese) http://takeo-onsen-bussankan.com/taiken_etsuke.html |
| Address | 805 Showa, Takeo-cho, Takeo-shi, Saga |
| Access | Approximately 10 minutes' drive from the Takeo-Kitagata IC |
| Business Hours | 8:30 to 17:30 |
| Inquiries | TEL: 0954‐22‐4597 |
| Admission | Paint Your Own Dove of Peace Whistle Experience: 1000 yen |
Detail Information of Eguchi Doll Shop

| | |
| --- | --- |
| Name | Eguchi Doll Shop |
| Web Sites | (In Japanese) https://eguchi-n.jimdo.com/ |
| Address | 14931 Kotaji, Nishikawanobori-cho, Takeo-shi, Saga |
| Access | 10 minutes' drive from the Ureshino IC on the Nagasaki Expressway |
| Business Hours | 8:00 to 17:00 |
| Inquiries | TEL: 0954‐28‐2028 |