Enjoy Chausuyama Plateau of Aichi All Year Round - Shibazakura Flowers, Autumn Foliage, and a Ski Area
The Chausuyama Plateau is located in the Chausuyama area in Toyone Village, Kitashitara District, Aichi Prefecture. The plateau is home to Aichi Prefecture's only skiing area, and it attracts many visitors for skiing in winter. This isn't the only season to visit the plateau, though - it offers attractions to enjoy all year round, such as the sight of the ground covered with shibazakura flowers (moss pink) in spring, outdoor activities such as camping and hiking in summer, and autumn foliage in fall. Recently, it has also become a popular place for stargazing.
At 1,415m, Chausuyama is Aichi Prefecture's tallest peak and is an area surrounded in spectacular nature. You can get your fill of various leisure activities throughout the year in the fields of Chausuyama Plateau that transform each season.
The Shibazakura Festival, "Tenku-no-Hanakairo Shibazakura-no-Oka", is held from mid-May to mid-June every year. Pretty shibazakura flowers bloom across over 20,000m2 of fields. The sight of colorful flowers covering vast fields under the bright blue sky with the Southern Alps still covered in some dazzling snow in the background is sure to leave a lasting impression. On certain dates when the festival is held, the fields are lit up during the night. Come and feast your eyes on the spectacular scenery that is so different from the daytime sights.
Chausuyama Plateau gets the earliest autumn foliage in Aichi Prefecture. It's beautiful during both day and night, with a light-up event held during the night. Take a stroll on the path by the lake and feast your eyes on various types of maples in deep shades of red. During the Chausuyama Plateau Autumn Festival period, there is a gourmet event called the San-En-Nanshin Food Festival where you can try delicacies from Aichi Prefecture's Mikawa region (including Toyone Village), Enshu (Shizuoka Prefecture), and Minami-Shinshu (Nagano Prefecture). There are also other events such as an "Imonikai" (Pot Potato Soup), where local taros are stewed till sizzling in a pot two meters in diameter.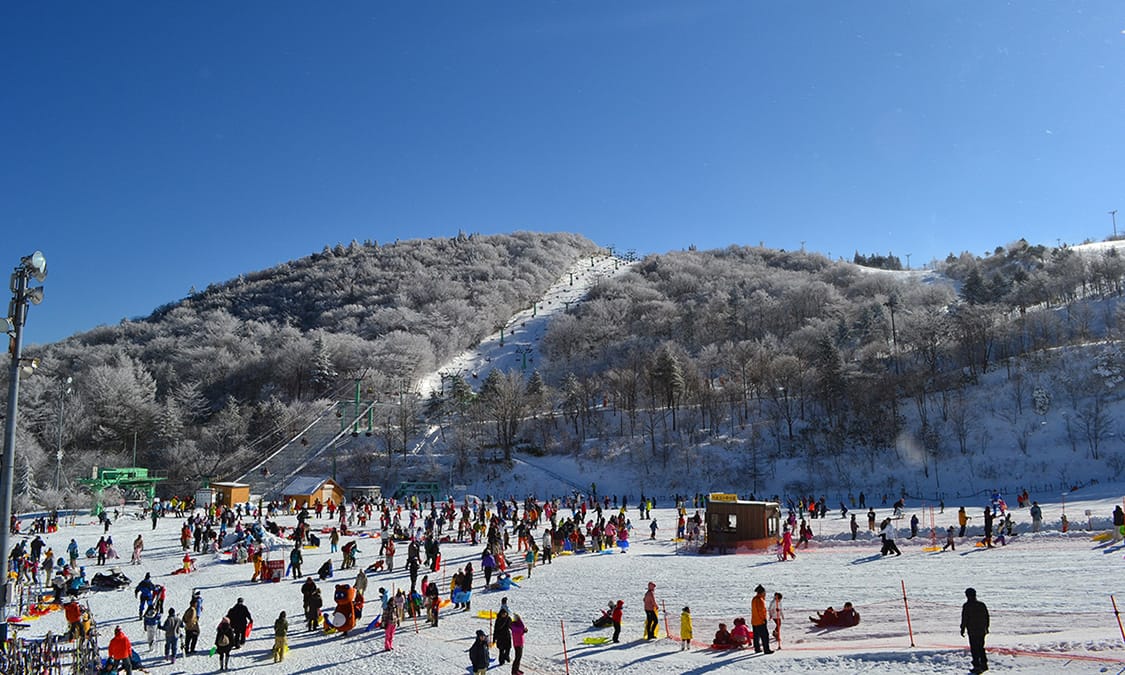 As the only ski area in Aichi Prefecture, Chausuyama Plateau bustles with visitors in the winter. Though the ski area is small, there are routes laid out for everyone from families to intermediate skiers. Skiing while gazing at the Southern Alps in the distance provides an exhilarating experience like no other. At the bottom of the ski slopes, there is a field perfect for young children to use sleds on, equipped with a walkable conveyor belt. Saturdays, Sundays, and public holidays are for skiing only. Snowboarding is possible on weekdays.
Location
Name
Chausuyama Plateau
Web Sites
(In Japanese) http://www.chausuyama.jp/
Address
70-185 Goshodaira, Sakauba, Toyone-mura, Kitashitara-gun, Aichi
Access
From Nagoya: Approximately 2 hours and 10 minutes' drive
From Toyohashi: Approximately 2 hours' drive
Inquiries
TEL: 0536-87-2345 (Chausuyama Plateau Association)