Yamashiro Onsen is a place where cultured persons such as Kitaōji Rosanjin, Yosano Akiko, and Izumi Kyōka left their mark in the world. The town was built during the Edo Era with communal baths at the center and was called "Yunogawa". With the two communal baths "Soyu" and "Kosoyu" at the center, there still remains to this day the appearance of a hot spring resort which bears a strong resemblance to how things originally looked back in the day.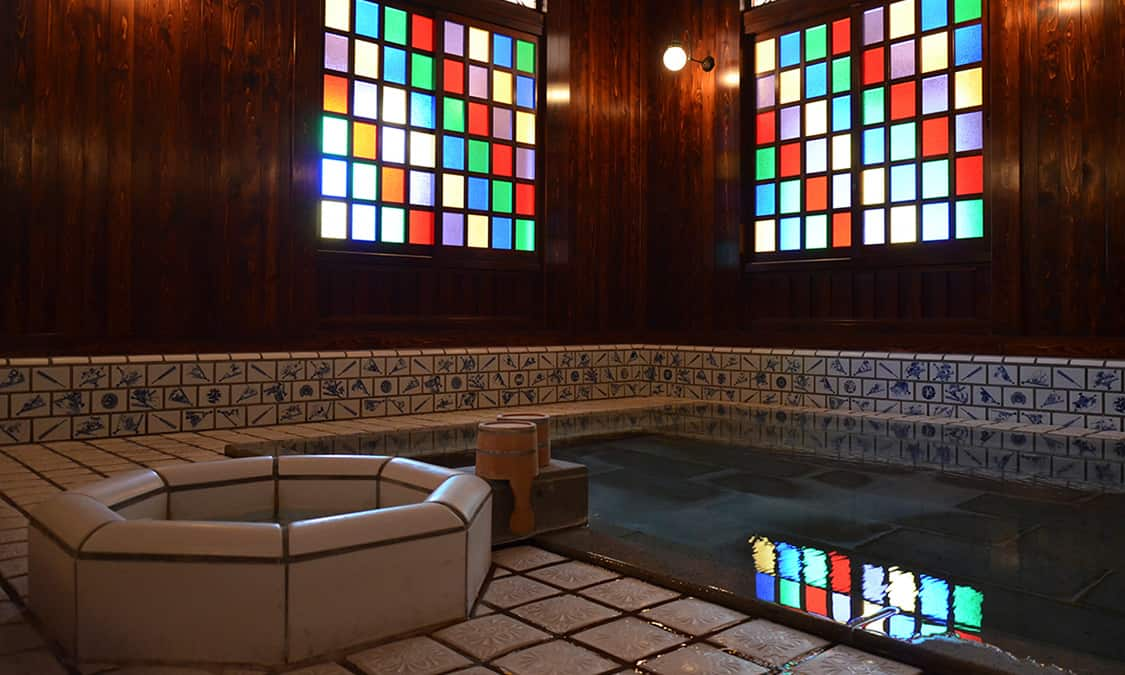 The Meiji Era Soyu has been restored. Here, visitors can get a taste of the atmosphere of that same era when it comes not only to the external appearance and interior, but also in terms of how people bathed back then.
The bath room walls and floors feature stained glass and Kutani ceramic tiles. The wipe-lacquered wall surfaces make one feel the emotion invoked by hot springs of the Meiji Era.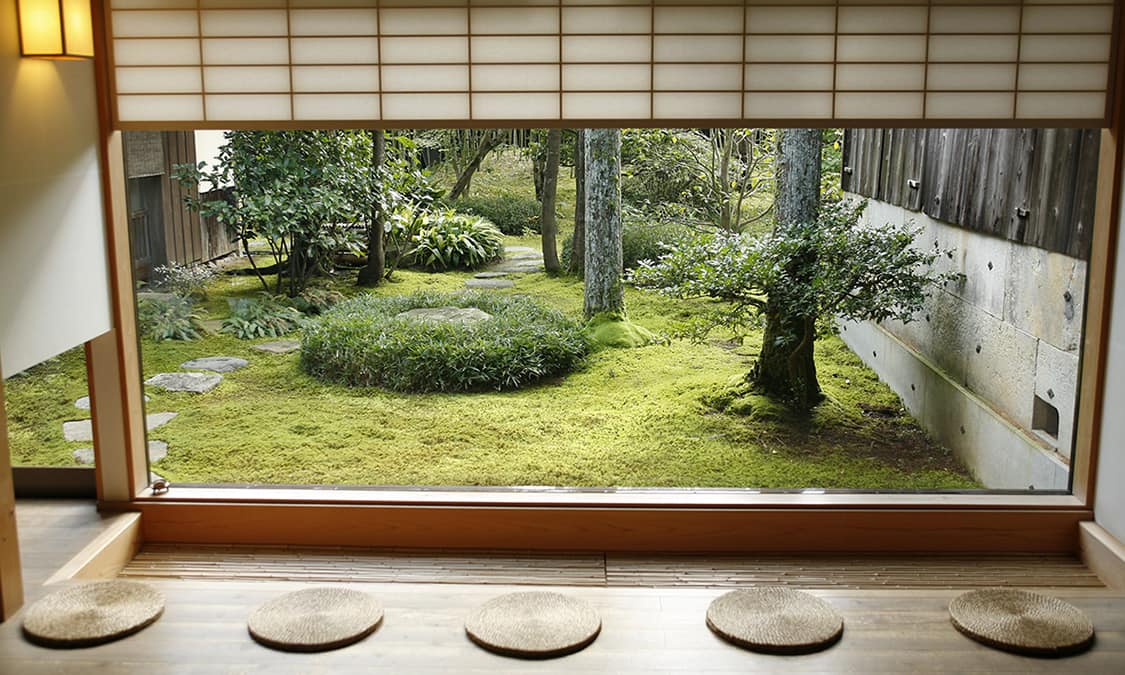 The Site of Rosanjin's Temporary Abode: Irohasoan
This is where Kitaōji Rosanjin, who went by the name Fukuda Taikan at the time, spent around half a year starting in the fall of 1915. This house is the former second home of Yoshinoya Ryokan. The main building, which has two floors and was built using wooden tile-roofing, is said to have been built in the early Meiji Era. This second home was a cultural salon type of place that many Yamashiro gentlemen frequented, including tea masters and artistic people with detailed knowledge of calligraphy and antiques.
It became open to the general public in 2002. The main building and the storehouse are connected via the lobby and comprise the current form of Irohasoan. Open to the public for viewing is a work room where Rosanjin carved out signboards with inscriptions and the study where he wrote and painted. Also available for viewing is the hearth area where he would chat with the gentlemen of Yamashiro, the tea room, the exhibition room (storehouse) and more.
Kutaniyaki Kamaato Tenjikan (Kutaniyaki Kiln Exhibition Pavilion)
Found on display here in the condition it was excavated in is the site of the Yoshidaya Kiln, which is a nationally designated historic site. It was built in the later days of the Edo Era by the wealthy merchant Toyoda Denemon of the Daishōji temple in an effort to revive porcelain decorated with pictures like the old Kutani wares made in the early Edo Era.
Also found at this venue is the oldest ascending kiln currently in existence when it comes to the art of Kutani (which was built in 1940) alongside an exhibition building which was used as a Kutani ceramic workshop (the building was built in 1897 and has been designated cultural property of Kaga City).
In the exhibition building, there are also exhibitions held four times each year which introduce many of the old Kutani ceramics, hands-on ceramic painting events, and events where visitors can experience kicking a potter's wheel.
Location
Name
Yamashiro Onsen
Web Sites
http://www.yamashiro-spa.or.jp/foreign/en
Address
Yamashiro Onsen: Kosoyu, 18-128 Yamashiro Onsen, Kaga-shi, Ishikawa
Access
A 10 minutes' drive from JR Kaga Onsen Station
A 15 minutes' drive from the Kaga IC on the Hokuriku Expressway
Business Hours
6:00 to 22:00
Closed
Soyu and Kosoyu: Mornings of the 4th Wednesday of the month (opens at noon)
Inquiries
TEL:0761-77-1144