Carry-on Baggage Size and Rules (International Flights)
If a codeshare flight or flight operated by another airline is included in the itinerary, the baggage rules of the other airline may apply.

When traveling on Japanese domestic sectors using a ticket for which the International Conditions of Carriage apply, the baggage rules for international flights will apply.

Please be advised that in the event that it is impossible to confirm whether or not an item can be transported by airplane before the departure time, the request for transport may be rejected.

If you carry on board any baggage exceeding the carry-on baggage allowance, it may cause delay or cancellation of your flight. For a Comfortable and Safe Journey, please check in baggage exceeding the permitted size for carry-on baggage before passing through security.
Size and Rules for Baggage
Weight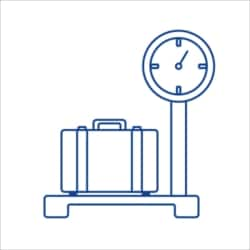 Total weight of no more than 10 kg
(22 lb)
Total weight including personal belongings.
Size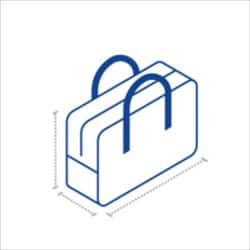 Total linear dimensions (length, width, height) of no more than 115 cm (45 in.) with a length of each side not exceeding
55 cm x 40 cm x 25 cm
(22 x 16 x 10 in.)
Includes wheels and handle
Number of Pieces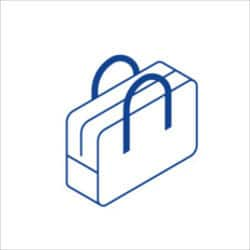 Up to 1 piece per passenger
Aside from personal belongings (handbag, camera, umbrella, etc.), one piece of baggage that meets the criteria below is allowed.

Includes souvenirs or so.
Information Regarding Japanese Domestic Flights Connecting to International Flights
When traveling on Japanese domestic sectors using an international flight ticket, the rules for international flights will apply.
Please note that smaller aircraft (with less than 100 seats) have limited storage space, and baggage exceeding the stipulated size may not be carried on board.
How to store Carry-on Baggage inside the cabin
Please stow your baggage by yourself under the seat in front or in the overhead compartment.
(Carry on your baggage within the purview of stowable size and weight in the overhead compartment by yourself.)

When storing your baggage in the overhead compartment, please make sure everything is stored neatly by ensuring that no baggage may fall out when the compartment is opened. Baggage that is not secured properly may fall out in the event of strong impact and may injure your other passengers.

Passengers seated at locations where no seat is placed int front of a cabin monitor or behind a cabin separating wall are required to keep the area around their feet free of any baggage at all times.

You may need to purchase a ticket for an additional seat if you wish to carry bulky baggage on board such as a painting or musical instrument which does not fit in the overhead compartment or under the seat in front of you. Please contact ANA by telephone for details.
Restrictions are imposed on carry-on baggage by certain countries or regions.
The use of fire on board aircraft is restricted.
Please note that there are restrictions on the following types of baggage.
Carry Bags
Due to limited storage space in the cabin, carry bags may not be accepted for carry-on even if they meet the stipulated size.
Large Tripods
Large tripods with a length exceeding 60 cm when folded are not permitted to be carried on board.