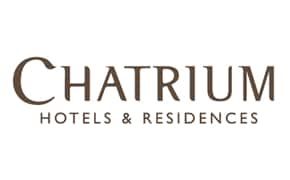 Discover 5-star services with a charming personal touch at properties located with comfort, convenience and stunning surroundings in mind. From cosmopolitan city center living in Bangkok, to the relaxing beauty of Royal Lake in Yangon, whether on business or leisure, long stay or short, you are right where you want to be at Chatrium Hotels & Residences.
Rooms with breakfast

Rooms without breakfast
Conditions for Mileage Accrual
Miles will be credited only when booked through Chatrium Hotels & Residences' website or by telephone at eligible rates. AMC members must show their AMC card at time of check-in.
Miles are credited on a per-stay basis. Consecutive nights at the same hotel will be considered as one stay, regardless of the number of check-ins, and a maximum of one room per stay applies.
Miles can only be credited by one member per room and cannot be split between two or more members occupying the same room.
Chatrium Hotel Riverside Bangkok
Emporium Suites by Chatrium
Chatrium Residence Sathon Bangkok
Maitria Hotel Sukhmvit 18-A Chatruim Collection
Chatrium Hotel Royal Lake Yangon
Please allow approximately 1-2 months to confirm mileage accrual after stay.
Please contact the following for retroactive registration of mileage.
* Please click here to confirm the retroactive registration method.
Chatrium Hotel & Residences

By post:Riverside Garden Marina Co., Ltd
28 Charoenkrun Road, Watprayakrai, Bangkholame, Bangkok 10300 Thailand
By E-mail:Phanathip.lai@chatrium.com
Chatrium Hotels & Residences


+81-3-6230-4801