A stunning gradation of yellow, orange and red will take your breath away in the autumn scenery of Korankei Valley in Asuke, Aichi Prefecture
Renowned for its gorgeous fall foliage, Korankei Valley attracts numerous visitors coming to marvel at the vibrant red and yellow leaves beautifully reflected on the Tomoe River. During the Korankei Valley Maple Festival in November, various events are held mostly on the weekends, including Japanese taiko drum performances, tea ceremonies, and music performances.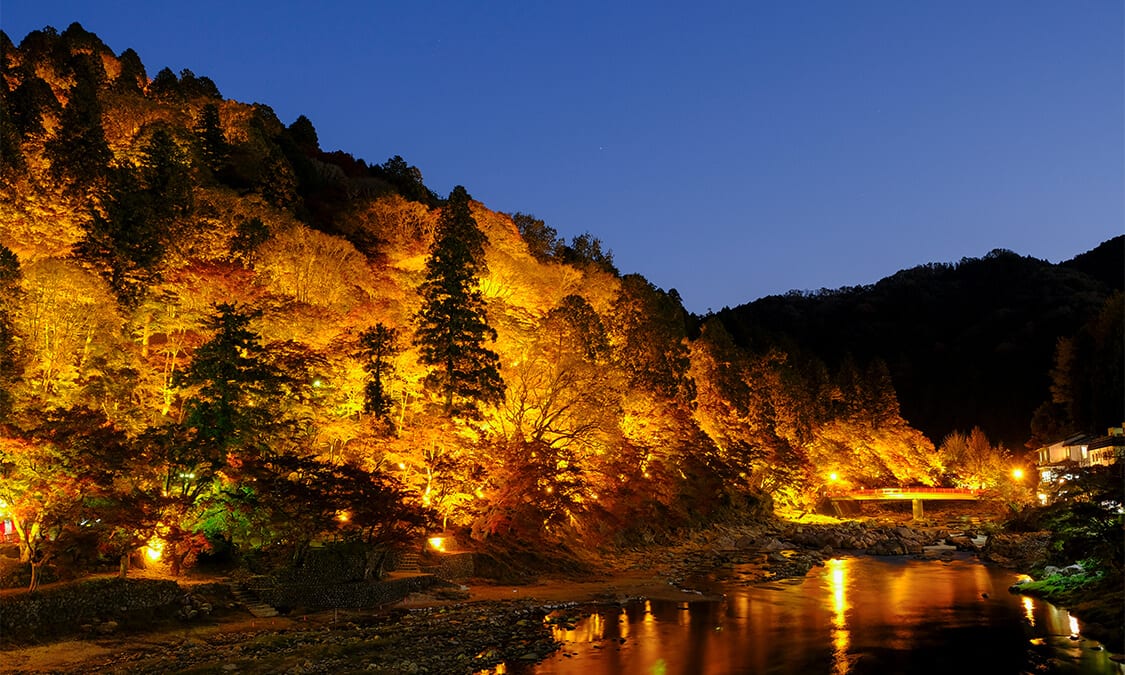 Illumination of autumn colors at night
At sundown, the beautiful foliage transforms into a mystical scenery as the leaves are illuminated in the night, with the soft shine of the mountain delicately reflecting on the river surface. During the weekends in the earlier half of the Korankei Maple Festival, the dreamy sight is coupled with live jazz performances. Also, on every weekend throughout the festival, visitors can make a wish on a candle and enjoy the glowing view as the candles are lined up along the river. The light-up event is held every day from sundown to 21:00 during the duration of the festival.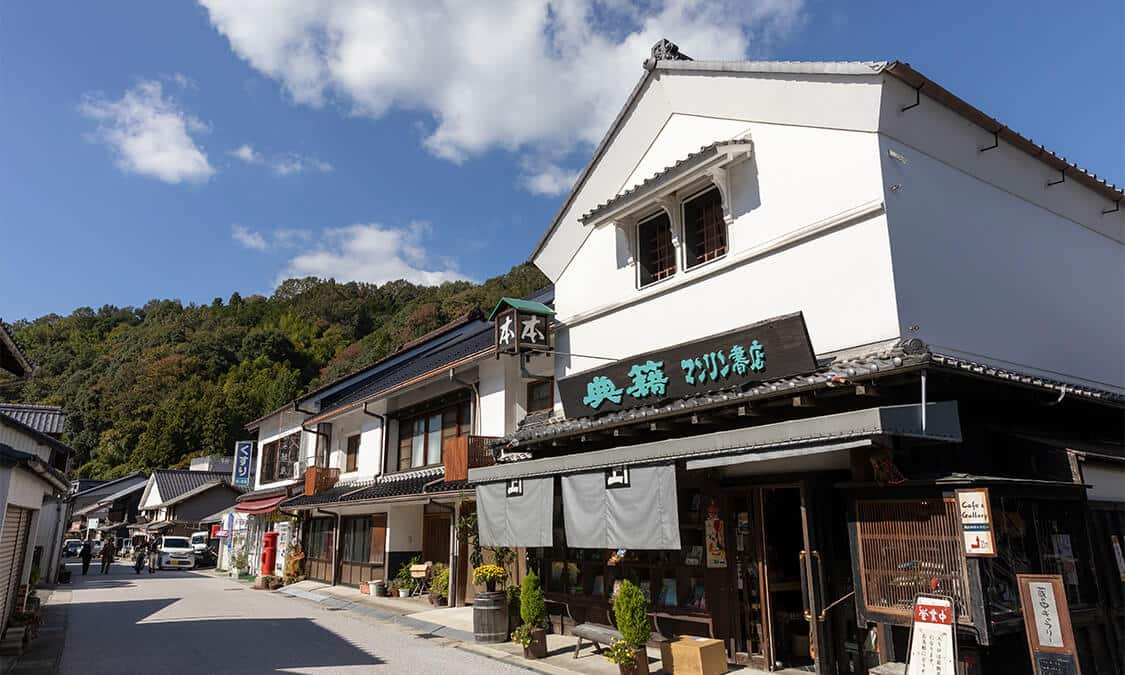 Step back in time in Asuke's quaint townscape
When visiting Korankei Valley, be sure to also stop by the town of Asuke, selected as an Important Preservation District for Groups of Historic Buildings by the Japanese government. About a 10 minutes' walk from Korankei, the charming townscape features a 2-kilometer street lined with traditional white clay warehouses and buildings with lattice doors and blackboard walls. Historically, Asuke prospered as a post town on the Chuma-kaido road connecting the regions of Mikawa (a part of Aichi) and Shinshu (present-day Nagano).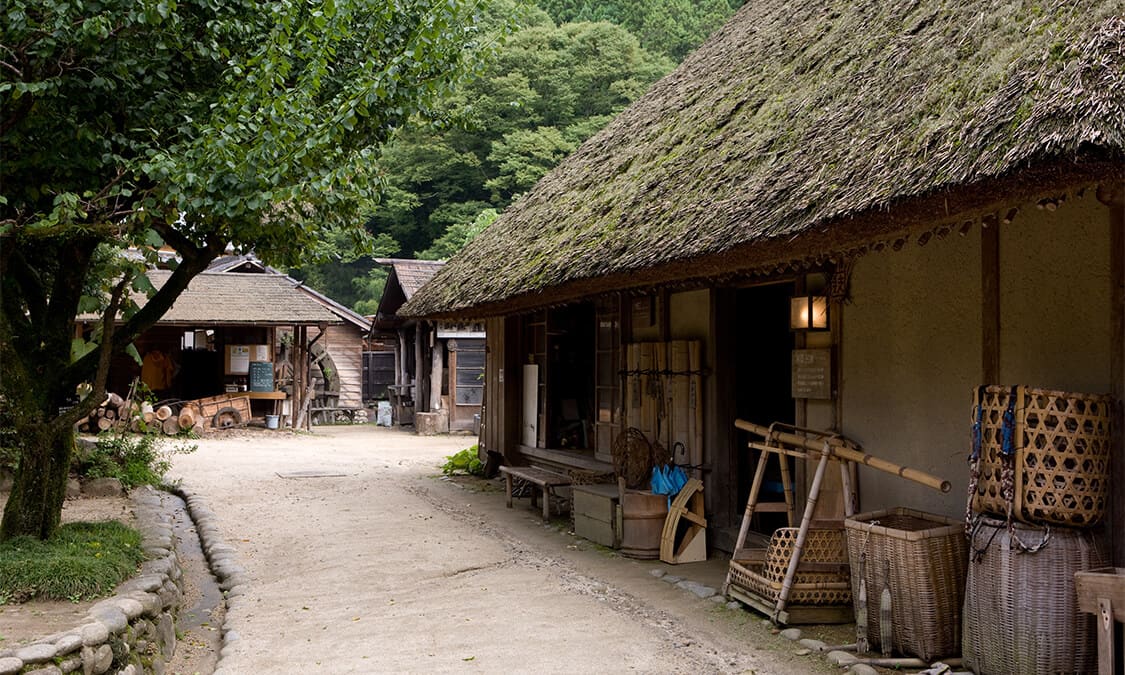 Observe handwork demonstrations at the Sanshu Asuke Yashiki house
Up the right bank of Tomoe River stands the Sanshu Asuke Yashiki house, a building modeled after mansions of affluent farmers in olden times. Inside, visitors can observe demonstrations of around 10 kinds of handworks rooted in the region, including charcoal burning, woodturning, washi papermaking, and weaving. You can also enjoy hands-on experience programs such as indigo dyeing, weaving, bamboo work and making gohei-mochi rice cake. At the restaurant, savor the local mountain cuisine such as gohei-mochi, grilled sweetfish, and soba buckwheat noodles.
Location
Name
Korankei Valley
Web Sites
http://asuke.info/foreign/english.html
Address
Iimori, Asuke-cho, Toyota-shi, Aichi
Access
45 minutes' bus ride from Toyotashi Station on the Meitetsu Mikawa Line
70 minutes' bus ride from Higashi-Okazaki Station on the Meitetsu Nagoya Main Line
Approximately 25 minutes' drive from Toyota-Kanpachi IC on the Tokai-Kanjo Expressway
Inquiries
TEL: 0565-62-1272 (Toyota Asuke Tourist Association)