Kokura Castle: A famous cherry blossoms viewing spot located at the heart of Kokura, the gateway to Kyushu
Kokura Castle was built in 1602 in the center of the town of Kokura by Tadaoki Hosokawa, a samurai warrior of the Warring States Period (late 15th century to late 16th century). The current building was completely restored in 1959, with a castle keep of an unusual style referred to as a "Karazukuri," in which the top floor is larger than the floor below. The adjacent Katsuyama Park has around 300 cherry trees, which are in full bloom in the spring, offering visitors a splendid view.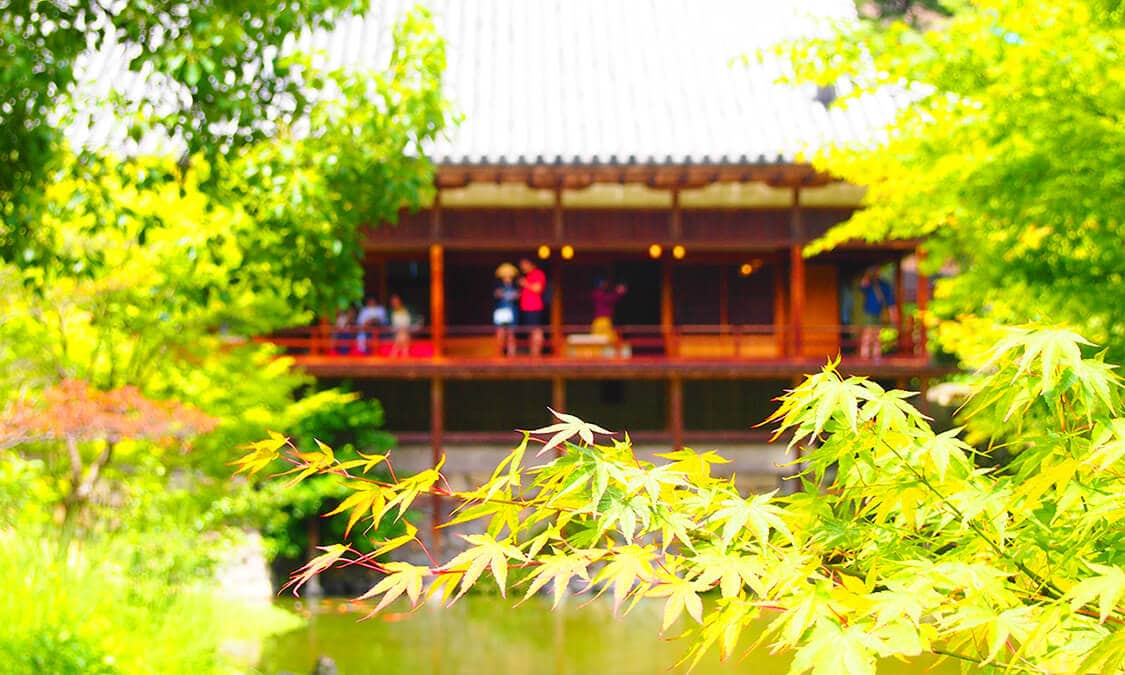 Adjacent to the castle is the Kokura Castle Garden, which reproduces a Japanese-style garden, as well as an authentic feudal lord's mansion in a traditional wooden Shoin-style built by craftsmen from Nara and Kyoto on the order of the Ogasawara Family. Taking over the Hosokawa Family who built Kokura Castle, the Ogasawara clan ruled the castle for the next 234 years. While strolling around the pond in the garden surrounded by beautiful nature throughout the year, you can also enjoy matcha green tea and seasonal sweets in a tearoom within the garden. The Ogasawara Family was especially known for martial arts and etiquette. Here, you can also learn about the family's history and the etiquette they taught that values compassion and the spirit of "Omotenashi," or Japanese hospitality.
Located about 10 minutes' walk from Kokura Castle, the Tanga Market has been serving as Kitakyushu's kitchen since the early 1900s. Along the 180-meter-long arcade and a maze of intriguing narrow streets steeped in a quaint ambiance, approximately 120 shops, cafes and izakaya taverns nestle up to one another, offering a variety of delights such as fried chicken, fresh seafood, fruits, and vegetables. Many shops retain the retro buildings from the 1950s, giving you the sense as if you have traveled back in time.
Location
Name
Kokura Castle
Website
https://www.gururich-kitaq.com/en/spot/kokura-castle
Address
2-1 Jonai, Kokurakita-ku, Kitakyushu-shi, Fukuoka
Access
Approximately 15 minutes' walk from JR Kokura Station
Approximately 10 minutes' walk from JR Nishikokura Station
Approximately 2 minutes' drive from Otemachi Exit on the Kitakyushu Urban Expressway
Approximately 2 minutes' drive from Katsuyama Exit on the Kitakyushu Urban Expressway
Approximately 7 minutes' bus ride from the bus center at Kokura Station
Business Hours
April to October: 9:00 to 18:00
November to March: 9:00 to 17:00
Closed
Open all year round
Inquiries
TEL: 093-561-1210

Admission
Adults: 350 yen; Junior high school and high school students: 200 yen; Elementary school students: 100 yen
Others
Ticket for entrance to the castle, gardens, and Matsumoto Seicho Museum:
Adults: 700 yen; Junior high school and high school students: 400 yen; Elementary school students: 250 yen
Please refer to the website for details.