Akashi Kaikyo Bridge, recognized by Guinness World Records as the world's longest suspension bridge
Akashi Kaikyo Bridge is the longest cable suspension bridge in the world, connecting the city of Kobe in Hyogo Prefecture with Awaji Island in a stretch of around 4 kilometers. Recognizable by the symbolic two main towers rising to the sky, the bridge is also known as Pearl Bridge, beautifully lit up like a band of pearls at night.
The Maiko Marine Promenade, a facility on the Kobe side of the Akashi Kaikyo Bridge, is a circuit-style promenade around 317 meters in length, protruding into the Akashi Strait about 47 meters above the sea surface and 150 meters from land. The first floor displays various information on the Akashi Kaikyo Bridge in an easy-to-understand manner. In the observation lounge on the 8th floor, there is an observation camera system where you can experience climbing up the 300-meter-high main tower of the Akashi Kaikyo Bridge. At the observatory restaurant, sit and relax with a spectacular view of the ocean. For those looking for a thrill-seeking adventure, try walking on the Log Bridge 47 meters above the sea. You'll definitely get the chills!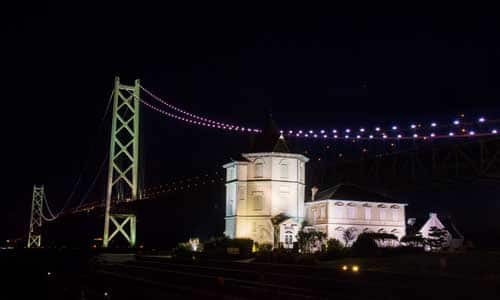 Sun Yat-sen Memorial Hall (Ijokaku)
Sun Yat-sen Memorial Hall (Ijokaku) is a Chinese-style building in Maiko Park at the foot of the Akashi Kaikyo Bridge on the Kobe side. It is the only memorial hall in Japan for Sun Yat-sen, the Chinese revolutionist, politician and thinker. It introduces the deep relationship between Sun Yat-sen and Japan and Kobe, and exhibits valuable calligraphy by the historical figure. Reminiscent of the Taisho Modern era, the building features an elegant exterior with the Akashi Kaikyo Bridge in the background as well as a lavishly decorated interior. The three-story octagonal hall is Japan's oldest wooden-frame concrete block construction and is registered as a national important cultural property.
Location
Name
Akashi Kaikyo Bridge
Website
https://hyogo-maikopark.jp/en/
Address
Higashimaiko-cho, Tarumi-ku, Kobe-shi, Hyogo
Access
Approximately 5 minutes' walk from Maiko Station on the JR Sanyo Main Line
Approximately 5 minutes' walk from Maiko-koen Station on the Sanyo Electric Railway
Approximately 5 minutes' walk from Maiko bus station of the Highway Express Bus
Inquiries
TEL: 078-785-5090 (Maiko Park)