Experience Kobe's history and culture as an international town at Kitano Ijinkan Gai
Kitano is located at the foot of Mount Rokko overlooking Kobe Port. When the port opened in 1868, the Kitano area became a foreign settlement and many Western-style houses were built. In the present day, these mansions are called ijinkan (residence of foreigners) and displayed to the public. The town is an exotic mélange of Western-style and Eastern-style buildings and also has friendship ties with Paris's Montmartre area. Just a 15-minute walk from Kobe's central Sannomiya area, Kitano Ijinkan Gai is a must-visit tourist destination of the international city.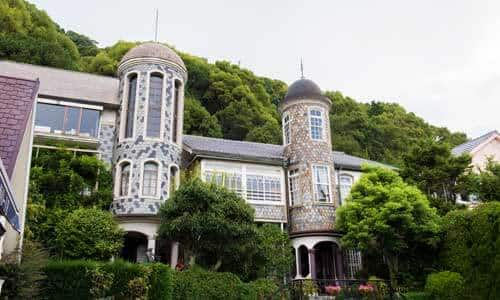 The first of the mansions open to the public in Kobe, Uroko House is the former residence of Mr. R. Harrier, a German. The mansion got its name from the natural stone slates that resemble fish scales, or uroko, which cover the exterior walls like an old European castle. Inside, regal antique furniture, decorative objects and a collection of fine Western porcelain are exhibited, preserving the luxurious interior as in the olden days. The adjacent observation gallery is a museum of paintings by artists such as Matisse and Utrillo. From the observation room on the third floor, enjoy a panoramic view of Kobe's port and its cityscape.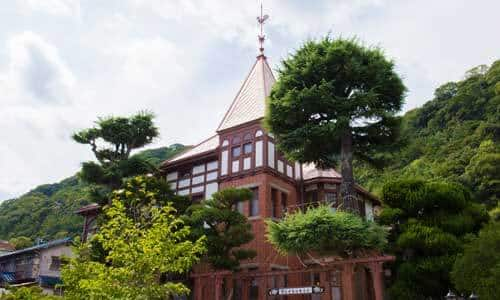 The Weathercock House was built around 1909 as the residence of Gottfried Thomas, a German trader, and was designed by German architect George De Larande. The brick exterior walls and the weathercock on the spire are beloved symbols of the Kitano Ijinkan. The building went through three years of full-scale conservation and repair and was restored to nearly its original state in 1985. The mansion is designated as a national important cultural property.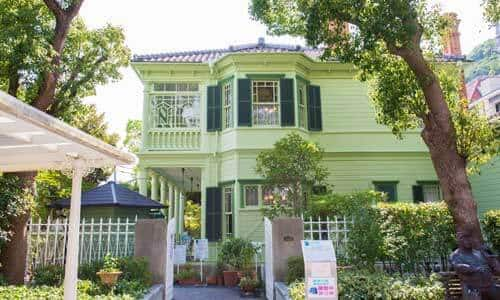 Moegi House (sprout green house) was built as a residence for the American Consul General in 1903. True to its name, the two-story wooden mansion is dressed in beautiful pale green exterior walls, with two distinctly shaped bay windows. Luxurious designs can be seen here and there such as the staircase in elegant arabesque patterns and distinctive mantel pieces. From the balcony on the second floor, take in the splendid view of the city of Kobe.
Location
Name
Kobe Kitano Ijinkan Gai
Website
https://www.kobeijinkan.com/en/
Address
2-10 Kitano-cho, Chuo-ku, Kobe-shi, Hyogo
Access
Approximately 15 minutes' walk from Sannomiya Station on the JR and Hankyu Railway and Kobe-Sannomiya Station on the Hanshin Electric Railway
Approximately 10 minutes' walk from JR Shin-Kobe Station
Inquiries
TEL: 078-251-8360 (Kitano Information Center)