Sparkling waters and refreshing sea breeze: A great viewing spot of Kobe Port
Located slightly west of the downtown, Kobe Harborland is one of the leading tourist areas and a large commercial complex in the city with shopping malls, restaurants, movie theaters and other recreational facilities. The Takahama Wharf where ships including the Kobe Concerto cruise ship berth is a perfect spot to take a stroll while feeling the refreshing sea breeze.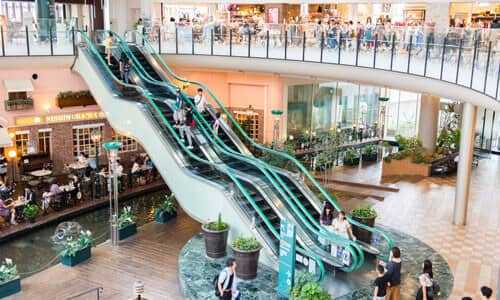 Umie is part of the Kobe Harborland shopping and entertainment district between Kobe Station and the waterfront. Lined with approximately 230 shops including fast fashion brands, large retailers and popular restaurants, Umie embodies the concept of "Sea, Town and People - A spark that can be found only here." Located along a scenic seaside, it offers a great sense of openness. You can enjoy lunch while feeling the refreshing sea breeze in the open space or take a stroll along a promenade surrounded by lush greenery after shopping. It is a perfect location to enjoy all day long. Be sure to check the Mosaic Ferris Wheel as well as the stunning night view of Kobe Port.
Hanekko is a drawbridge constructed at the dock entrance by the large event area (Hanekko Hiroba) centrally located in the Harborland Plaza. Hanekko is the first pedestrian bridge in Japan that features a double-leafed construction typically seen in the Netherlands and other European countries. The bridge offers a romantic atmosphere at night with an illumination of about 1,700 light bulbs.
Location
Name
Kobe Harborland
Website
https://www.harborland.co.jp.e.abt.hp.transer.com/
Address
1 Higashikawasaki-cho, Chuo-ku, Kobe-shi, Hyogo
Access
Approximately a minute walk from Kobe Station on the JR Kobe Line
Approximately a minute walk from Harborland Station on the Kobe Subway Kaigan Line
Business Hours
10:00 to 19:00
Inquiries
TEL: 078-360-3639