Nankinmachi, an exotic Chinatown
Located in Kobe, Hyogo Prefecture, Nankinmachi is one of Japan's three largest Chinatowns along with those in Yokohama and Nagasaki. The exotic streets are lined with buildings of Chinese-style designs, comprising various shops ranging from authentic Chinese to international cuisine, teas and sweets, as well as unique stores offering sundries and gourmet ingredients.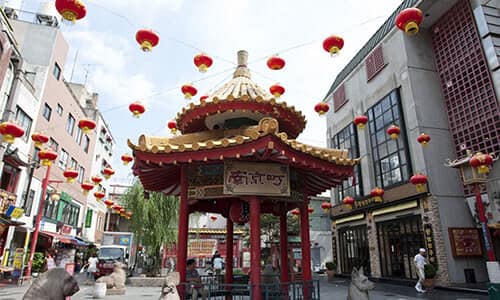 Found in the center of the town, Nankinmachi Square is a great photo spot. In the middle of the square stands an azumaya, a small hexagonal rest building, with a double-layered roof with vermilion pillars and dragons painted on the ceiling that creates an exotic atmosphere. When lit up at night, it creates an even more fantastic sight. In front of azumaya stands the gods of money called Cai Cai (boy) and Rai Rai (girl), and it is said that touching them will bring happiness. Around the square are 13 animal statues, the 12 Chinese zodiac animals plus a panda.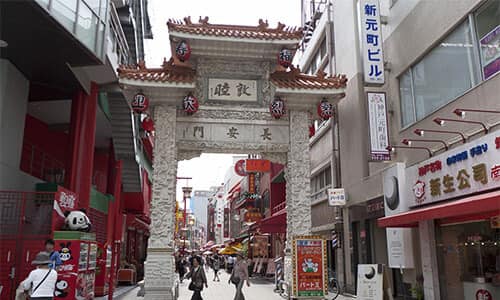 At the eastern entrance of Nankinmachi stands Choanmon Gate, constructed in 1985. The tower gate is made from the first white marble China allowed to export to foreign countries and is magnificently sculpted with numerous dragons and clouds. The color of the nighttime illumination changes according to Kobe Light-Up Day, creating a whimsical atmosphere. There are also two other tower gates in Nankinmachi – the Kaieimon Gate in the south and Seianmon Gate in the west – and in the north, Chinese lion statues welcome visitors.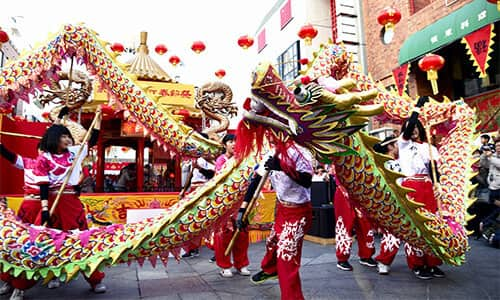 Chinese New Year Festival
The festival began in 1987 based on the traditional Spring Festival which celebrates the Chinese New Year. The annual festival was designated as Kobe's intangible folk cultural asset in 1997. Numerous traditional Chinese performing arts are displayed such as the dragon dance, lion dance and Tai Chi, and various events are held including the Pochi-bukuro Kuji, which is a no-lose lottery, and Tsaichin, in which a lion parades around the shops. The festival attracts a great number of tourists every year.
Location
Name
Nankinmachi
Website
(In Japanese) http://www.nankinmachi.or.jp
Address
1-3-18 Sakaemachi-dori, Chuo-ku, Kobe-shi, Hyogo
Access
Approximately 5 minutes' walk from Motomachi Station on the JR Kobe Line/Hanshin Electric Railway
Approximately 10 minutes' walk from Kobe-Sannomiya Station on the Hankyu Railway
Approximately 2 minutes' walk from Kyukyoryuchi-Daimarumae Station on the Kobe Municipal Subway's Kaigan Line
Approximately 7 minutes' walk from Kenchomae Station on the Kobe Municipal Subway's Yamate Line
Inquiries
TEL: 078-332-2896 (Nankinmachi Shopping District Promotion Association Office)