Retro stained glass windows and the sound of jazz make a train journey like a scene in a movie
Named after the famous jazz tune and also taking the first letter of the beautiful Amakusa area, the Limited Express A-train runs between Kumamoto City and Misumi, the entryway to the Amakusa Islands. The train is elegantly designed with a wooden interior and stained glass windows reminiscent of Western culture introduced to the area during the 16th century. Sit back and relax in the retro bar with specialty dekopon citrus highball as jazz music plays in the background in a train journey for adults.
Don't miss it! Check must-see area or item along your train journey!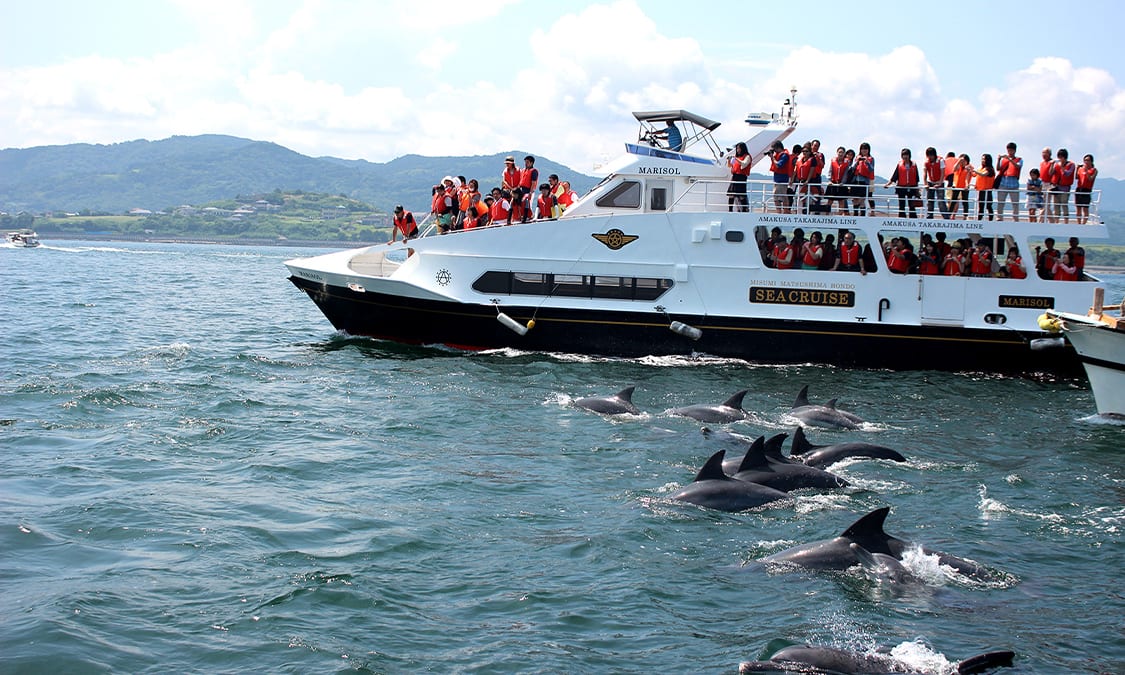 Meet wild bottlenose dolphins that inhabit the seas of Amakusa, with an encounter rate of an amazing 98% throughout the year. Take the cruiser that was designed by the same designer of the A-train, complete with air conditioning and bathrooms in the passenger cabin. The cruise course includes wonderful views of the Amakusa Gokyo bridge, Ariake Sea and the beautiful islands of Amakusa.
Considered one of Japan's top three castles, Kumamoto Castle stands majestically on a hilltop at the center of Kumamoto City. Its famous curved stone walls are said to have kept even ninjas from climbing into the castle, earning the name "musha-gaeshi," meaning it would turn warriors away. Despite suffering significant damage from the Kumamoto Earthquakes in April 2016, restoration efforts are underway with aid from various corners of the country. While some areas are still off-limits to visitors, the castle keep and other buildings can be seen from the surrounding Ninomaru Park and Kato Shrine.
Major Station Information