"Tastes of JAPAN by ANA" is a regional vitalization project that collaborates with the different prefectures in Japan to present the Land of the Rising Sun in all of its diverse glory.
Byoubugaura Cliffs, known as the Dover of the Orient in Choshi, Chiba Prefecture
Byoubugaura Cliffs are coastal cliffs rising over 40 meters that stretch for approximately 10 kilometers from the cities of Choshi to Asahi's Cape Gyobu. The magnificent bluff is nicknamed the Dover of the Orient for its resemblance to the famous White Cliffs of Dover in England. For their beautiful scenery and geological values, Byoubugaura Cliffs were designated by the Japanese government as a Place of Scenic Beauty and Natural Monument.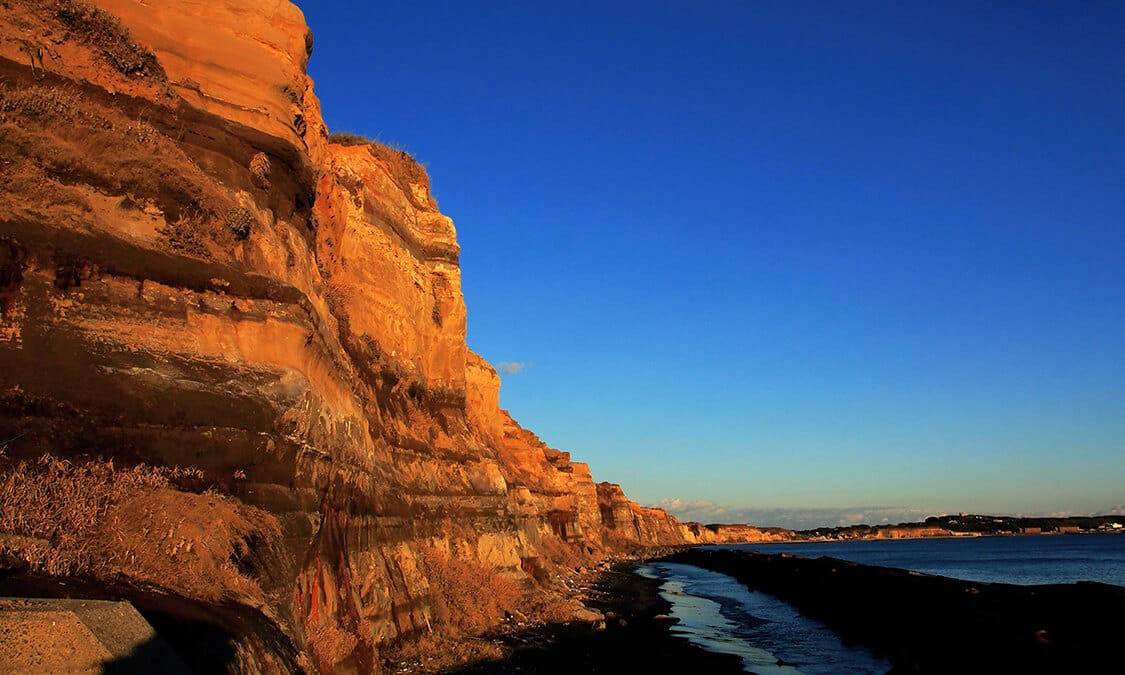 Magnificent cliffs that have attracted many since the Edo period
The cliffs' splendid scenery has been admired since ancient times and has been a popular tourist spot since the Edo period (1603-1868) with easy access by water transportation on the Tone River. In addition, since the late Edo period, the unique landscape was featured in several publications, namely in the ukiyo-e woodblock print of Hiroshige Utagawa. The city of Choshi has preserved such scenic settings visited by people of the Edo period, and along with the fellow Hokuso region cities of Sakura, Narita, and Katori, have been designated a Japan Heritage as the "Edo Travelogue through Four Hokuso Cities."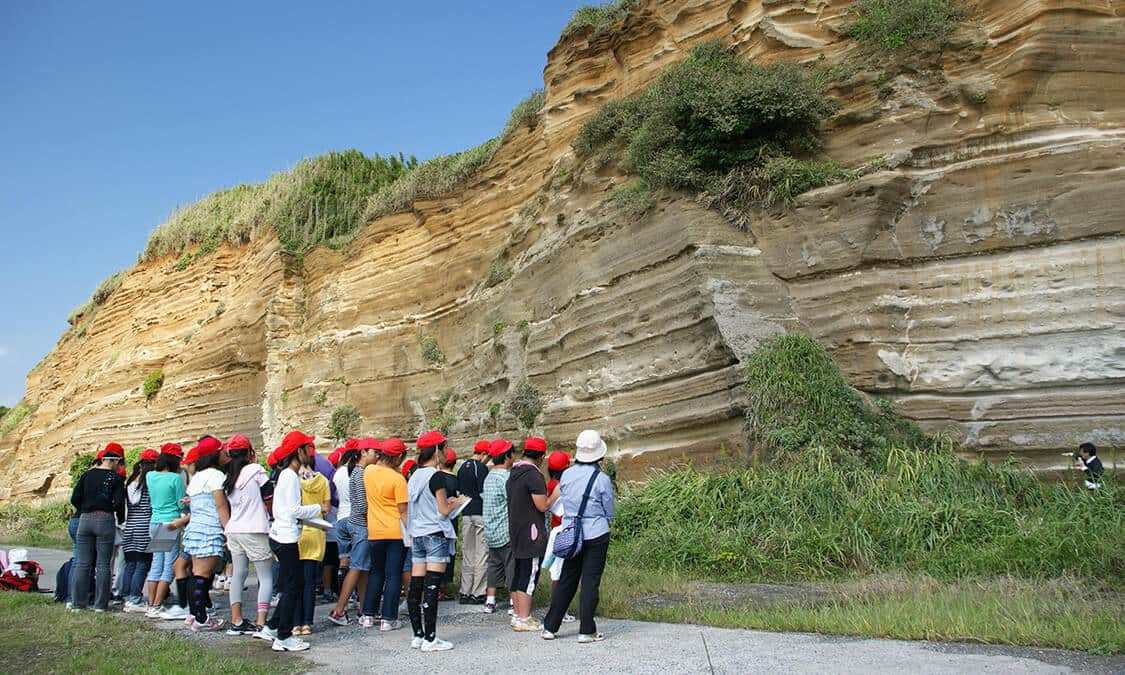 Observe the Earth's amazing formation
Byoubugaura Cliffs are not only famous for their scenic beauty, but also for their geological value. Walking on a pathway from the nearby Choshi Marina Swimming Beach, you can observe rock strata from various prehistoric eras, including a layer dating back approximately 3 to 1 million years, another dating approximately 100,000 years and the Kanto loam layer which formed afterward. In addition to Byoubugaura, the city of Choshi has numerous sites where the Earth's formation from various eras can be observed and has been certified as a Japanese Geopark.
The rugged scenery overlooking the ocean from the red clay cliff has made Byoubugaura a popular filming place for movies, TV dramas, music videos and commercials that seek the expansive landscape. Unfortunately, please be aware that all the filming locations are on private property and not open for tourism.
Location
Name
Byoubugaura Cliffs
Web Sites
http://www.city.choshi.chiba.jp/andacore/en/category/see/byobugaura.html
Address
Chisaki, Naarai-machi, Choshi-shi, Chiba
Access
One hour drive from Sawara-Katori IC on the Higashi-Kanto Expressway
From JR Choshi Station Bus stop No. 5, take the Chiba Kotsu Bus Naarai or Chiba Kagaku Daigaku Line and get off at the Chiba Kagaku Daigaku Marina bus stop. It is a 5 minutes' walk from the bus stop.
Closed
None
Inquiries
TEL: 0479-22-1544 (Choshi Tourism Association)