ATM


Seven Bank ATMs - Convenient & easy withdrawal in Japan.
Get cash at 7-ELEVEN !
Using your ATM cards, you can withdraw Japanese yen from Seven Bank ATMs at 7-Eleven.
Use anywhere
ATMs are located in 7-Eleven stores throughout the country, and in major airports, stations, commercial facilities and more.
Use anytime
Seven Bank ATMs in 7-Eleven stores can be used 24 hours a day.
Use with peace of mind
ATM screens can be displayed in any of 12 languages. It is also possible to use the contact phone to make an enquiry in Japanese or English.
Service hours
| | |
| --- | --- |
| VISA | 00:00 to 24:00 |
| Mastercard | 00:10 to 23:50 |
| UnionPay | 00:10 to 23:50 |
| American Express | 00:05 to 23:50 |
| | |
| --- | --- |
| JCB | 00:10 to 23:50 |
| Discover | 00:10 to 23:50 |
| Diners Club | 00:05 to 23:55 |
Some cards with these marks may not be accepted.
Handling charges of card issuers may be required in addition to our handling charge.
Usage method
Go to 7-Eleven
with a card
Withdrawing with a VISA card
The ATM screen and the receipt are available in 12 languages.
Insert your card

Insert the card with the magnetic stripe down.

Please select your desired Language.

Select the "Withdrawal" button.

Select the account you are withdrawing from.

Enter your PIN number and press "ENTER".

Select the amount of money (Japanese Yen) you are withdrawing.

Take the cash out of the ATM.

Don't forget to take out your card and the ATM receipt.
Establishment locations
ATMs are located in 7-Eleven stores, which has the highest number of convenience stores in Japan*, as well as major stations, airports, commercial facilities and more.

7-Eleven

International
Airports

Train stations
Commercial
Facilities
ATM Locator (English)

You can search for the location, hours of operation, and directions to the shop.
ATM Navigation
Smartphone App

The "Japan ATM Navigation" application provides a route from the user's current location to the closest Seven Bank ATM that is easy to follow.
Types of currency
The Japanese currency is "yen", which is represented by the symbol "¥".
Note denominations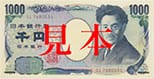 1,000 yen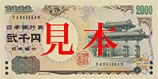 2,000 yen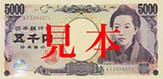 5,000 yen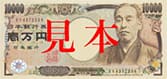 10,000 yen
2,000 yen notes are not widely distributed, so you might not see them often.
These notes can be used to make payments without a problem, but they are not accepted by some ATMs and vending machines.