Seicho-ji, a historic temple where a legendary priest studied in his early years
Seicho-ji Temple is a sacred ground surrounded by a magnificent forest in Kamogawa, Chiba Prefecture. Founded by the priest Fushigi Hoshi in the late 8th century, the temple was where Nichiren Shonin devoted himself to studies in his early years and later declared the founding of Nichiren Buddhism.
Asahigamori Forest, one the best 100 sunrises in Japan
When Nichiren Shonin returned from training, it is said that he stood atop Mount Kiyosumi in the Asahigamori Forest, faced the breaking dawn beyond the Pacific Ocean and declared the founding of Nichiren Buddhism with the reciting of the Nichiren mantra. Not only is the sunrise from here selected among the best 100 sunrises in Japan, but it is also known as the earliest location in Japan, other than Mount Fuji and remote islands, where the earliest daybreak in Japan can be observed.
Sacred cedar tree designated as a natural monument of Japan
As soon as you walk into the temple premises, a giant cedar tree comes into view. Around 15 meters in trunk circumference, 17.5 meters around its roots and rising 48 meters tall, the great cedar is the second largest in the country as a single tree. Known as the Sennen-sugi (thousand-year cedar), the ancient tree has witnessed over a millennium of Seicho-ji Temple's history. The sacred tree has long been cherished over the years and is also famous as a power spot for longevity.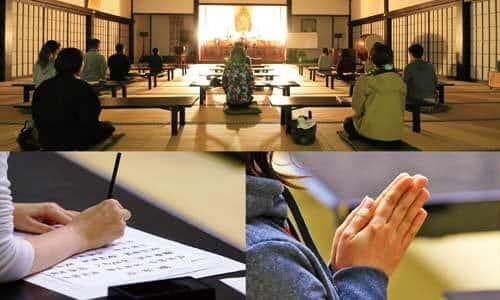 A refreshing stay at the temple shukubo
Discover a new side of yourself while staying at Seicho-ji's shukubo, a lodging facility for temple visitors. Beginning with an early morning walk to the Asahigamori Forest while chanting and beating drums, visitors can experience Nichiren Buddhist monk training such as shakyo (meditation through sutra copying) and drum practice, as well as many other programs like yoga. Leave behind your everyday hassles, and indulge in a peaceful and quiet environment. The temple cuisine dinner is another special experience, with flavorful vegan dishes.
Location
| | |
| --- | --- |
| Name | Seicho-ji Temple |
| Website | http://japan-chiba-guide.com/sys/data/index/page/id/15142/ |
| Address | 322-1 Kiyosumi, Kamogawa-shi, Chiba |
| Access | From Awa-Amatsu Station on the JR Sotobo Line, take the community bus (Seicho Route) and get off at Seicho-ji Temple bus stop, then walk for approximately 2 minutes |
| Business Hours | Open all year round |
| Inquiries | TEL: 04-7094-0525 |