Shimizu Stream Square (Nomizo Falls and Kameiwa Cave)

Fantastic view created by water and light in Shimizu Stream Square (Nomizo Falls and Kameiwa Cave)
Shimizu Stream Square is a beautiful nature park in Kimitsu, Chiba Prefecture. Around 2015, a photo posted on social media triggered an explosive discussion, describing the place as the world of Ghibli, an acclaimed Japanese animation studio. Early in the morning during the equinoctial week of March and September, the morning sun that shines into the Kameiwa Cave reflects on the water, creating a beautiful heart shape.
The Nomizo Falls and Kameiwa Cave were carved out in a construction work called kawa-mawashi, a type of river works in which a part of a twisty river is a shortcut from the mainstream by a tunnel or cut. It is said that the first construction was carried out to make rice paddy fields around 1660, and spread to the surrounding areas.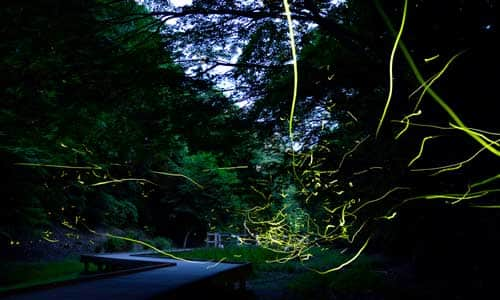 Fireflies in early summer
Around early June to late July, countless fireflies can be spotted flying along the park's wooden footpath. The species known as Genji-botaru can be found in June and Heike-botaru in July, creating a fantastic atmosphere with their beautiful glows. Fireflies are very delicate creatures that cannot live without rich nature and clean water, and local residents are making great efforts to create a comfortable environment for the beloved fireflies.
During the fall, the area around the park's wooden footpaths become bright with fall colors. The Kameyama area, where the park is located, is said to be the last place in Honshu for fall foliage to reach, as the leaves begin to gradually change its hues in mid-November, and become fully colored from late November to early December. The park is surrounded by lush nature and has well-maintained wooden footpaths, so enjoy the scenic fall leaves and the natural beauty of each season while taking a leisurely walk.
Location
| | |
| --- | --- |
| Name | Shimizu Stream Square (Nomizo Falls and Kameiwa Cave) |
| Website | (In Japanese) http://www.city.kimitsu.lg.jp/site/kanko/2259.html |
| Address | 1954 Sasa, Kimitsu-shi, Chiba |
| Access | Approximately 35 minutes' drive from the Kimitsu IC on the Tateyama Expressway |
| Closed | None |
| Inquiries | TEL: 0439-56-1325 (Tourism Office, Economic Department, Kimitsu City) |