A scenic cape jutting out into Tokyo Bay
Cape Futtsu, the symbol of Futtsu City, Chiba Prefecture, is the perfect location to take in the entire Tokyo Bay. Selected as one of Japan's 100 Best Beaches with White Sand and Blue Pine, the cape provides a panoramic view of Mount Fuji, the Miura Peninsula and central Tokyo on a clear day. As it juts out into the sea for about four kilometers, there are various facilities for the whole family to spend the day, such as a clam digging area, swimming pool, and beach. The wild plant community expanding along the sandy beach is a designated natural monument of Chiba Prefecture.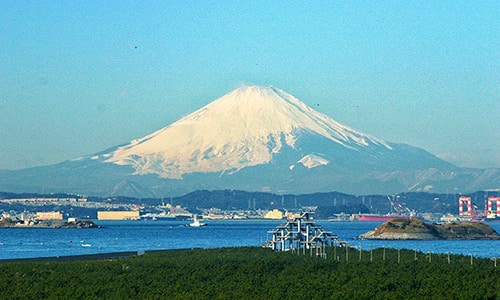 The entirety of Cape Futtsu encompasses the Chiba Prefectural Futtsu Park, which juts out sharply into Tokyo Bay. Enjoy a superb view of the cities of Tokyo and Yokohama on the opposite shores of Tokyo Bay from the observatory in the park, as well as the majestic sight of Mount Fuji, which has been selected as one of the top 100 views of the mountain in the Kanto region. On sunny days in spring or fall, you may encounter the Diamond Fuji, a phenomenon in which the sun sets and sparkles near the summit of Mount Fuji. Another local highlight is the seaweed cultured in the sea around Cape Futtsu, popular for its delicious taste. Nama-nori (fresh seaweed) is a specialty of Futtsu City that can only be tasted here during the winter. In the sea, you can observe nets used for seaweed farming spread over the waters during the fall to winter.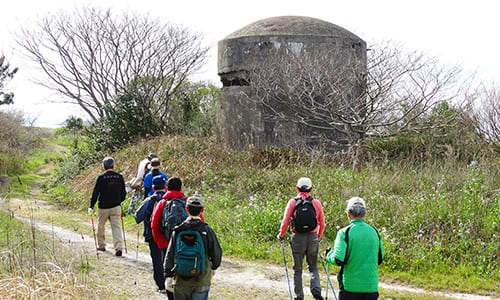 Heritaging at Cape Futtsu
Heritaging is a type of sightseeing aimed at enjoying Japan's modern heritage. From 1881 to the end of the Pacific War in the 1940s, Cape Futtsu was used as a gun battery and shooting range by the former Japanese army, and today you can visit the remains of the gun battery and the observation point of the shooting range. An artificial island off Cape Futtsu was a military facility called Kaiho, which was built to defend the capital over 100 years ago. A Cape Futtsu Heritaging Tour with a local guide is also available. From the Meiji Centennial Observation Tower at the tip of Cape Futtsu Cape, you can see Kaiho and numerous large ships sailing through Tokyo Bay.
Location
| | |
| --- | --- |
| Name | Cape Futtsu |
| Website | (In Japanese) http://www.futtsu-kanko.info/places/futtukoen/ |
| Address | 2280 Futtsu, Futtsu-shi, Chiba |
| Access | From Aohori Station on the JR Uchibo Line, take the Futtsu Line bus and get off at the Futtsu Park, the last stop. |
| Inquiries | TEL: 0439-80-1291 (Office of Commerce and Tourism, Futtsu City Hall) |